Rotorua is buzzing, car parks are full and restaurants are humming, says one Chamber of Commerce board member.
His comments follow the release of the Infometrics Quarterly Economic Monitor for June 2018 which shows Rotorua's GDP grew by 4 per cent in a year.
Gross domestic product was $2.86 million in the district for the year to June 2018 and the chamber's acting chief executive Bryce Heard said the economy was still strong.
"We are performing as well as or better than the national average which is a nice change."
Tourism expenditure
Heard said the town was "buzzing". Tourism spending had increased by 5.3 per cent from $778m a year ago to $820m in the year to June 2018 and retail sales had grown 4.2 per cent in the same period.
"Car parks are full and the restaurants are humming. It's evident the town's moving along well.
"There are a lot of vacant shops which is still of concern to me ... Not withstanding empty shops, the ones that are open must be getting a good flow of trade."
Unemployment and Jobseeker Support
The report also showed while the unemployment rate had decreased from 6.8 to 5.8 per cent, Jobseeker Support recipients increased 2.4 per cent.
This compared with the New Zealand unemployment average of 4.5 per cent and a rise in jobseeker recipients of 0.05 per cent nationwide.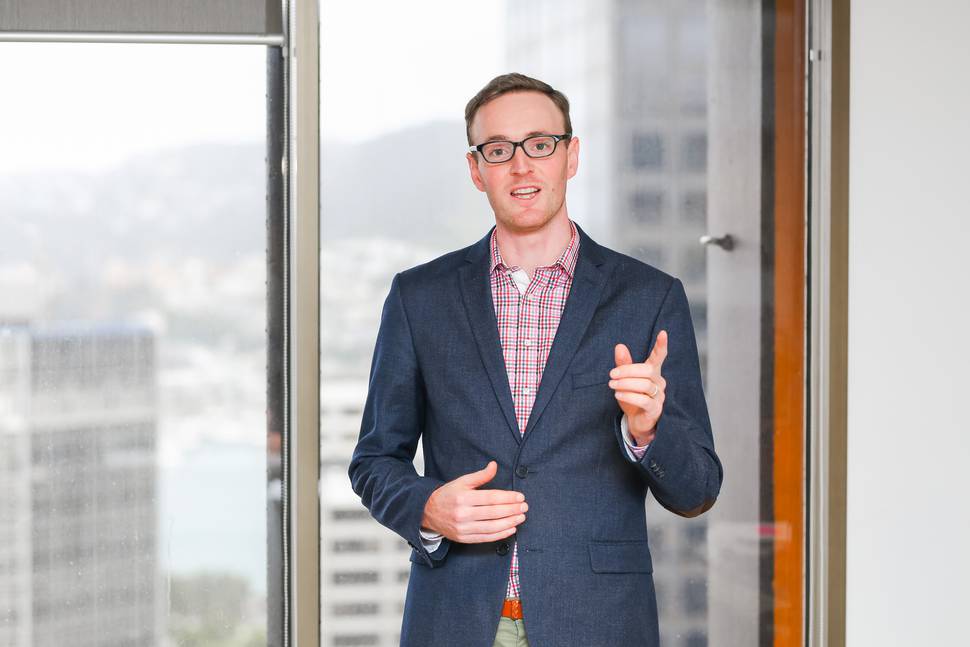 In the district an average of 3372 people receive Jobseeker Support.
Infometrics senior economist Benje Patterson said unemployment dropping and jobseekers rising often happened in areas where there had been rapid population growth and while the number of jobseekers had risen, it might be a smaller proportion.
"On one hand we've had many more people entering the workforce in Rotorua. What the unemployment rate says is, of people in the workforce, a lower proportion are out of work.
"We see that in areas that have experienced rapid population growth ... It's not something to get alarmed at."
Car registrations and traffic
Population growth also affected the number of car registrations and traffic flow, Patterson said.
Over the year, traffic flow rose 3.2 per cent while car registrations increased by 15.2 per cent from 2698 to 3108.
"Registrations are often defined by population growth. The more households in a city the more vehicles required to support them," Patterson said.
"If the economy is doing better, people feel more like an upgrade or replacing a vehicle so that comes into play."
Patterson said nationwide provincial centres were the "growth engines" of the New Zealand economy.
"We've also seen things like tourism chugging along at record levels. With the New Zealand dollar having fallen quite a bit, that's going to provide more boost to the provinces ... for tourists with a certain budget, their budget stretches further."
Guest nights
Data about guest nights also tells a positive story for the city with the annual number of nights up 6.6 per cent from more than 2.2 million in the year to June 2017 to more than 2.35 million in the year to June 2018.
This compared with an increase of 2.4 per cent nationwide.
The executive manager of investment, growth and intelligence at Rotorua Economic Development Limited, Rebecca Wright, said the tourism sector played a key part in economic growth.
"It's encouraging to see that our visitor economy has continued its positive growth trajectory with strong performance from both international and domestic markets.
"These positive growth trends look set to continue with a strong pipeline of initiatives and events ahead for next year."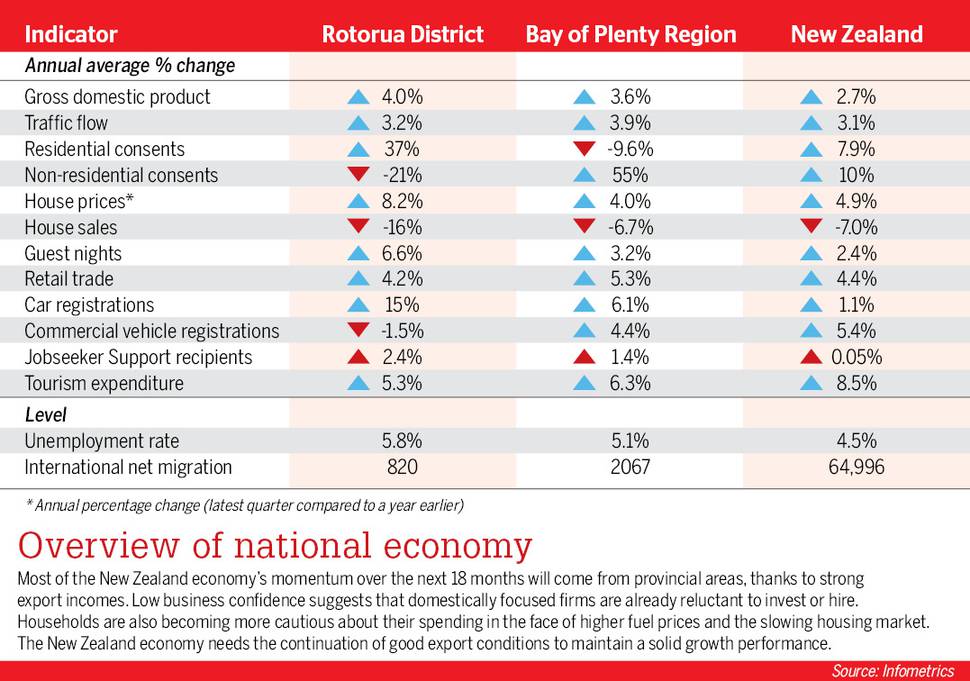 Wright said Destination Rotorua, the trading name of Rotorua Economic Development Limited, was developing a "value over volume" visitor strategy.
"This is about encouraging a higher spend per visitor rather than just seeking more visitors. The results will inform further work on investment and re-investment into those authentic experiences that are valued by visitors.
"There is still room to increase our share of high-value visitors in line with the national growth rate."
Housing and consents
The report also showed residential consents had risen 36.8 per cent in a year from 35 to 46, while the value of non-residential building consents decreased 21 per cent from $57.9m to $45.7m.
Meanwhile, house prices rose and house sales fell.
The average house value in the district was up 8.2 per cent in June 2018 outperforming the nationwide increase of 4.9 per cent. But house sales decreased 16.2 per cent.
Just over 1100 houses were sold in the district in the year ending June 2018 compared with 1362 the year before.
Professionals McDowell Real Estate owner Steve Lovegrove said that was consistent with what he observed.
"There's definitely pressure on the market. We've got a growing population … We're limited with the number of houses we can supply.
"We've got limited property turn over because there are simply not enough for people to buy."
Lovegrove said new building consents would slowly improve the availability of houses and potentially boost sales.
The council's view
Deputy Mayor and sustainable economic development portfolio lead Dave Donaldson said the report was positive.
"This is a good indicator of economic growth in our district and is reinforced by local business sentiment expressed in a number of business forums and workshops I've attended recently."
Donaldson said population and economic growth provided opportunity and diversity for the district but also contributed to the challenge of meeting an increased demand for housing.
"Increased diversity can enhance the range of skills, ideas and wealth in our district, contributing to a vibrant economy, and helping our communities thrive.
"Our focus and our commitment in this area is to ensuring our housing and infrastructure is in the best condition it can be to meet the present and future needs of growth, as well as being resilient in an era of climate change."