Dannevirke's Badger Bloomfield says he lives in the separate worlds of poetry, writing, art and music and it depends on how he feels as to what he indulges in each day.
Badger, 79, has lived in Dannevirke all his life and loves putting his poetry to the test during poetry days at the Dannevirke Library, urged on by wife of 58 years, Janice, and friend Arlene Lundon.
"Pamela Allen co-ordinates the poetry readings at the library. She's fantastic," Arlene said.
Badger comes from a long line of poets, stretching back to 1600.
"My ancestor, Robert Bloomfield, wrote The Farmer's Boy in 1600 and I'm carrying on his legacy," he said.
"I've slowed up a bit these days, but I love rhyming poetry, perhaps because my great-great-grandfather came from Limerick in Ireland."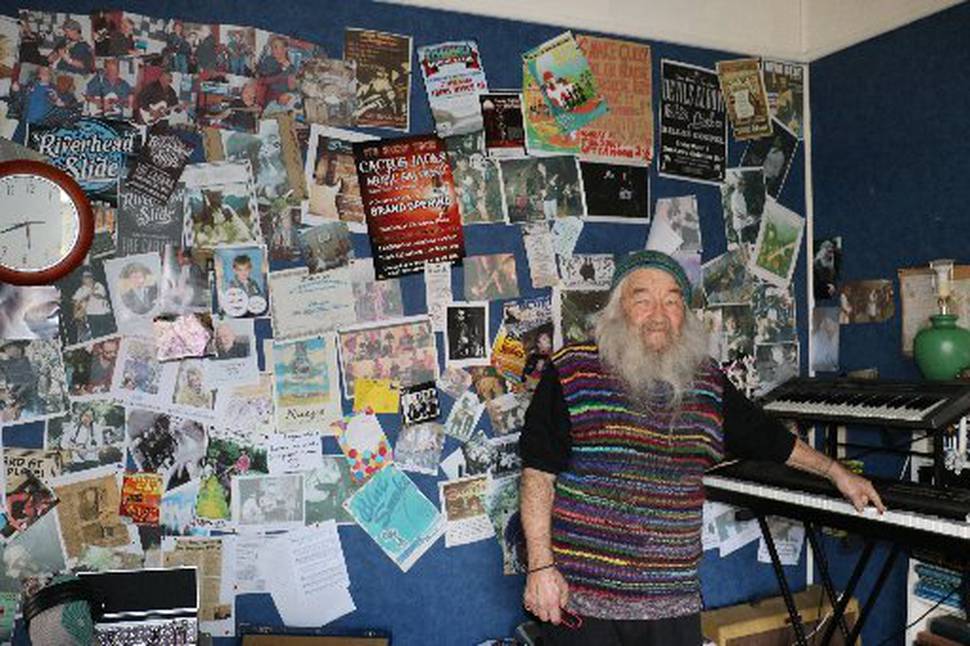 Poetry is in Badger's soul, but he admits to having plenty of help from Arlene.
"She's my inspiration, my editor and in charge of quality control. She knows how to put a big cross through things," he said.
"But it's Janice who does the practical work when it comes to getting my poetry into books. She fixes my spelling too, but I like to leave some spelling mistakes because I'm eccentric."
Badger loves rhyming poetry and the judges can expect to see that coming through in his competition entry.
"Not many people understand me, but Arlene does," he said.
Arlene said she often thinks of Badger as a Murray Ball kind of artist.
"He's at that level," she said.
Recovering from a fall six months ago, Badger wrote a lot while in hospital, most of which hasn't seen the light of day - yet.
But he's already sold hundreds of his books of poems, Badger's View, Badger's World and Badger's Whatever.
"I love silly rhymes. I've tried to outgrow it, but I can't," he said. "I come up with a concept, an idea and I need to tell somebody.
"But no one is there, so I write it down."
Although he tried to get his children and grandchildren interested in his creative arts, rugby won them over, but Badger doesn't mind.
"My great-grandchildren are into the artistic side of things," he said.
Many of Badger's books are written for the kids, including the Adventures of A. Nonny Mouse.
"I've slowed up a bit but continue with my art, creating mischievous little characters, the Scandi Serfs," he said.
"I'm colour blind, though. My sister used to laugh at me and mum used to tell me off about my crazy colour clothing combinations . . ."
And why Badger and not his given name Barry?
"I needed a stage name for the bands I busked with at gypsy fairs - Dusty Roads and the Blues Mobile," he said. "Janice came up with it."
Janice said when she looked up Badger in the dictionary, it described her husband well.
"Grey-haired, strong-jawed, bad-tempered and a nocturnal animal, that was him," she said.
But before the music, art and poetry Badger was an engineer.
"I'd been an engineer most of my life, 40 years, at the hospital on the hill, but I left to follow my artistic dreams," he said.
"I said to Janice, 'I don't want to do this any more', so we built our house truck and hit the road."
Janice drew up plans and the couple went to the dump every Sunday to collect window frames and bits. All the stained glass in the truck and their home has been made by Janice.
For 13 years the couple followed the gypsy fair where everyone Badger said, "was quirky".
"I love the quirky and I don't like uniformity," he said.
But Dannevirke is home, with Janice's family here since the 1880s. There have been six generations of her family at Dannevirke South School, which they were involved in building.
Badger's Scottish and Irish family arrived here in 1840.
"They kept on going to Featherston because they didn't like it here," he said.
"I've a very rich family history linked back to early Scottish Royals. I wasn't allowed to visit my grandmother, she was a bit odd and held afternoon tea parties, with the teapot filled with gin.
"And when she went to bed at night, she put her cats in cages and hoisted them to the ceiling. I think I get some of my eccentricity from her."
Poetry competition:
• Until August 17, Tararua District Library is celebrating National Poetry Day with their annual poetry competition.
• Winners announced on National Poetry Day, August 24.
• Open to all New Zealand residents aged 18 and over.
• Entries must be in English and can be emailed to library@tararuadc.govt.nz or handed in at any branch of Tararua District Library. If emailed, they can be in the body of the email or via Microsoft Word or Publisher attachment. Hand-written entries will be accepted, however, they must be printed and legible.
• A maximum of two entries per person will be accepted.
• All poems to be an original creation of the person submitting it and previously unpublished.
• Entries close 5pm, August 17.
• Judges' decision is final. Prizes will be awarded for best poem as judged by Lyn McConchie and the people's choice.