A tornado has been blamed for damage to at least two houses in Te Puna after a fierce thunderstorm ripped through the western Bay of Plenty this afternoon.
Power was knocked out to more than 1000 properties in Tauranga and Rotorua, trees were downed on roads and railway tracks in the storm, which hit just before 3pm.
Paul Mines dashcam footage
Snodgrass Rd residents Fritz and Heather Bonk lost part of the clearlight roofing off their two-storey home in what they believed was a tornado, though they did not see it hit.
Fritz said the wind, rain and lightning was "horrendously fierce and scary" - the worst he had seen in 20 years at the property.
Heather said the rain was "horizontal" and rooms of their home was water damaged.
MetService meteorologist Lisa Murray said that as the thunderstorm front swept over the Bay, a "down blast" of air would have also moved through that would have caused damage to things like roofs and windows.
She said 379 lightning strikes hit the Bay of Plenty.
"That is a decent amount for one front."
Armstrong Rd residents Andrew and Rebecca Harrison lost 15 to 20 mature trees in the wind.
There was also damage to the roof of their home, the pool fencing, two smashed windows and a few dents to a vehicle.
Rebecca was picking up her children Josh, 10 and Alex, 6, from Te Puna School when the storm hit, and said it was "chaos" as parents scrambled to collect their kids.
They were relieved no one was hurt and grateful to those who had helped them clean up.
Another Snodgrass resident, who asked not to be named, said she heard a big cracking noise as tree branches on her rental property started falling as lightning and wind barrelled through the section.
"It was very scary as I stood at the ranchslider and watched lots of huge tree branches coming down. I feel so grateful my landlord topped some of the trees last week as we could have lost the house," she said.
The resident said she saw a train crash into trees fallen across the nearby railway tracks.
"I have never seen anything like it in my life before," she said.
KiwiRail executive general manager operations Siva Sivapakkiam said rail services were interrupted after trees fell on the railway tracks between Apata and Te Puna.
The line was closed while the trees were cleared, but expected to reopen later in the evening, he said.
Fire and Emergency Northern Communications shift commander Daniel Nicholson said fire crews had been called to downed trees and a lifted roof in the wider Te Puna area, as well as a tree down over a Tarawera Rd in Lynmore, Rotorua.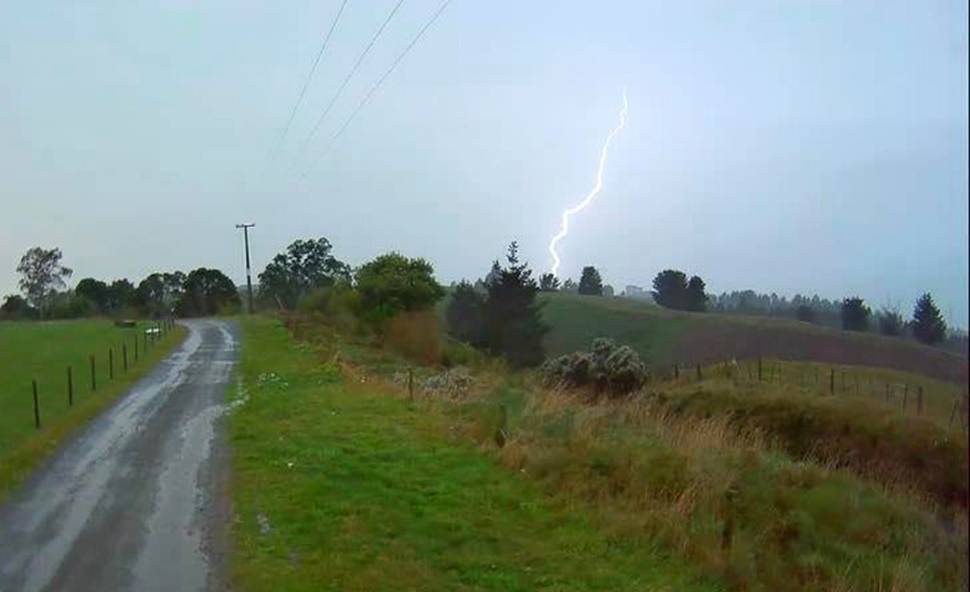 He said firefighters put a tarpaulin over a lifted roof in Youngson Rd, Whakamaramara.
According to the PowerCo website, power was knocked out to 135 properties in Te Puke and 114 in Whakamarama mid-afternoon, but has since been restored.
In Rotorua, 979 properties were initially reported to be without power on the Unison website.
There were 151 in the Rerewhakaaitu area, 684 in the Lake Okataina and Lake Rotoma areas and 144 in the Waikite Valley.
Power was expected to be restored to most between 5pm and 6pm.