Becoming an actor was a natural path for Rawiri Jobe, who was drawn to the limelight from a young age.
RAWIRI Jobe still remembers opening the backdoor of a Broadway theatre after a 10-hour day hosting Erth's Dinosaur Zoo, and the wonderment of being hit by surprise snowfall at midnight in New York's Times Square.
It's a beautiful memory, and a highlight in his career.
The "little potiki" of Tauranga's Jobe family has come a long way from entertaining his parents whilst in nappies, singing Bette Midler's Wind Beneath My Wings into a wooden spoon.
Nowadays, he's on television as Kahu Taylor, a self-employed plumber with a shadowy past and the attention of various women, in Prime TV's The Brokenwood Mysteries.
Known affectionately as "Ra", he's in his second season with Brokenwood, following his TV debut as Azza on Step Dave, which finished screening in 2015.
Born to a Māori father and an Austrian-Kiwi mother, his striking looks have made him an instant headturner on screen, but it was the stage where he first blossomed into a star.
He was the family "entertainment" long before he wowed the world, and has performed in a panoply of plays here and in Australia, the UK, America, Oman and Dubai.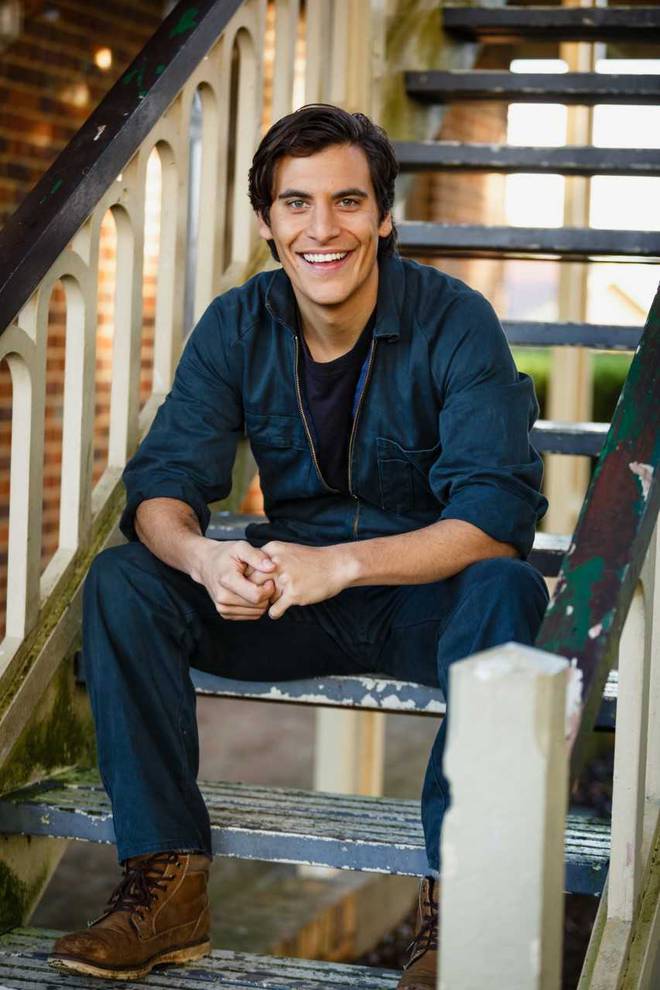 In town to see his mum and dad in Hairini, he recalls, from Astrolabe Brew Bar, his humble beginnings.
He started schooling at low-decile Merivale School, before shifting around and becoming an all-rounder at Tauranga Boys' College, where he commanded the stage as Quasimodo, and John Proctor in The Crucible.
A self-described "little weed", he wasn't big enough for competitive sport so gravitated to the arts where he was small, yet epic - becoming a talented saxophone player and actor.
"I was big into my MJ," he says of the King of Pop, Michael Jackson, also adding:
"Our MC Hammer record had so many gouges in it from me jumping off the couch dancing."
He completed a Media Studies and Theatre degree at Victoria University, and was scouted whilst playing Sir Toby Belch in Twelfth Night at the university's Studio 77.
A Wellington director and audience member asked if he'd audition for Cape, at Circa Theatre.
"I turned up to the audition hungover from work, in my work clothes, and didn't really know my lines," Jobe recalls. "It was the first proper audition I'd had."
He landed the role and caught the acting bug.
"It was the most money I'd ever earned from one job. I felt like I was in dreamland," he says, now aged 31.
"That's when I started to take acting seriously and got an agent and started auditioning."
After years in theatre and performing overseas, including in 45 American cities over nine months with Erth's Dinosaur Zoo, he got his first television role on Step Dave in 2014.
His parents were "stoked" and "proud as punch".
"I think the whole of Tauranga knew I was my father's son," he grins.
His father, Te Weu "TJ" Jobe has just retired from managing the NZ Post shop on Cameron Rd, an organisation he worked for in various roles for 45 years.
He and wife, Helga, are proud parents, but find it uncomfortable seeing their only son pretend to be someone he isn't.
At times, when he played larrikin Azza on Step Dave, they "wanted to wring his neck", TJ jokes.
The Rawiri they know is: "Very outgoing, very friendly, very kind. He's confident and comfortable in his own skin."
"We are very proud of him, because he does well, and he's good at what he does. He's quite humble about it, which is lovely."
TJ, whose is affiliated with Ngati Tamatera, Ngati Huia and Ngati Raukawa, made a kahu weka (weka feather cloak) for his son's graduation from university, as well as for daughters Bianca and Riana.
Most of the acting roles Jobe goes for, are Māori roles.
"It's a really important thing to know where you stand when it comes to how Maori are represented," he says.
"I don't know if Mum and Dad had ever known an actor, so seeing someone they know playing another character can be quite funny. Especially if it's something far removed from reality."
His current show The Brokenwood Mysteries is aired globally, and is, after five years, still winning awards, taking out a silver medal in the mini-series category at this year's New York Film Festival.
It is written by Tauranga-born screenwriter and actor, Tim Balme, whose godmother is Jobe's great-aunty.
Having been likened in looks to the late actor, Martin Landau in his youth, green-eyed Jobe is a "very natural" actor with a relaxed ease in his work, Balme says.
"Rawiri is one of those actors who thinks hard about who his character is and he makes strong offers, which is always a sign of professional dedication.
"He's great to work with. [His character] contributes plenty of charm with a twinkle."
This season Detective Kristin Sims (Fern Sutherland) has a little bit of a thing with Jobe's character, Kahu.
In real life, his partner is Grace Palmer, best known for her role as Lucy Rickman on soap opera Shortland Street. She's also the stepdaughter of television and radio presenter, Jason Gunn.
"It's important that we understand each others' jobs because it is quite a strange job," he muses.
"There's no guarantee of work, it depends on you looking a certain way, and being available at a certain time. You're the bottom of the barrel until you get cast, and then you're God's gift and that's when you get all the perks.
"Someone once told me that the job of an actor is what you do in-between jobs. So it's being ready for auditions, staying fit, going to the dentist, getting your haircut, having a shave."
A few things you might not know about Jobe are: He has an ambition to work in film.
He has a spider tattoo - a replica of an image he saw at the Salzburg Cathedral.
He has his left ear pierced and had it stretched: "I used to walk to uni with a pencil through that hole," he explains.
If he could have one superpower, it'd be "disappartion". The word was invented by J. K. Rowling in the Harry Potter books (Jobe is a fan), to describe a form of teleportation.
He loves a good sleep-in, the outdoors and summer.
He's always wanted to play the guitar, and visit South America.
He's most grateful for being healthy, and for the support of his family: "That's really important in this industry because you're full of self-doubt, and then if someone else doubts you as well, it's all over," he says.
"You really need that belief to get you over the hills."
He has a day job at Gail Cowan Management in Auckland as an actors' agent.
He's been busy this year with Brokenwood, shooting a couple of American TV series, which are shooting in New Zealand, and doing voiceover work.
There are many sublime parts to fame, but he doesn't like people that are infamous.
"I love it when it's earned," he says.
"I mentor and coach young actors at the agency I work at. I'd like to be rich and famous, but in a position to give back - I think that's really important."
No doubt the work will keep coming for the likeable Jobe, who ends our interview with Aswad's Shine Like a Star, playing from the pub speakers.

# The Brokenwood Mysteries 20th celebration episode airs Sunday at 8.30pm on Prime and repeats on Friday, November 23, 7.30pm.