The media grapevine brands her terrifying but Annemarie Quill found Dame Kiri Te Kanawa funny with a mischievous air and... loveable.
"If I have seemed harsh, it is because I have been harsh with myself. I am not good with words, but I have tried to reach you - to communicate something of what I feel." 'Masterclass' by Terence McNally, adapted by Jake Heggie into a song.
A monologue from a fictional diva are the words that Dame Kiri Te Kanawa has chosen to be printed in the programme for her first performance in Tauranga tonight at Baycourt.
The internationally famed soprano will sing this evening to a sell-out crowd of Tauranga's glitterati, local dignitaries and music lovers. The gala recital with New Zealand pianist Terence Dennis is the penultimate in a six-venue national tour for the 72-year-old star, who will then return to England where she has lived since 1965.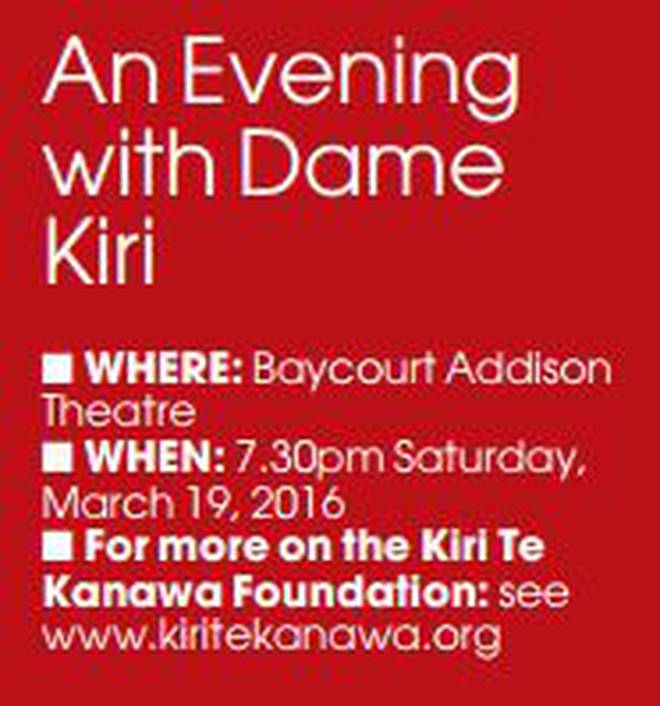 Did she choose these words because it is how she wants to be understood?
"It relates to the singer ... my sort of singer. It's where I am. I am singing a message from the composer and writer ... what people interpret is their thing ... it doesn't tell the story of me."
It does tell the story of a diva.
Which is what Dame Kiri Te Kanawa is literally. A leading lady, prima donna, a major international soprano for more than four decades.
Her solo at the 1981 wedding of Prince Charles and Diana at St Paul's Cathedral propelled her to celebrity status. Telecast to an audience of 600 million around the world - believed to be the largest direct telecast of any solo singer in history - Kiri Te Kanawa became a household name, bringing the elite world of opera to the masses.
It is not a career. It is a life. I cannot imagine a life without music.

SHARE THIS QUOTE:
OVER FORTY YEARS
she has starred in leading roles in the most renowned world opera houses and sung concerts with the best of the best orchestral ensembles. Created a dame in 1982, she has honorary doctorates from both Oxford and Cambridge and nine other universities. She sang the first song of the new millennium, in Gisborne, to a global audience of more than a billion.
She is an Honorary Member of the Royal Academy of Music, holds the British Recording Industry's 2010 Lifetime Achievement Award, was presented with the International Achievement Summit Award by Julie Andrews, and has been inducted into the Hollywood Bowl of Fame.
Named iconic New Zealander of the year in 2012, she is part of an elite group of international artists who have been recording for more than 50 years.
Not bad for a Kiwi girl born in Tokomaru Bay and adopted as a baby by Thomas Te Kanawa, a Gisborne truck contractor and his wife Nell.
Dame Kiri's career is not without controversy, with some of her dismissive comments on popular singers including Susan Boyle, Charlotte Church and Hayley Westenra earning her the name diva in figurative as well as literal terms.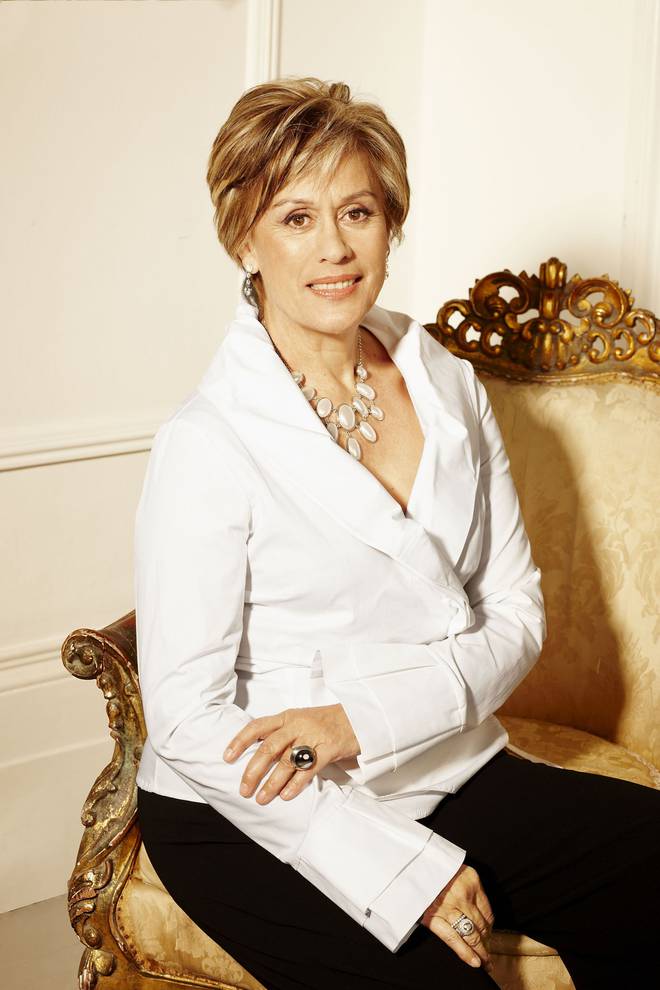 She admits she "doesn't suffer fools". On the media grapevine, the word is that she is terrifying.
BEFORE MEETING HER we are instructed to "do our research", only ask "valid questions", and told that she can "smell fear."
Arriving in the foyer at Trinity Wharf hotel on Thursday, at first glance Dame Kiri could be any tourist - dressed casually in black pants, sports shoes and a white puffer jacket.
Even if you didn't recognise her, she exudes an imperious air. Staff are soon rushing, fetching, carrying and one has the sense that royalty has arrived in Tauranga.
If you do recognise her, don't ask for a selfie - she has said that she doesn't like being stopped for them and doesn't understand why people would think she would want her photo taken with someone she doesn't know.
So with phones tucked away in our pockets and, despite the warm day, the air conditioning switched off (it is bad for the voice) it is with some trepidation we wait for her in a suite overlooking the harbour.
But when Dame Kiri enters the room, I start to think that all talk of her being a meanie is just urban myth.
Her handshake is warm, her brown eyes intelligent and her serene composure so beautiful, she is instantly captivating. She has a mischievous air, joking and laughing freely.
Well I must confess I do go around in gumboots a lot. I even go to the pub in them. But they are Hunters so I think they are ok.

SHARE THIS QUOTE:
I poke the elephant in the room. Is she sometimes a tyrant?
"Oh no, I am a pussycat," she smiles ironically, and her manager Paul Gleeson and pianist Dennis - who accompany her - both chuckle.
Having researched her hobbies I ask will she be doing any big game fishing or hunting in Tauranga?
"I haven't found anyone to shoot ... yet," she says laughing again.
I tell her last night I watched on YouTube again the recording of her singing in 1991 at Liverpool cathedral with The Royal Liverpool Philharmonic Orchestra and Paul McCartney. She tilts her head as though recollecting - as though singing with a Beatle is something you really have to rack your brain to remember when it was. I reminded her that Paul joked when hearing her, "That girl can sing."
"Did he?"
Does she eat pies and what about gumboots?
She laughs again.
"Well I must confess I do go around in gumboots a lot. I even go to the pub in them. But they are Hunters so I think they are ok."
And even though she is in Tauranga, she says she draws the line at going out in jandals.
DESPITE ALMOST FIVE DECADES of divadom, I ask if she is just still that Kiwi girl from Gisborne at heart.
Dame Kiri leans forward, her brown eyes mesmerising - "Are you still that girl from Liverpool? You know my answer."
I don't mind if Dame Kiri is a diva or not. I love her. There is a sense of solitude about her. I start daydreaming if we might hang out, be friends.
No.
"I don't like socialising ... I don't even like going out to dinner unless absolutely necessary. I don't like crowds, I don't like cities. I don't like socialising at all simply because that is what I had to be like to be disciplined, to keep to a regime, to be able to carry the workload. But even now if my workload eases off I still don't like socialising because still I have not socialised all my years of my career."
It is a stark reminder that all the feathers in her cap have not been achieved without a huge amount of work and sacrifice. She likens it to being an athlete, "If you know anything about athletics it is same with singing - the training, the diet, the sleep."
She maintains her fitness by keeping her life in balance, avoiding not just people, but risks.
"I stick to my same routines, not too much risk, I would never go to a strange country and say let's have snake or crocodile."
It would be impossible to attain excellence without sacrifice, she says,
"I don't know anyone who doesn't make sacrifices. Anyone who is doing anything in a top quality, high-end achievement. Massive sacrifices. It is something you want to do and nothing else matters at the time. My girlfriend used to say to me, something is being left behind today, whether it is the children, the dog, the husband, the house, the cleaning, the washing, but the career goes on."
Dame Kiri has two adult children who she adopted when young, like she was, and like any working mother she acknowledges that her career meant she could not always spend as much time as she would have liked.
"You juggle all the time.
"One aspect of your life is being neglected, but never the singing."
HER MARRIAGE to Desmond Park, a mining engineer who she had met on a blind date in 1967 and who became her manager, ended after 30 years.
I wonder how being adopted had shaped this personality of someone who can be so rigorous, seemingly able to survive without people.
"I have seen people who have used the fact they are adopted it to fight the world, some who use it as a cross, some as a badge of honour. Me, no. I am Kiri Te Kanawa."
Her parents Thomas and Nell sacrificed "everything" for their daughter's singing, she said, "I mean everything."
My mother knew I could sing, she recognised something, but she didn't know what exactly.

SHARE THIS QUOTE:
She had a close relationship with her father and she caught his love of being connected to the earth.
"We went fishing every morning in Taupo, we would go shooting and hunting rabbits."
Her love of fishing continues today. Despite her glittering career in gowns and stage makeup, she is at home in waders.
"On my boat's maiden voyage I got a 217kg blue marlin. Over Christmas we got about six yellowfin tuna, one was 26kg."
It is a tough sport.
"Well, I only spend about an hour reeling them," she considers.
It is a fitting pastime for a woman who has battled much to rise to super stardom from her first public performance was at just 6 years old, standing on a chair to reach the microphone in a radio studio in Gisborne.
"My mother knew I could sing, she recognised something, but she didn't know what exactly."
Under the tutelage of the distinguished singing teacher Sister Mary Leo, by the time Dame Kiri was 20 she had won all the major vocal prizes available in the South Pacific and moved to London to study at the London Opera Centre in 1965.
"But that doesn't mean anything. I was doing well when I left, but just because you sing a couple of songs and everyone loves you doesn't mean you have an international career. It is all building blocks, stairs to climb. There is a massive amount of progression."
It was her sensational London debut in Mozart's The Marriage of Figaro at Covent Garden that had international reviewers frothing.
She "looks and moves like a goddess", it was said, and sang the opening aria, "as if its reputation for difficulty were a fairy story".
Almost overnight it propelled her into the front row of international opera and her singing career made her one of the most famous New Zealanders of all time.
I don't think I am an ambassador for New Zealand. That would be another job. I am Kiri Te Kanawa and I sing.

SHARE THIS QUOTE:
Does the experience mean she has any advice for those New Zealanders more recently propelled on to the world stage, the likes of Richie McCaw and Lorde?
"What is her name, Lorde? It is not my area. My area is opera. I don't think I am an ambassador for New Zealand. That would be another job. I am Kiri Te Kanawa and I sing. That's what I do. So I don't know what Richie McCaw goes around doing or Lorde, but he is a rugby player and she is a singer. I can't imagine they would do anything else other than simply that."
As such she says she is "not political" but is drawn on the flag.
"I must say I would choose something else. I would like to see something better, otherwise they should stick to what they have got until they get something better. At least it has red, white and blue. I am a red, white and blue person."
WHILE SHE MAY BE uncomfortable with Kiwis hugging her to their national bosom, her patriotism is demonstrated by her passion for giving back to promising Kiwi singers through her Kiri Te Kanawa foundation. She set up in 2004 to identify and nurture top-end operatic talent, giving support, mentoring and financial assistance. Singers do not apply, they are chosen. If they do make the cut they will be taken under Dame Kiri's wing. The foundation is clearly her passion.
"We talk about it all the time, planning what we can do."
It is also one reason she says she continues with her touring schedule, to raise awareness. Twelve years on, the foundation is about to launch a new 12-month programme, The Kiri Programme, in which she will be closely involved, providing a personalised skills boost to a select group of outstanding singers.
So has she found "the one"?
Excitment overtakes her.
"Yes. They are all in various grades, but we have one at the moment who is doing extremely well. Phillip Rhodes. I got a fantastic email from him just this morning filling me in and I thought 'oh my God, look where he has come in three years'. He is covering at Covent Garden and he just got to sing for the lead. That's where toughness comes in, because he knew that the conductor wouldn't have been happy at the beginning that the cover was doing it not the lead, but he did it and, by the end, he would have impressed the conductor. I know he would have been fantastic ... it was just so thrilling to get that email."
You get the impression that Dame Kiri is as thrilled about her protege's "toughness" as his singing prowess.
"It is a strength of character. Inner strength. You stay your ground. You have to have it to succeed. Talent alone is not enough."
Rhodes' rise to fame so far bears some uncanny similarities to Dame Kiri's. He was adopted as a child, and was discovered singing in Breakers in Hastings. Following a call from Dame Kiri he was awarded a grant to study at the prestigious Cardiff International Academy of Voice in Wales.
The 35-year-old now graces the European stages as baritone and will be back in New Zealand later this year for New Zealand Opera's productions of La Traviata and Sweeney Todd.
"He is going places," she says with an almost maternal pride.
It is a strength of character. Inner strength. You stay your ground. You have to have it to succeed. Talent alone is not enough.

SHARE THIS QUOTE:
The mentoring not only includes practical help with vocal technique, but how to handle media and pressure, plus good health habits. Singers must be "presentable" but "it is not about looks".
"The voice is what matters. My looks was never part of what I did."
Dame Kiri is coyly modest about her unquestionable attractiveness.
"Well, by luck, I wasn't bad."
While Dame Kiri may be a tough teacher, she is an honest one.
"In the village where I live in England, people ask for my advice on their children. That is a responsibility. It is major, you are deciding with their parents what they will do. Sometimes I think that voice it is not going to make it. I had a 15-year-old come to me a couple of years back, very famous parents. She sang for me and I said, I hope I never hear you sing that song again. She was too young to be singing an aria that she should never touch for another 10 years. You should develop a voice gently, start with some Mozart ... if they launch straight into Verdi, or Puccini, I think, oh no."
Despite her profession not to socialise, her house often becomes a hub for musicians.
"They are all starving singers, they come and empty my fridge. But it's a joy. I like to cook for everyone - I cook huge lamb stews and schnitzels and we eat when we are working."
Music is always part of her home she says, when gardening, relaxing, she listens to orchestras.
"I'm mad about them, the Vienna Phil, Berlin Phil, Cleveland, London Phil, English Chamber, all those glorious orchestras I have worked with."
Her beloved three Yorkie-Pomeranians (one she named Abbey after her favourite show Downton Abbey in which she cameoed in 2013) must be the most musically savvy pooches in the world, listening constantly to the world's best orchestras and even accompanying Dame Kiri to opera houses. While she is in New Zealand the dog sitter sleeps with the dogs and sends Dame Kiri constant updates. They are the reason she will return straight back after her last concert in Blenheim.
"I cannot be away from them for too long."
She is not rehearsing her swansong. She dislikes talk of retirement. "There is no such thing. Otherwise you are dead. When Japanese retire they go in their houses and never come out again and I am not intending to do that. If I do slow down, cut down, whatever, I will be moving into the next stage of what I want to do."
I never sing anything I don't love, it is simply not possible. Audiences are very bright and they can feel it.

SHARE THIS QUOTE:
But for the moment she still has more to achieve with the foundation and says it is what she talks about most of the day with trustees Terence and Paul.
"We are always thinking about the students."
MUSIC WILL ALWAYS be part of her life.
"It is not a career. It is a life. I cannot imagine a life without music."
Dame Kiri has personally chosen the songs she will perform tonight at Baycourt and says they are all her favourite songs.
"I never sing anything I don't love, it is simply not possible. Audiences are very bright and they can feel it."
She likens selecting the repertoire to choosing a dress.
"You have a look and you choose things that suit. If you say to yourself 'I look [awful]' you will feel like that and you will go out and look like that. It is the same with choosing a song."
In the printed words in the programme, the fictional diva tells the audience that musicians have made the world richer and wiser, and she has been one to make this world a better place.
Dame Kiri Te Kanawa has done just that.
"I have chosen to sing what I love, so that people will love it."
Tonight, Tauranga, prepare to fall in love.