Concerns have been raised about new road markings at a Tauranga roundabout which have been described as "confusing" and "potentially dangerous".
This comes amid feedback from frustrated Bay drivers after a 15-minute Bay of Plenty Times survey recorded 189 drivers failing to indicate correctly at another city roundabout.
Tauranga man Anthony Holt navigates the Oropi Rd and State Highway 29 roundabout several times a day and about a month ago noticed new white dotted lines and thought "what the heck are those for".
He told the Bay of Plenty Times Weekend the new white markings that appeared on the Oropi Rd and State Highway 29 roundabout were "confusing" and "potentially dangerous", saying they had the "potential to cause problems".
Read more: Drivers flout road rules at city's intersections
The lines were painted across the right-hand lane as traffic coming from Oropi Rd turns right to travel to Mount Maunganui.
Mr Holt said people turning right would typically use the lane closest to the roundabout, but the new markings seemed to suggest they should cross to the left-hand lane.
"I have seen cars cut across the lane and previously they would have never done that prior to the markings being put there," he said.
"I just can't work out why they are there."
Mr Holt voiced his confusion to BOP Driving School instructor Jeroen van der Beek, after he saw the Bay of Plenty Times report on drivers flouting road rules at intersections.
Mr Beek said he received two emails asking about that particular confusing roundabout: "They said 'you're the instructor, how are you meant to negotiate it?'," Mr Beek said.
He said it looked confusing and if changes were going to be made to road markings, New Zealand Transport Agency should explain.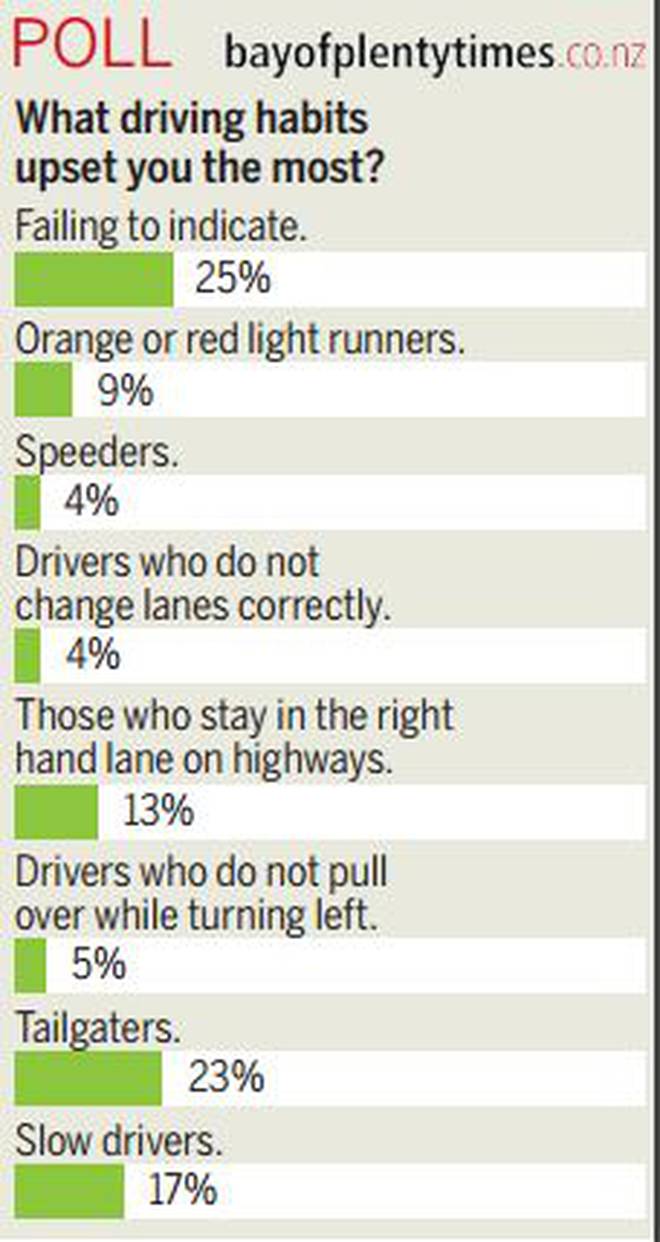 The New Zealand Transport Agency did not respond to questions before this edition went to print.
Throughout the week, driving pet peeves proved a hot topic for Bay residents online.
A Bay of Plenty Times poll on driving habits found failing to indicate frustrated the majority of respondents, while tailgating came a close second.
Western Bay of Plenty head of road policing Senior Sergeant Ian Campion said the results were not surprising, though easily remedied.
"If you had asked me, 'what are the two things that aggravate motorists the most?' I would have said failing to indicate and tailgating," he said.
He said the police received complaints about tailgaters, "but not only that, we have a significant number of nose-to-tail type crashes which are simply people following too close and not paying attention".
Mr Campion said figuring out an appropriate following distance was simple: "If you just work out 4 metres for every 10km/h as your following distance. It's that simple."