Sugarfoot the miniature horse has been located - in the Papamoa Hills with two other horses, two cats and a chicken.
Former owner Cilla Reeves issued a public plea in a bid to locate the horse after she sold him to someone in Tauranga and lost track of him.
Mrs Reeves bought Sonny, a white appaloosa miniature horse, from a farm in Northland after seeing him chained to a fence for three years.
Read more: Searching for Sugarfoot the missing mini horse
The farm went up for sale and she bought the little horse on the spot.
The 65-year-old had to sell him two years ago after she started taking fulltime care of her elderly mother.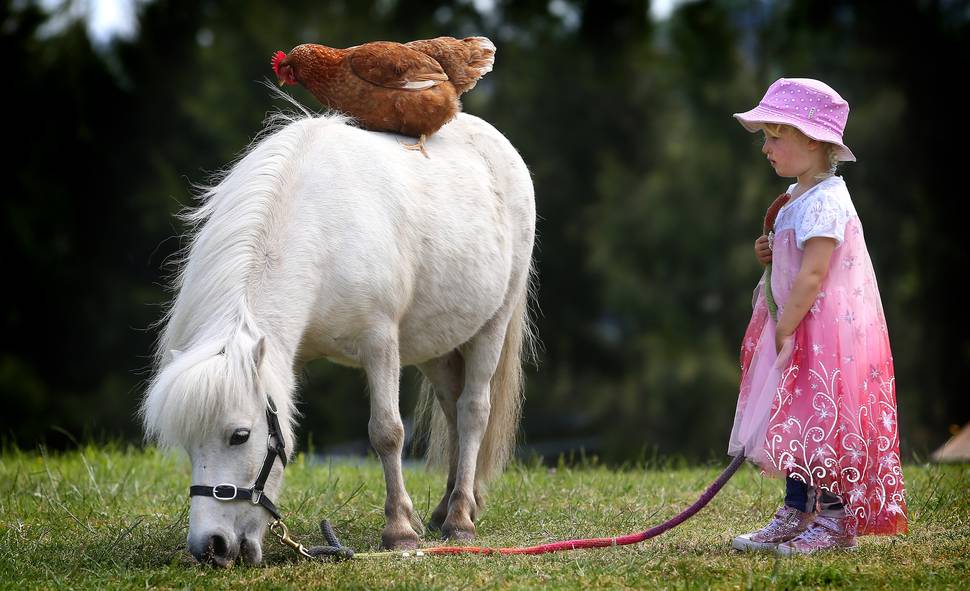 He was then resold using incorrect information and renamed Sugarfoot.
Sugarfoot's new owner contacted the Bay of Plenty Times after the initial story about Mrs Reeves' search went to print.
Owner Marcia Keucke said she bought the "beautiful little pony" in 2014 for her two girls now aged 3 and 5.
Mrs Keucke said Sugarfoot's story had brought tears to her eyes and was happy to be in contact with Mrs Reeves.
Different friends had forwarded the article letting her know that Sugarfoot's previous owner was on the hunt to know where he was, she said.
"He's actually quite known in the Bay, he's not just a little pony who's in a paddock who nobody ever sees. He's been to markets and done birthday parties so lots of people know Sugarfoot."
Mrs Reeves said she was delighted to know Sugarfoot was safe and well looked after.
It had been incredibly sad not knowing what had happened to the horse, she said.
"It's like losing a child. It's not so bad when you sell a horse and you know where he goes. When you don't know what's happening with them it's a whole different thing. He's got a history and I think he could easily be misinterpreted because he is so lively and enthusiastic about everything."
Tracking him down after only a few days had been mind blowing, she said.
"After two years it is such a weight off my shoulders, to know he is happy and well and with a lady similar to me.
"We are all thrilled. I am so happy she recognised he has got star quality. He's a special little man and we always hoped he would be a star and well looked after. I always thought he should be in the public, be with other animals and it seems like he landed on his little hooves."
Mrs Reeves said she was looking forward visiting Tauranga one day to catch up with her equine friend.
How small is the smallest horse?
According to Del Tera Miniature Horse Farm of Inman South Carolina , the smallest miniature horse in recorded history was a stallion named "Little Pumpkin." He stood 14 inches tall and weighed only 20 lbs. However, the Guinness Book of World Records lists Black Beauty as the worlds smallest miniature horse at 18.5 inches tall.