Young Rotorua basketballers have had the opportunity to learn from the best during a skill session with Tall Black Tom Abercrombie.
Abercrombie was at the Southern Trust Sportsdrome yesterday ahead of the Tall Blacks FIBA World Cup Qualifier against Hong Kong at the Energy Events Centre on Thursday, June 28.
He ran a one-hour practice session with Rotorua age-group representative players before posing for pictures and signing autographs.
When the game in Rotorua tips off it will be the first time in four years that Bay of Plenty basketball fans have seen the Tall Blacks play at a venue close to them. They last played in Tauranga in 2014 against Korea. Abercrombie said getting out and playing in the regions was something the players looked forward to.
"We don't get to play in Rotorua very often. I think this is the first time I've been in this gym since high school. So, it's pretty awesome there's a Tall Blacks game in Rotorua, for the community down here, so hopefully there's a great turnout at the game and we put on a really good show," Abercrombie said.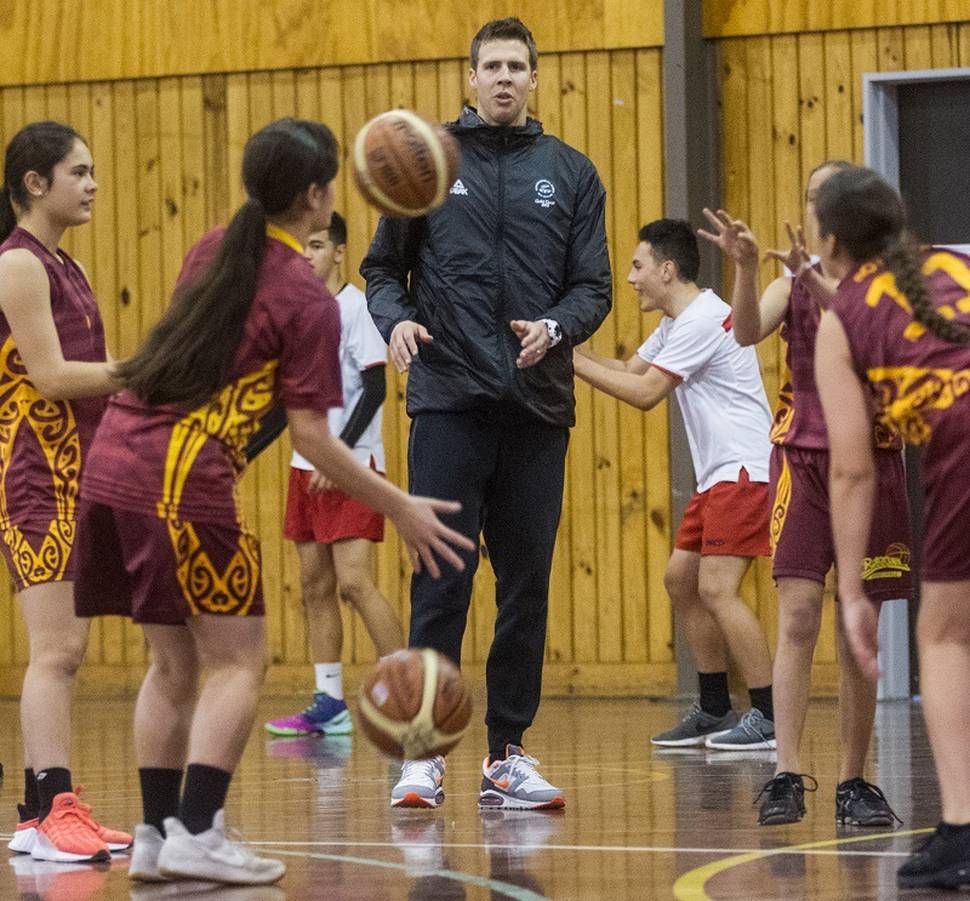 The Tall Blacks played Hong Kong, in Hong Kong, in their first World Cup qualifier in November, cruising to a comprehensive 133-74 victory. Abercrombie expected the Hong Kong side to come out firing in Rotorua.
"It was a reasonably comfortable win at their place. I expect they've gone away and worked on a lot and will be a much tougher opposition this time around. We certainly don't take them for granted and we expect them to come and be a lot more competitive, so we've got to be ready.
"We get into camp next week and it's always an exciting time when the group gets back together. Everyone's off in different parts of the world and we only get to come together a few times a year, so it's always exciting. The boys love playing together and playing for our country, so we can't wait," he said.
He said there were some potential future stars involved in the training session yesterday.
"It was great, there's some really good local talent. The school base is impressive, they can all play and you can tell they've been well coached.
"I think the more we can get our local communities involved and playing at a high level is great for them and the country as a whole."
Oceania teams such as New Zealand are in the Asian group for World Cup qualifying.
After the game in Rotorua the Tall Blacks travel to Auckland to take on China three days later. These games make up the third of six qualifying windows, the last of which is next February.
Tall Blacks FIBA World Cup qualifying results so far
Tall Blacks 80 Korea 86 (Played November 23)
Tall Blacks 133 Hong Kong 74 (Played November 26)
Tall Blacks 82 China 73 (Played February 23)
Tall Blacks 93 Korea 84 (Played February 26)