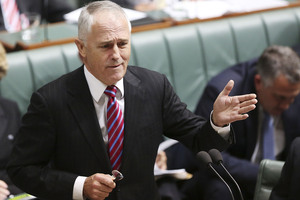 Australian Coalition frontbencher Malcolm Turnbull says his colleagues would have been "absolutely satisfied" that they were doing the right thing when claiming thousands of dollars in allowances to attend weddings.
Over the past week it has emerged that four senior Coalition ministers and a backbencher have claimed expenses totalling more than A$15,000 ($17,000) to attend three different weddings.
Turnbull believes Julie Bishop made a "very valid use of her travel entitlement" when she claimed A$3445 to pay for flights home from a lavish wedding in India when she was shadow foreign minister in June 2011.
Mining magnate Gina Rinehart flew Bishop, Barnaby Joyce and Teresa Gambaro from Perth to Hyderabad in a private jet to watch the granddaughter of her business partner marry in front of 10,000 guests, Fairfax media reported yesterday. In the name of fostering stronger ties with India, Rinehart invited Australian politicians to be her guests at the wedding, and they later claimed more than A$12,000 in travelling expenses to return home.
Bishop claims to have spent more time talking to business executives over the three days than she did attending the wedding. "Julie Bishop's visit to India was very much in line with what she should have been doing as shadow foreign minister," Turnbull told the ABC.
Turnbull's comments came the same day as reports that Prime Minister Tony Abbott repaid A$1094 he charged taxpayers for attending the 2006 wedding of Liberal MP Sophie Mirabella in Victoria. A week ago Attorney-General George Brandis and Joyce agreed to repay the A$2299 they charged taxpayers to attend the 2011 wedding of broadcaster Michael Smith.
- AAP