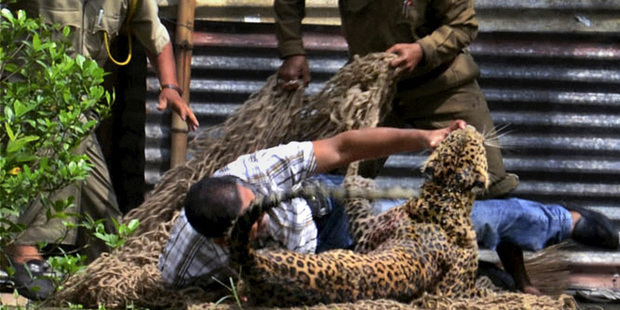 An adult male leopard injured 13 people in an all-day rampage in India before being shot.
The attack, in the Dibrugarh district in Assam in northeast India, occurred at the Oil India field headquarters campus.
After the leopard had been tranquillised and officials were waiting for the drug to act, the big cat attacked the large crowd which gathered to look at it.
Forest officials were forced to shoot the animal dead after it attacked several people, including two forest guards. The rest of the injured people were all civilians.
As the news of the attack spread, hundreds of people gathered in the area to watch the forest officials capture the animal, hampering their efforts.
According to Telegraph India, an official said: "Despite our requests the people did not leave thus making the job more difficult."
One newspaper said leopards were often spotted on the Oil India campus, because it is near a reserve forest.
P. Shiv Kumar, divisional forest officer of Digboi forest division, said: "We were informed about a leopard straying into a bungalow of an Oil executive on Sunday morning.
"I accompanied a team of veterinary doctors from the Centre for Rehabilitation and Conservation of the Wildlife Trust of India to the spot. By the time we got there, the leopard had attacked five people.
"We tried to tranquillise the leopard, but it got agitated - which is normal before sedatives take effect - and pounced on the large crowd gathered at the spot. The security personnel were left with no option but to shoot it."