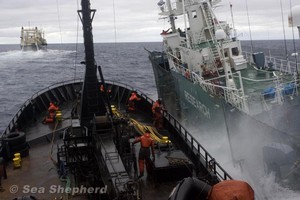 The Japanese whaling fleet appears to have called an early end to its whaling season in Antarctica, a move which conservationists tentatively say could spell an end to whaling in the Southern Ocean.
The International Fund for Animal Welfare (IFAW) issued a statement welcoming reports in the Japanese media that Tokyo had decided to cut short this year's Antarctic hunt and the fleet was heading back to port with less than half its projected quota.
"Putting safety as a priority, the fleet has halted scientific whaling for now. We are currently considering what to do hereafter," Tatsuya Nakaoku, an official at the Fisheries Agency, told Reuters.
When asked if Japan was considering bringing back the fleet earlier than planned, he said this remained an option and added that Japan's whaling plans were not going smoothly.
The Sea Shepherd group's vessel Bob Barker has been following the fleet's factory ship, the Nisshin Maru, since February 9. Bob Barker's captain, Alex Cornelissen, confirmed that the whaling vessel had left the hunting grounds and was now 2000 nautical miles from them in the Drake Passage, between the southern tip of South America and Antarctica.
Three harpoon vessels which made up the remainder of the fleet were unaccounted for, he said, but these would be unable to kill whales without the Nisshin Maru to process them.
The fleet had had an "absolutely disastrous" season because conservationists had been shadowing it since the first day of the whaling season.
"I think this year will mark the most successful year in (the Sea Shepherd's) history and we can only hope that this will be the turning point, that this will be the moment that the Japanese whaling fleet will decide to throw the towel in and this will be the end of Japanese whaling in the Antarctic," Mr Cornelissen told NZPA.
IFAW's global whale programme director Patrick Ramage said the fleet was apparently withdrawing due to pressure from all fronts.
"We hope this is a first sign of Japanese government decision-makers recognising there is no future for whaling in the 21st Century.
"Ultimately, the decision to finally end whaling for good will take place not in the turbulent waters of the Southern Ocean nor on the floor of the International Whaling Commission but in the halls of power in Tokyo, Oslo and Reykjavik," he said.
Japan's self-awarded scientific permit for 2010-11 gives the whaling fleet millions of square kilometres of ocean south of Australia and New Zealand to hunt down whales.
- NZPA, NZ Herald staff