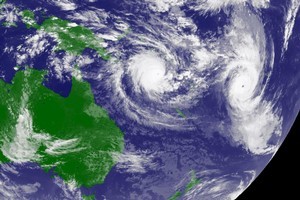 Experience from comparable previous La Nina summers suggests that cyclones may be a greater risk this season on French Polynesia and in the southern Cook Islands, says a weather expert.
"The Coral Sea and surrounding places have an elevated risk of cyclone impact," said MetService meteorologist Bob McDavitt.
But he noted that although there appeared to be a reduced risk for places east of the international dateline, all communities should be alert and prepared.
Meteorological experts from both sides of the Tasman, the United States and around the South Pacific have predicted a heightened risk of tropical cyclones from huge amounts of warm water being pushed further west in the tropics because of the strong La Nina weather pattern.
There could be nine to 12 major tropical cyclones before April, the end of the cyclone season, which usually averages nine. On a scale of one to five, with five the most dangerous, three of the cyclones are forecast to reach at least category three, and one to reach at least category four, with mean wind speeds of 118km/h.
During previous La Nina summers, increased north-to-northeasterly winds for New Zealand have allowed low-pressure systems and decaying tropical cyclones to swing closer to this country.
"So that is typical for at least one ex-tropical cyclone to pass within 550km of the New Zealand coast," Mr McDavitt said.
In Australia forecasters have predicted up to six cyclones will form off Queensland's coast, with at least one before Christmas.
In 2009, three cyclones crossed Queensland's Far Northern coast, leaving a damage bill of more than A$140 ($181) million.
- NZPA