Wellington
Auckland
Christchurch
Dunedin
Tauranga
Hamilton
National Short-Range Forecast
2018-23-03 4:40 PM
Northland to Taumarunui, also Bay of Plenty, Taupo and Taihape
Showers, some heavy, with thunderstorms possible this afternoon from Northland down to northern Waikato.
Gisborne and Hawkes Bay
Fine spells. Isolated showers, possibly heavy about the ranges.
Taranaki
Occasional rain, heavy and possibly thundery at times.
Whanganui to Wellington, also Wairarapa
Scattered rain clearing this morning then fine spells. However, isolated showers from afternoon.
Buller, Nelson and Marlborough
Periods of rain, with some heavy falls, possibly thundery in Buller and western Nelson from afternoon.
Westland, Canterbury and Otago, excluding Clutha
Mostly cloudy. Scattered rain spreading south during the day.
Clutha, Southland and Fiordland
A few showers about the south coast. Partly cloudy elsewhere, but generally fine about the fiords.
National Long-Range Forecast
2018-23-03 12:27 PM
Saturday
North Island, Rain north of Taranaki to East Cape, spreading elsewhere for a time, but just a few showers in Gisborne and Hawkes Bay. South Island, Fine spells in inland Otago and Southland, with a few afternoon showers. Rain or showers elsewhere, easing in the west and clearing in the east.
Sunday
North Island, Rain north of Taupo, easing to a few showers. Scattered rain spreading elsewhere for a time. South Island, Showers in the west, easing north of Fiordland. Becoming mainly fine elsewhere, but isolated afternoon showers in Otago.
Monday
North Island, isolated showers from Northland to Bay of Plenty, and also Kapiti, mainly in the afternoon. Mostly fine elsewhere. South Island, Cloudy in the west, with a few showers south of about Haast. Mainly fine elsewhere.
MetService Severe Weather Update: March 23rd - 24th
MetService Weather Christchurch: March 23rd
MetService Weather Auckland: March 23rd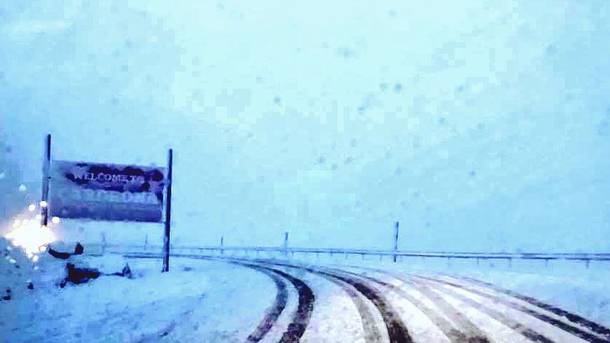 22 Mar, 2018 12:12pm
2 minutes to read
Snow is falling in the Southern Alps as a southerly front moves up the country.