Wellington
Auckland
Christchurch
Dunedin
Tauranga
Hamilton
National Short-Range Forecast
2018-23-02 5:24 PM
From Northland to Waikato, including Coromandel Peninsula, Bay of Plenty and Taupo
Fine apart from isolated showers.
Gisborne
Showers becoming isolated this morning, then retreating to the ranges in the afternoon.
Waitomo to Wellington, including Taumarunui and Taihape, also Hawkes Bay and Wairarapa
Fine apart from a few morning showers about the Wairoa District.
Nelson, Marlborough, Canterbury, and Otago excluding Clutha
Fine apart from isolated afternoon showers.
Buller and northern Westland
Cloudy periods and isolated showers.
Southern Westland and northern Fiordland
Fine apart from the odd shower about the Fiords.
Southern Fiordland, Southland and Clutha
Mostly cloudy, with a few showers.
National Long-Range Forecast
2018-23-02 11:34 PM
Sunday
North Island, fine and cloudy periods, isolated showers in Northland, Taranaki and Bay of Plenty. South Island, rain developing in the west, possibly heavy. Fine at first in the east but high cloud increasing, and scattered rain spreaing north. Northwesterlies rising to severe gale about the High Country.
Monday
North Island, brief rain, then a few showers. Gale or severe gale northwesterlies south of Taihape at first. South Island, rain with possible heavy falls in the north and east, easing to a few showers. Fine in the west. Fine spells and isolated showers in the south.
Tuesday
Mainly fine, however, isolated showers about the North Island east coast, the Kaikoura Coast and Buller.
23 Feb, 2018 7:52am
2 minutes to read
It may take at least a day to refill New Plymouth's water reservoirs.
23 Feb, 2018 5:53am
5 minutes to read
The weekend will be a chance to dry out for most following a wet and sodden week.
Ex-tropical cyclone Gita caused massive slips closing State Highway 1 near Kaikoura. Video / NZTA
22 Feb, 2018 8:00pm
3 minutes to read
Kaikoura, Taranaki and Takaka are still picking up the pieces.
22 Feb, 2018 10:09am
3 minutes to read
They got out just in time, as slips came down the hill behind them as they ran.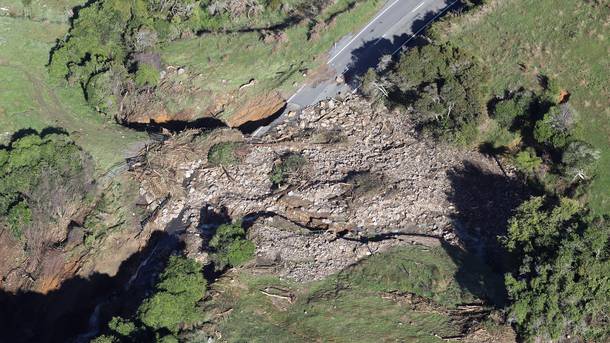 22 Feb, 2018 9:39am
5 minutes to read
Water, power and food supply issues continue as the process to return to normal begins.