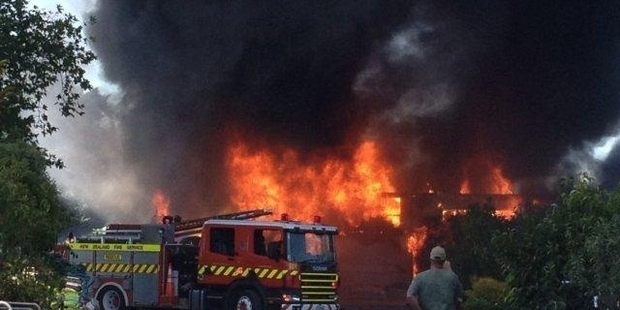 A brand new building has risen from the ashes of a blaze that caused $250,000 worth of damage to a shed, vehicles and equipment at a garden supply firm in Masterton almost a year ago.
Garden Barn owner Laurie Hatchard said yesterday the 200sq m Coresteel structure - built by Holmes Construction on the site of the shed destroyed in the fire in early February last year - also featured an expanded and enhanced office area, an extended smoko room for workers, and separate toilets for staff and public.
About 20 firefighters, some wearing breathing apparatus, took about half an hour to douse the fire last year, which also destroyed about $10,000 of plants, trees and shrubs at the High St business.
Fire investigators established a discarded cigarette butt had sparked the blaze at the 14-year-old Masterton business, which has seven family members among a staff roll of 15.
Mr Hatchard said the fire had been a blow for the firm but the new shed, which took three months to build, was a companion structure to the Coresteel retail building also on the 1.5 hectare property and both buildings were the first of their kind in the town.
He said that besides the new structure, for which his son-in-law Quintin Moore had been project manager, the company has a new forklift and a brand new and larger tractor, replacing vehicles lost to the flames. The office has acquired new computers, specialist labelling machines and a high speed printer.
"We still have some shelving to go up in the storage and production space, which can also be used for class evenings and educational events.We kept the same design as the old shed that had a lean-to, which we rebuilt as well, because it just worked for us," he said.
The business underwent significant expansion and rebranding about three years ago, Mr Hatchard said earlier, which was complemented by the new building, interior spaces, equipment and vehicles.
"The fire put back development by about two years - it was a real eye-opener - so we put our focus on creating a new fruit centre. Our business has grown and the new shed is roomier, the tractor is bigger and it's all way better suited to what we need today. We're back on track now."
For more articles from this region, go to Wairarapa Times-Age