Each Thursday Eleanor Ozich of Petite Kitchen will share her thoughts on healthy eating, with recipes and more.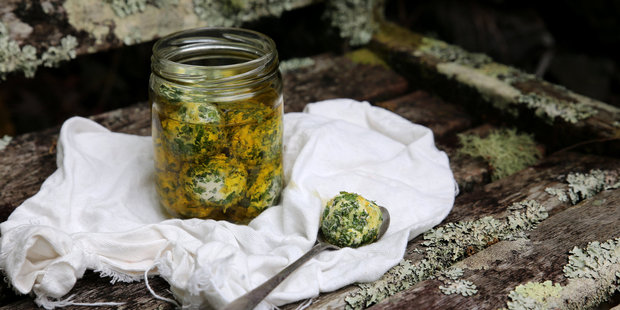 Something a bit different this week - a fabulous recipe for home made creamy and tangy yoghurt cheese rolled in freshly chopped herbs and lemon zest.
The balls are then layered in a glass jar and topped with extra virgin olive oil. Sometimes I like to add a little chopped chilli, and olives to the coating, which also tastes fantastic. This fresh cheese is truly wonderful for spreading on bread or crackers, and is incredibly easy to prepare.


YOGHURT CHEESE ROLLED IN HERBS AND LEMON ZEST
Makes a medium sized jar full.
Ingredients
• 2 cups of natural yoghurt
• large handful of fresh herbs, finely chopped*
• zest of a lemon
• sea salt
• pepper
• extra virgin olive oil
*Italian parsley, basil, mint, thyme and oregano all work well.
1. Place a large piece of cheesecloth or muslin in a fine mesh sieve over a large bowl. Add the yoghurt, and then twist together the corners of the cheesecloth like a moneybag.
2. Place a plate on top, and then weigh down with a can or something similar.
3. Refrigerate for at least 24 hours. The longer you leave the cheese, the more liquid will drip away and the drier the cheese will become. 4.
4. Combine the herbs, lemon zest, and a large pinch of sea salt and ground pepper in a shallow bowl.
5. Using your hands, roll the cheese in to small balls, and then roll in the herb mixture.
6. Layer the balls in clean glass jar, and then top with extra virgin olive oil.
7. Seal, and then refrigerate for up to two weeks.


- VIVA