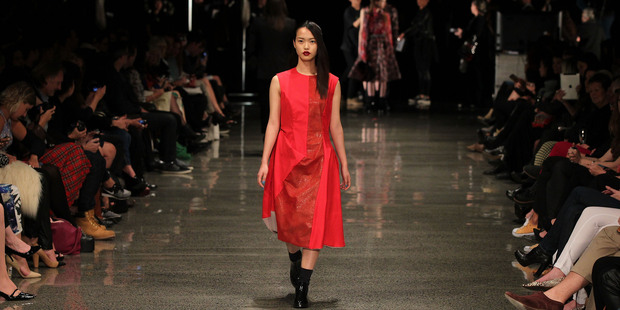 What makes a fashion show good? There are the clothes, yes, but there's also that undefinable buzz, the combination of the right crowd, the right music, the right location.
Zambesi gets it. A week after a memorable show as part of the Marr Factory where they had friends of the brand as "real people" models, they held another, much bigger show, closing the first day of NZ Fashion Week on a high.
Their shows always have some interesting element, and this year saw the backdrop open to expose the backstage team prepping models as they lined up to walk the runway. It's a simple idea, but it made the venue seem positively cavenous, and I liked that it also showed off the hard work that goes on behind the scenes.
The collection felt like an ode to the strength of their brand, and Zambesi's 'New Zealandness' - their signature black, with sky blue, reds, native forest greens, and a fern print. A fern! I almost couldn't believe my eyes, seeing something so local in a collection outside of the Miromoda show.
Backstage after the show - actually backstage, once the back wall had closed again - Zambesi Man designer Dayne Johnston agreed that the collection was about New Zealand, their own subtle take on Kiwiana with the fern the starting point. Making use of homespun wool and local leather, he mentioned too the fact that Zambesi is still, proudly, New Zealand made.
See highlights from the runway here.
Twenty-seven Names opened day one of NZFW with their collection I'm Lost, inspired by a visit to the Magritte Museuem in Brussels.
The Belgian artist was all over the collection - his famous apples and bowler hats, arranged together as a cute print, hats embroidered onto sweaters, and made into wee stud earrings and brooches. I appreciate these finer details, and the fact they opened the show with 1990s Mariah Carey - that's my generation, who are the ones wearing Twenty-seven Names. But what I particularly liked about this collection were the pieces that felt more mature - the camel coat, the perfectly oversized black coat (OK, all the coats), the cable knits, the simple black shift, the structured pieces
A fun, futuristic mood at Coop by Trelise Cooper, with a patchwork of interesting fabrics, textures and colours - pink and orange lacquered plastic, angora, baby blue faux fur, holographic lurex; the "glossy with the fluffy", as they described it. It was all a bit mad and kooky, but sometimes I feel that the references are just a tad too obvious.
I loved the Company of Strangers venue, in a moodily lit underground carpark. Searing sunshine outside, but down the ramp, it felt like being at a buzzy evening show. I like that rough around the edges feeling, which is what fashion week needs alongside the slick shows on-site. The show could probably have been edited down by a few outfits, but the collection develops designer Sara Aspinall's dark romantic aesthetic, layered silk chiffons and leather, plus with the introduction of knitwear this season. She too was inspired by artist: the linear style of Egon Schiele.
At Hailwood, a day to night progression, as designer Adrian Hailwood launched a line of denim as well as develping his signature glamour. Hailwood does a good gown, and his sparkling fabrics and sequins touched on one of the biggest trends from day one - shine - with an interesting metallic circular fabric and vintage look gold embroidered tiger print.
Today's schedule includes morning shows from Deryn Schmidt and Nyne, and an installation from creatives including Jimmy D, Kowtow, Eugenie and Thistle Brown - with big shows tonight from Trelise Cooper and Stolen Girlfriends Club.


OUR HIGHLIGHTS
The Viva team's picks from the first day of shows.
Amanda Linnell, Viva editor
The first look at Twenty-seven Names: cropped "Magritte" blazer and "Natalie" pants. Chic tailoring with an edge. Perfect with winter brogues and loafers.
Zoe Walker, Viva fashion features editor
The tan full skirt and matching coat at Zambesi: utilitarian and feminine. That whole look, complete with the fern printed socks, is how I want to dress.
Janetta Mackay, Viva beauty editor
From mini culottes at Twenty-seven Names, to shiny check shorts at Coop by Trelise Cooper, to sequinned flappers at Hailwood, short shorts were doing the business for the young and leggy, showing how this practical way of showing a leg has gained fashion traction as an everyday separate.
- VIVA