Yvonne Tahana flies from Hawaii to Auckland.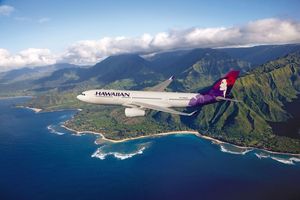 The plane: A330.
Class: Economy.
Price: Around the $1100 mark.
On time? This was the inaugural flight from Honolulu to Auckland. If we weren't on time, I didn't notice, so much was going on beforehand - Hawaiian chefs cooking up a storm in the departure lounge, speeches and songs from native kaumatua, songs and the airline's chief executive making a point of thanking staff for their efforts.
My seat: 19C. An aisle seat in the middle four. Empty middle two seats, don't mind if I have a snooze.
Fellow passengers: A happy bunch who all seemed to know each other judging by the amount of hugging in the cabin going on before takeoff. It all made sense after it was announced that traditional waka hourua (double-hulled waka) sailors, who revived the art of sailing by the stars in 1976, were on board.
They got a huge cheer when the pilot said the new plane in the fleet had been renamed Hokule'a after the voyaging canoe which has since traversed all corners of the Pacific. It was cute watching 60-year-old blokes catch up and gossip. Don't underestimate their ability to talk.
How full? About 80 per cent.
Entertainment: There were only about six free movies and none of them was memorable. Plus, for the first half hour, the player didn't want to work. The good stuff you have to pay for, at $9.80 a movie.
The service: Super-friendly. The celebratory mood extended to the cabin crew, many on their first trip to New Zealand. They opened the window shutters to get a look, with big smiles on their faces during the aircraft's descent. I've never been on a flight where the entire plane cheered and clapped on touchdown. The plane was treated to a water fountain from high-powered hoses on arrival in Auckland, which was cool. But nothing says "welcome to Aotearoa" like khaki-clad MAF guys spraying the cabins while we wait to disembark.
Food and drink: Barbecue chicken and steamed rice, tomato mango salsa and a caesar salad. The banana and pineapple cake hit the sweet spot.
The toilets: Clean. About what you'd expect.
Luggage: A massive 2 x 32kg baggage allowance.
The airport experience: Special. A Hawaiian kaumatua blessed the plane in a ceremony strong on beautiful singing. Lei were placed over our heads and we were kissed as we left the departure lounge.
Would I fly this again? Yes.
Yvonne Tahana travelled as a guest of Hawaiian Airlines.