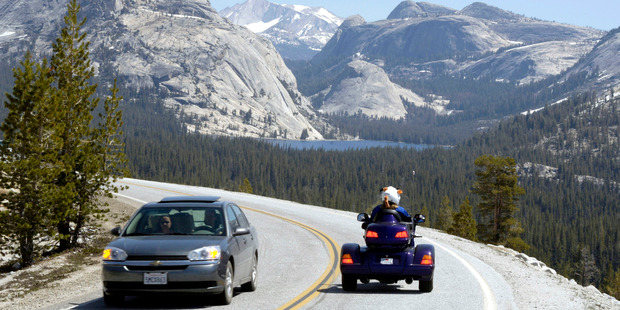 In May, we intend driving to Yosemite Park from San Francisco and onward over the Tioga Pass down to Death Valley. From there we will head to Las Vegas and the Grand Canyon before returning up the Pacific coast. The Tioga Pass is the only pass in the Sierra Nevada, but is closed during winter. Is there any chance of it being open by May 18? It would be a long detour, either north or south. - Brett Pollock
Lonely Planet's Sarah Bennett and Lee Slater write:
The "Plan Your Visit" section of the US National Park Service website has information on road opening and closing dates. Predicting when the Tioga road will open is difficult as it depends on when snow-clearing can begin - usually around mid-April, and taking up to two months. Last year the Tioga road opened on May 7, but in the previous two years it didn't open until mid-June.
Travelling over the Tioga Pass and then south along the Eastern Sierra Scenic Byway (Highway 395) is the quickest route to Death Valley (402km, five hours).
If the Tioga Road is still closed, however, the alternative route via Highways 41 and 99 is a rewarding detour and not that much longer. Heading straight to Death Valley will take about seven hours (644km), but if you can spare the time, a few days exploring the Sequoia and Kings Canyon national parks en route will be time well spent. There you will find Kings River canyon, the United States' deepest, and General Sherman, the world's biggest tree. These alone will justify the extra distance.
All your destinations feature in Lonely Planet's new California's Best Trips guidebook. It features attractions, places to sleep and eat, and practical information such as driving distances and alternative scenic routes.
Useful online planning resources include roadtripamerica.com, byways.org and distancecalculator.globefeed.com. Don't forget to pick up a quality, detailed road atlas. On our last US road trip we used an excellent Rand McNally atlas that included national park maps.
My partner and I are planning to travel around Portugal, Spain and France, and intend spending a few weeks in the south of France in particular. We would like to explore the Cathar citadels and wonder whether this is better done as day trips or by spending a few nights up in the mountains. What sort of accommodation can we expect up there, and are there any "must-do" walks in this area that we should attempt? - Troy Hoogeveen
Lonely Planet's Sarah Bennett and Lee Slater write:
The Cathars were people of extreme beliefs, warily regarded by the mainstream yet convinced they alone knew the one true way to salvation. In 1208 Pope Innocent III preached a crusade against them. When the Albigensian Crusade forced the Cathars into the mountains that once marked the frontier between France and Aragon, they sought refuge in inaccessible strongholds that had long protected the border. Many of the castles they built cling to clifftops and offer dramatic panoramas. Read more about these remarkable fortresses at catharcastles.info and payscathare.org.
Accommodation in the mountains is limited and your best bet is to stay in one of the regional towns. At the foothills of the Pyrenees and with the Cote Vermeille to its southeast, Catalan-influenced Perpignan is a good base for day trips along the coast and to the Cathar castles of the interior. Another option is Carcassonne, further north in Bas-Languedoc. La Cite, the old-walled part of Carcassonne, resembles a scene from a fairy tale, complete with witches-hat turrets and stone ramparts.
Four major Cathar fortresses - Puilaurens, Peyrepertuse, Queribus and Aguilar - can be visited within a day's drive of Perpignan or from Carcasonne with an earlier start. Each requires a short, stiff climb from its car park. This is wild country, hot as hell in summer, so pack plenty of water. Investing in the Passport des Sites du Pays Cathare, which costs 2 ($3.20) will give you discounts to 20 local sites.
Vernet-Les-Bains, southwest of Perpignan, attracts numerous hikers and mountain-bikers in summer. Its tourist office has a pamphlet in English detailing walking routes from the village, including the dramatic summit of Mt Canigou (2748m).
Lonely Planet's France guidebook dedicates six chapters to the country's southern region, including one on Languedoc-Roussillon. You can download the whole book or individual chapters from this and the Spain and Portugal guides at the Lonely Planet shop.
WIN A LONELY PLANET GUIDEBOOK
Email your questions to travel.info@lonelyplanet.com and they'll be answered by Lonely Planet's experts.
In addition, the best question each week will earn a Lonely Planet guidebook. Add your postal address and the guidebook you'd like (see lonelyplanet.com).
Not all questions are answered and Lonely Planet cannot correspond directly with readers.