Wild Kaimanawa horses couldn't drag Elisabeth Easther away from this adventurous town resting in the shadow of a mountain
Origin of name:
Derived from Te-Wahi-Oru-Nga-Tangata which translates as "the place which all must pass through".
Population: 820 (2014 estimate).
Town slogan: Waiouru: Gateway to Adventure
Town icon: The mountain in your rear-view mirror.
Best website: waiouru.info
Big business: The army — some people say it's a town with an army base, others call it an army base with a town. Farming is also a bit of a cash cow.
Source of pride: People here are resilient and resourceful, living on the Central Plateau, and being isolated you have to be hardy and know how to make your own fun.
Town fiestas: The Waiouru Desert Gala is a fundraiser for the school with an emphasis on fun. The Tussock Buster is an annual motorbike event run by the Off Limits Charitable Trust and it sees 1500 motorcyclists descend on the town for three days, with 90 per cent of participants camping on Waiouru's sports field.
Here for a short time? The mountain is the big draw, skiing and snowboarding in winter, cycling and hiking in summer.
Best reason to stop: The Army Museum is outstanding, featuring world-class exhibitions and research facilities.
Best place to take the kids: Aside from the great outdoors, the museum has an interactive zone for kids and, in a few years Sir Peter Jackson's trench project will be completed and it will blow minds.
Best park: There's a tiny park at the corner of SH49 and SH1, stop, have a picnic and play. The army sportsground is also a pleasant spot for a frolic.
Best playground: The community centre features a skate park and a small playground.
Best walk: You have to join the army to take part in the best walks but, if you're a civilian with no plans to enlist, you could try the Pole Track which separates the army training area from Kaimanawa Forest Park. It starts about 20km north of town and goes directly east of the highway to the Rangitikei River. On the western side of the road a little further north is the Waihohonu track, which transits through desert and the Tongariro National Park, continuing to The Chateau. Gorgeous. Or for a very casual walk, pop off SH49 about 17km from Waiouru towards Ohakune and look for Lake Retour on the DoC signs. This will take you through beautiful native bush to two small lakes that are sacred to Ngati Rangi.
Best view: On a cold frosty morning, when you can see all the mountains, Ruapehu and Ngauruhoe, Taranaki too if you're lucky. It's simply stunning.
Best place to pull over: Stop 9km north of Waiouru and look out over the desert and, above the pylons, the mountains are right in your face. The sweet little lay-by, complete with picnic tables, overlooks the tunnel taking water from the Rangipo Desert to Lake Moawhango part of the Tongariro Power Scheme
Best swim: Waiouru Pool, owned by the army, this is a 33m six-lane beauty with a kids' pool too. The local community uses it and also the general public if they time it right; gold coin entry.
Best museum: The National Army Museum features an outstanding collection of war memorabilia, a cafe and shop.
Rail disaster:
Tangiwai, the scene of New Zealand's worst rail disaster is just 7km from Waiouru. On December 24, 1953, a bridge collapsed, weakened by a lahar, and 151 died.
Best-kept secret: Marae DIY recently built a beautiful Garden of Reflection next to the marae, the carvings in wood and rock will take your breath away.
Cultural identity: Since 1995, The NZ Army has been recognised as a tribe, Ngati Tumatauenga, Tribe of the God of War. Multi-cultural and multi-lingual, though most marae face the rising sun, Waiouru's marae faces the setting sun, to symbolise the army as the guardians of darkness.
Top shop: Inside the housing area you'll find Threads, a party shop that sells all manner of things including fancy dress outfits — sift through Margaret's stupendous stash to find costumes to treasure for ever.
Cream of the coffee: Home Fires, the Army Museum's cafe, is a little beauty, plus they have free wifi.
Baked: On the western side of town you'll find Angkorwat. Their pies and pastries are reminiscent of a 1970s tearoom, in a good way.
Best food: Cafe Express is a family joint run by the legendary Flora and Franco, with a strong Italian influence, a remnant of the expat tunnellers who came over for the power project. Flora and Franco make enormous meals, from pasta to pizza and everything else in between. There's also Chinese food at New Wing Wah or go to the super popular Possum's Place for hearty grub.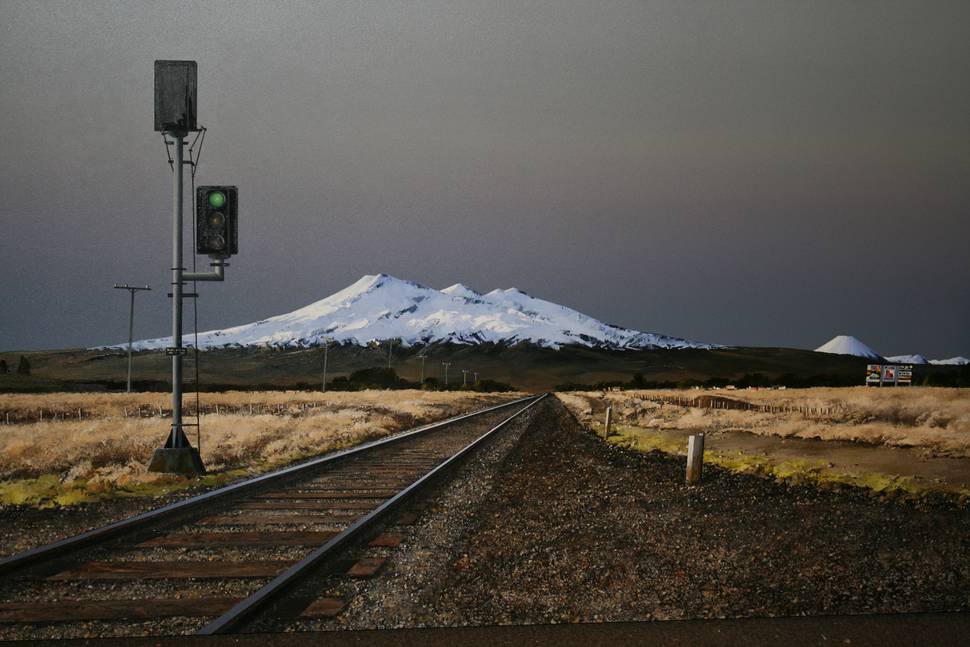 Wet your whistle:
Now the RSA is closed, The Oasis is the only pub in town. The army has its own messes on base but you need an invitation to go to those — do accept an offer if one is made, the officers' mess boasts one of the finest views in the world. Take note, The Oasis also provides accommodation, plus its restaurant is cosy.
Best mountain biking: Cycling has seen visitor numbers grow each year. Mountains to the Sea is one of many astonishing rides, from Ohakune to Whanganui it's about 200km and ideally done over three days.
Best adventure: Join the army or, failing that, take advantage of events that see the training areas opened to the public — the army has custody of 63,000ha of land in this region, that's as big as Lake Taupo. To find out when tours are on go to offlimits.co.nz.
Horse scents: The noble Kaimanawa horses roam across the army training areas. Twice a year the Kaimanawa Horse Heritage Society takes people on conducted tours of the horses' stomping grounds. DoC runs occasional tours, too.
Wildlife: The place is chocka with sika and red deer, pigs, goats and rabbits.
Safety first: This is an army training area so use your commonsense — from the north and south, on either side of the road, there are big signs with very clear warnings.
Locals say: Don't skite about your chainsaw just show me your woodpile.
Visitors say: This place is the bomb.
Thanks to Major Patrick Hibbs.