James Ihaka enjoys fine vodka in optimum conditions.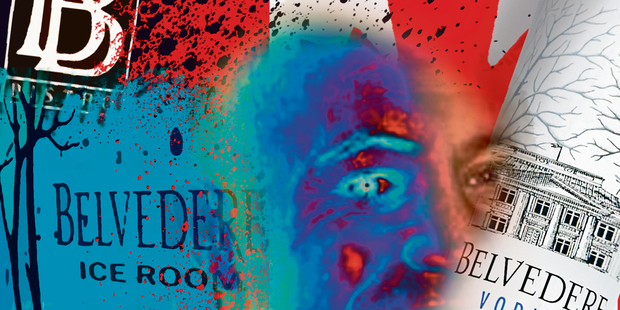 It almost sounds like a bad joke; a Maori walks into the coldest vodka-tasting room in the world with two Australians, a Chinese, a Korean, a Mexican and a Canadian.
It's the latest twist in what has been a ridiculous evening of dining and drinking that started with bottles of champagne sabred open in a musty cellar and ended with extremely expensive Cognac - and in great French style, a peck on the lips from the restaurant's delightfully eccentric owner.
We are in the Belvedere Ice Room - a literally very cool experience - at the Bearfoot Bar and Bistro, one of Whistler Blackcomb's premier eateries.
Before entering we are clad in enormous six-layered jackets made of goosedown and coyote fur that are good for temperatures as low as -60C although we probably didn't need them as it's a balmy -26C. The bar can get as cold as -32C.
The ice block-encased room feels like a surreal igloo that wouldn't look out of place in a James Bond movie, where your teeth and eyes appear translucent and your words linger mistily in the faint blue light that shimmers through the walls.
An impressive array of different vodkas from around the world are chiselled in the ice.
Things are a bit hazy, but I'm sure there was a bottle of 42 Below in there.
Our host presents a large tray of the clear stuff, which I try to write the names of but struggle to - I blame the, ahem, cold.
He tells us we are enjoying the drink in optimum conditions as the chilled air affects the ethanol so you can taste the flavours of the vodka better.
It certainly goes down smoothly and I don't think it was because we were drinking shots out of a ski apparently left behind by a Russian Olympian following the 2010 Winter Olympics.
The palate-cleansing ice room jaunt came midway through our five-course degustation menu and some time after restaurateur Andre Saint-Jacques invited us to sabre bottles of champagne - a tradition that apparently started during the Napoleonic wars to foretell whether a side would be victorious in battle.
He says the technique requires a flick of the wrist (he's right, it works) with the sabre and the cleaner the break, the better your luck.
Before long there's broken glass all over the place, but the champagne tastes great.
The restaurant is high-end and unashamedly so, but it's not often you have icecream made right before your eyes or have someone concoct a vodka martini using what looked like the dry ice I remember experimenting with in third form science as the staff belt out songs around an aloof pianist.
It's slightly, oh go on, it's really inebriating, but a visit to this restaurant will remain an experience I'm highly unlikely to forget.
CHECKLIST
Getting there: Air New Zealand operates direct services from Auckland to Vancouver.
James Ihaka went to the Bearfoot Bistro courtesy of Tourism Whistler.