A wealthy Chilean has amassed an impressive but chilling display, writes Christopher Adams.
Call it the Kim Dotcom moment. The public relations woman must be sensing the mild unease, mixed with morbid fascination, that's overcome our group.
We've reached a darkened corner of the Colchagua Museum, in the Chilean town of Santa Cruz, and found a collection of Nazi memorabilia.
Spanning several display cabinets, it features everything from uniforms and revolvers to jewellery and flags.
There's even a swastika-embossed camera and one of the uniforms bears chilling skull and crossbone badges that do a pretty good job of summing up Nazism.
Given that many German war criminals found refuge in Latin America following World War II, I can't help but wonder if that's how all this paraphernalia found its way to Chile and into the country's largest private museum, located in the heart of the Colchagua Valley wine region, about two hours' drive south of Santiago.
A shiver runs up my spine as I stare at the uniforms, wondering what horrors they might have witnessed.
That's when Paula, the museum's PR manager, springs into action and assures us that the collection is "just for the history".
What she's really saying is that the museum's wealthy owner isn't a Nazi and doesn't have an unhealthy interest in all things Third Reich.
Carlos Cardoen, who also owns the hotel adjoining the museum and nearby Vina Santacruz winery, is a kind of folk hero to many Chileans.
When a magnitude 8.8 earthquake struck the region in 2010 he used his links to Chile's business elite to gather donations and bring 90 tonnes of food and clothing to hard-hit Santa Cruz.
But Cardoen, a former arms manufacturer who once supplied Saddam Hussein with cluster bombs, is also a wanted man - indicted in the United States for allegedly exporting weapons-making materials from the US to Iraq.
A report in the San Francisco Chronicle says the Cardoen cluster bomb weighed 225kg and proved highly effective for countering Iranian "human wave attacks" during the Iran-Iraq war. The Americans themselves supported Saddam through the nine-year conflict and Cardoen has insisted he was made a scapegoat after the Iraqi invasion of Kuwait in 1990.
He has never stood trial and faces arrest if he enters the US.
His firm, Industrias Cardoen, reportedly sold US$200 million (NZ$233m) of weapons to Iraq between 1984 and 1988, which may have helped fund his collection of treasures in Santa Cruz.
The Colchagua Museum also has a huge range of artefacts on display, including pre-Columbian pottery and the shrunken heads of missionaries. It features an exhibit dedicated to the 33 miners who survived 69 days trapped beneath Chile's Atacama Desert in 2010 and there's also a large collection of vintage cars.
As the museum tour ends I decide to take a walk through Santa Cruz. It's a clear, cold day and in the distance you can just see the snow-capped peaks of the Andes. The town is basically a rural supply centre, surrounded by vineyards and farmland. More than two years on from the earthquake it shows few signs of damage.
I arrive back at the hotel just in time to jump in the van for the 20-minute drive to Cardoen's Vina Santacruz, where more surprises await us.
After passing through the front gates we're driven past rows of barren vines and around the edge of a football pitch.
The van parks outside a large hangar-like building that houses more vintage vehicles.
Inside, a white linen shroud is removed to reveal one of the DeLorean DMC-12s used in Back to the Future, the 1980s film trilogy starring Michael J. Fox. That's what Cardoen's people say it is, anyway.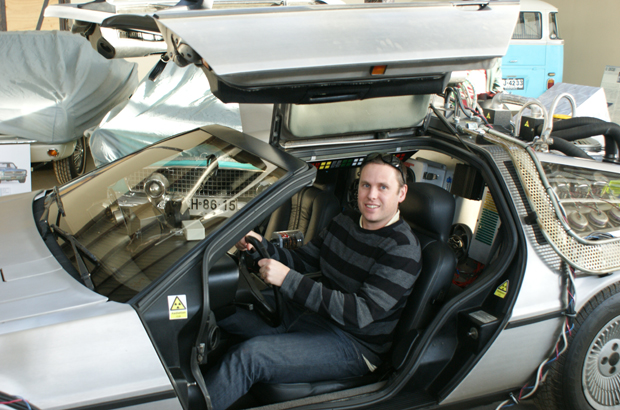 Christopher Adams poses in the DeLorean. Photo / Christopher Adams
I have no way of verifying the vehicle's authenticity, but it sure looks like the real deal and it isn't the kind of thing you expect to find in a Chilean vineyard.
After posing for photos with the DeLorean we're driven to the winery where the Vina Santacruz's guide, Robert, meets us on the balcony.
Cardoen bought the 160ha property - planted with six varieties of grapes, including merlot and cabernet sauvignon - in 1995. It opened to tourists in 2001.
After a wine tasting in the cellar we're led up to the base station of the vineyard's cable-car, which transports visitors to a hilltop observatory, manned by a full-time astronomer who operates its powerful telescope.
"Don't worry, it's not Chilean," Robert says, referring to the cable-car.
"It was imported from Switzerland."
Up on the hilltop there are more museums. One is dedicated to the history and culture of Rapa Nui, otherwise known as Easter Island, the Chilean territory 3500km off the South American coast.
Directly beneath the observatory there's a "meteorite museum" that houses what is apparently Latin America's largest collection of the space rocks, one of which weighs more than 30kg.
Cardoen may well be a controversial figure, but he seems to have put his deep pockets to good use in Santa Cruz.
Other Colchagua Valley Wineries
Bisquertt Family Vineyards: Chardonnay, sauvignon blanc, gewurztraminer, viognier, cabernet sauvignon, merlot, carmenere, syrah and malbec are produced here. The vineyard also features an historic guesthouse, restaurant and wine shop.
Santa Helena: One of the oldest wineries in the region, it has been producing wine since 1942 and offers wine tours and sales.
Casa Silva: A family owned winery and vineyard that has been exporting globally since 1997. The wine cellar and restaurant are open seven days a week.
CHECKLIST
Getting there: LAN flies six times a week from Auckland to Santiago, and on to destinations throughout South America.
Christopher Adams travelled courtesy of Turismo Chile and LAN airlines.