Penghu deserves its place on a list of top 10 island groups, discovers Shandelle Battersby.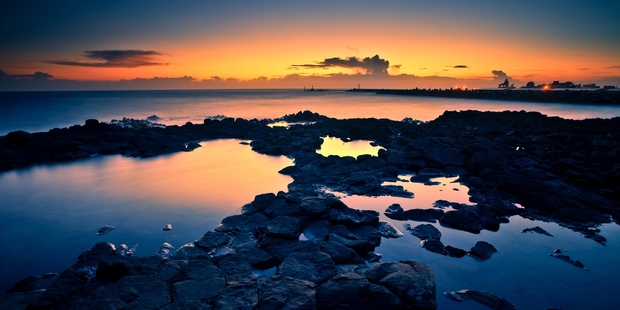 I'm standing in the middle of a long stretch of golden sand, cool, refreshing water lapping at my feet. The sea is so clean that when I wade out and dunk myself in it past head-height I can see little reef fish darting around the coral on the ocean floor. The sky is a brilliant blue, the temperature about 35C, and, best of all, the beach is almost deserted.
No, I'm not in some untouched part of the Caribbean or Thailand. I'm actually at Aimen Beach on the Penghu Archipelago, off the western coast of Taiwan - admittedly not the first place you'd think to head for a beach holiday, but one that will soon be on people's radar. For now though, this slice of paradise is nearly empty. At one end a few youngsters are larking about on inflatable toys towed by a jet-ski; at the other teens are playing volleyball, but because the beach is 3km long they're just dots in the distance. Our group strips off and sizzles under layers of sunscreen - the sun feels as hot as it does in New Zealand - while the Asians in view are covered as much as possible, even wearing arm or leg protectors to avoid tanning. It's desirable to stay as white as possible, a local tells me: in these parts brown is not beautiful.
You've probably never heard of these islands - in fact if it wasn't for a Lonely Planet list proclaiming it one of the world's top 10 "secret island groups" in 2011, the charms of Penghu may have remained largely undiscovered by the Western world. But the publication of that list, its recent inclusion in the Unesco-supported Most Beautiful Bays in the World Club, and interest from global cruise company Royal Caribbean, means the cat is well and truly out of the bag.
Penghu (pronounced "pong-hoo") is made up of 64 islands and is home to just 90,000 people, though it welcomes about 600,000 mainly Taiwanese and Chinese tourists a year. Westerners make up just 2 per cent.
Thanks to its desirable position in the Taiwan Strait, the archipelago was fought over for centuries by the Dutch, French, Japanese and, of course, the Chinese. Because of these various influences, its largely untouched, flat landscape (completely different to that of the mountainous mainland), lack of pollution, and dry climate, the island group is really quite unique.
In the cooler months it has the dubious honour of being the windiest place in the Northern Hemisphere, which makes it a mecca for windsurfers, and an ideal place for wind farms. But when the Herald visits during its prime time of May to September, conditions are calm.

As you'd expect, fishing is Penghu's main industry and seafood, fresh and dried (to survive those windy winter months), is the staple of the local cuisine. We sample it at Huacaigan Restaurant near the capital Magong, a traditional house made of basalt and coral that is now an eatery cluttered with random memorabilia, from pin-ups to old bikes. Our group feasts on typical dishes such as whole steamed grouper flavoured simply with ginger, garlic and spring onion, fish soups, congee, sea urchin, dried anchovies and peanuts, and fresh sashimi, prawns, crab and oysters.
Later, on the tiny island of Yuanbeiyu, we wander around a working fisherman's village and see tiny Taiwanese women squatting outside their front doors cleaning sea urchins and sun-drying octopus, squid and seaweed to supply the kitchens of Huacaigan and the islands' other restaurants.
There are reminders of Penghu's history at every turn. At Daguoye you can see 8 million-year-old volcanic basalt columns that have naturally formed in hexagonal shapes, and at Tonglian Village you can walk down a shady boulevard underneath the 97 sprawling roots of the 300-year-old Great Banyan tree. Charming 400-year-old Erkan Village has been immaculately preserved in its original state and you can wander through its narrow streets to visit some of the 50-odd houses that now act as shops selling souvenirs.

Taiwan's capital Taipei has slowly transformed from a concrete jungle to an increasingly vibrant city full of lovely parks and public spaces.
Though it's home to 2.6 million of Taiwan's 23 million people, the northern city ticks along at quite a gentle pace, and the general politeness and goodwill of its people, combined with a simple Metro system, make it an easy and pleasant place to navigate.
One of its best attributes is having all the benefits of a big Asian city - excellent food, accommodation, culture, shopping - with gorgeous wildlife, beaches and nature within easy driving distance, much of it accessible by public transport.
As we wind our way northeast of the city, the roads hugging the towering coastline are narrow and often windy, and the scenery is lovely. Lush, green sub-tropical vegetation covers mountains that dramatically drop to meet golden sands or rocky shores. The occasional fisherman is visible on the beaches as we pass through sleepy dilapidated fishing towns, ostentatious temples usually their only flash of colour.
We're lucky enough to catch the Fulong International Sand Sculpture Art Festival, which runs each May and June. Held on a sandspit between a river and the East China Sea, reached by a huge footbridge, the festival featured 77 impressively detailed works by artists from 16 countries.
With "children" as the theme, the works, bound together by eco-friendly glue, included nods to Star Wars, Angry Birds, Barbie and Sesame Street. One was dedicated to the films of Taiwanese director Ang Lee, with imagery of the Incredible Hulk, Life of Pi and Brokeback Mountain.
Thanks to the country's many volcanic areas, you can find natural hot springs everywhere. Lohas Spa at the Evergreen Resort Hotel in Jiaosi, southeast of the capital, has harnessed the hot water pumping through its veins to create a veritable theme park of spa action.
Among the 14 indoor pools is a Kumquat Bath (using the fruit's fragrance to "cheer up your heart and soul" while its peel, rich in vitamin C and fruit acids, makes your skin "soft and fine").
A fish-nibbling pool rids your feet of dry skin and "gooseneck" pipes pummel your upper body. Many of the hotel's rooms have huge baths that can be filled with the hot spring water, or you can go au naturel under the stars at its rooftop Sky Spring.
The moon-like Yehliu Geopark, about an hour north of Taipei, is the end result of hundreds of years of wind and salt erosion, which has created odd rock formations resembling giant golden pumice on stalks. Their wonder is in their shapes, such as the magnificent Queen's Head, which is said to resemble the Egyptian queen Nefertiti.
So Taiwan - a country of surprises, the most striking of which is its varied geology and nature sitting alongside cultural and historic riches.
If the great outdoors is your thing, but you like spending time in a big Asian city too, the so-called Beautiful Isle could be for you.
PENHGU PICKS
• As you fly into Magong look for the coral and basalt fish weirs fishermen use to trap their catch. The most famous depicts two hearts overlapping and is known as the Twin Hearts Stone Weir.
• The excellent Penghu Aquarium, Taiwan's first, adult entry NT$200 (NZ$7.85), is on Baisha. Time your visit around the feeding shows (11am, 3pm) to see the aquarium's diver interacting with the stingrays, sharks and huge grouper.
• From May to October Penghu's beaches are a nesting ground for endangered green turtles.
TAIWAN TIPS
•World-famous dumpling restaurant Din Tai Fung, with branches all over the world, originated in Taiwan in 1972. Tom Cruise recently visited the one in the Taipei 101 food court and tried making xiao long bao, the steamed dumplings they're best known for.
• Look for loose interpretations of English especially when it comes to place names - some letters, such as "k" and "g" seem to be interchangeable.
CHECKLIST
Getting there: China Airlines flies to Taipei direct seven days a week with a refuelling stop in Sydney. From Taipei's domestic airport, Songshan, handily located in the city, there are plenty of daily flights, which take less than an hour, to Penghu.
Where to stay: Ambassador Hotel - 63 Chung Shan N Rd, Sec. 2, Zhongshan District, Taipei.
Evergreen Resort Hotel - 77 Jiankang Rd, Jiaosi, Yilan County.
Yentai Hotel - 477 Sindin Rd, Magong, Penghu County.

* Shandelle Battersby travelled to Taiwan as a guest of the Taipei Economic and Cultural Office in New Zealand.