The city of Melaka, on Malaysia's peninsula, is home to a vibrant multicultural society with roots stretching back more than 600 years, writes Sophie Barclay.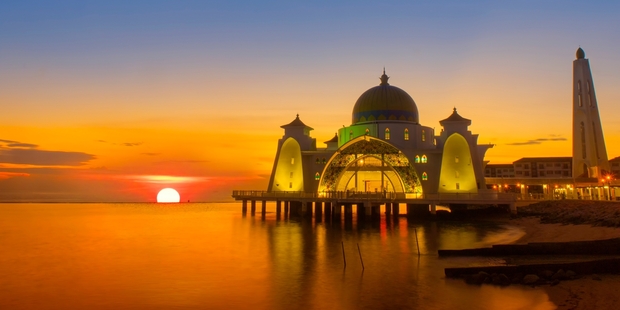 About 200km south of Kuala Lumpur, Malaysia, lies the city of Melaka, eyeballing the island of Sumatra over the Strait of Melaka.
The city had humble beginnings, hosting a rag-tag crew of fishermen and farmers until a Hindu Sumatran prince, Parameswara, set up a state there in the late 14th century. (Legend has it he was inspired by the bravery of a tiny mouse deer kicking his ferocious hunting dog, and chose that spot to erect his future city. The name comes from the Melaka tree, under which he was resting.)
Accessible to India, China and the surrounding spice-rich Indonesian islands, Melaka drew traders from ports all over Asia, and quickly became a bustling, multicultural commerce hub. At one point, 84 languages were spoken in the city while people haggled over its renowned stash of silk and porcelain.
Melaka is also the birthplace of Islam in Malaysia, which arrived with the Middle Eastern traders who carried textiles in one hand and the Koran in the other.
Peranakans
The Chinese arrived here in the early 1400s. The descendants of these early settlers inter-married with Indonesians and Sumatrans. Melaka is the only place in the world where the culture of the Nyonya Baba exists (Peranakan men are known as Baba and the batik-toting women as Nyona). The Baba Nyonya Heritage Museum offers a peek inside a 19th-century house typical of wealthy Chinese traders. The imposing entrance displays ornately carved, marble-topped Chinese furniture with mother-of-pearl inlay, Victorian tiles and embroidered silk hangings with painfully perfect stitches, some of which took up to six years to sew.
After visiting the museum, pop next door to Restoran Peranakan to sample traditional local dishes, heavy in spices and coconut milk.
Portuguese
In 1511, Melaka was invaded by 120 Portuguese troops who wanted their share of the city's treasures and wealth. The small A Famosa gatehouse is all that is left of the imposing Porta de Santiago fortress that sheltered Portuguese from frequent attacks by a local sultan. Walk up the hill above A Famosa to see the crumbling, red-brick ruins of a beautiful old church. The Catholic chapel was built in 1521 by Duarte Coelho, a Portuguese sea captain, as a gesture to the Virgin Mary for saving his life in the stormy South China Sea. It was known as the Nossa Senhora da Anunciada (Our Lady of Grace).
Just outside the church you'll find a statue of Catholic missionary Saint Francis Xavier, a key figure in bringing Catholicism to Asia. He was known as one of the greatest missionaries since Paul the Apostle and was buried in Melaka. His body was eventually returned to Goa, India.
Dutch
The Dutch got wind of Portugal's success in Melaka - and didn't like it one bit. In 1641 they mounted a sneak attack on Porta de Santiago from the Melaka River, lacing their enemies' main water source with poison.
They enlarged the chapel, changed it to a Protestant church and, in a final act of cheek, renamed it St Paul's. Inside the church, tombstones are displayed and translated into English. Down the hill you can visit the Dutch Square, which features colonial Dutch architecture in the Christ Church and the Stadthuys (State House) buildings. They currently house the Museum of History and Ethnography.
Originally painted white, the maroon-coloured church was erected in 1853 to mark a centenary of Dutch occupation. Check out the wooden ceiling beams, each reputedly cut from a single tree, the hand-carved pews and the elaborate frieze depicting the Last Supper.
The Dutch also left an architectural legacy in the city, as builders tried to make homes that evaded a tax based on the number of windows and doors in a house. The result is a long, slender dwelling with small entrances flowing through to open-air atriums in the centre that allow natural light to filter in.
Other occupiers
Melaka was handed over to the UK's East India Company in 1795 when the Dutch were embroiled in the Napoleonic Wars. It became a British colony in 1827 and stayed that way until World War II, when it was occupied by the Japanese.
CHECKLIST
Don't miss: Be sure to visit Harmony St to see multiculturalism in action. Hijab-wearing Muslims and Chinese walk comfortably alongside bare-midriffed Hindus wrapped in saris, and Western tourists in skimpy singlets. A Chinese temple, a mosque and a Hindu temple stand metres apart and a Buddhist temple was added to the street in 1980.
Try cendol, a local delicacy, at Clock Tower Cendol opposite the red church in Jalan Laksamana. Cendol is a dessert of jelly noodles made from rice flour, shaved ice, palm sugar and coconut milk. Try adding rice or red beans, or the more adventurous can try the pungent durian fruit.
Take a ride in a garish, Hello Kitty-encrusted trishaw (half-hour to one-hour rides start at NZ$15) to experience what must be one of the best ways to see the city.
Getting there: Malaysia Airlines flies six times a week from Auckland to Kuala Lumpur. Melaka is a two-hour bus ride or drive from Kuala Lumpur.
Further information: See melaka.net.
Sophie Barclay travelled as a guest of Tourism Malaysia and Malaysia Airlines.