Graffiti tours are one way to appreciate the local flavour of one of Miami's trendiest neighbourhoods, writes Suzette Laboy.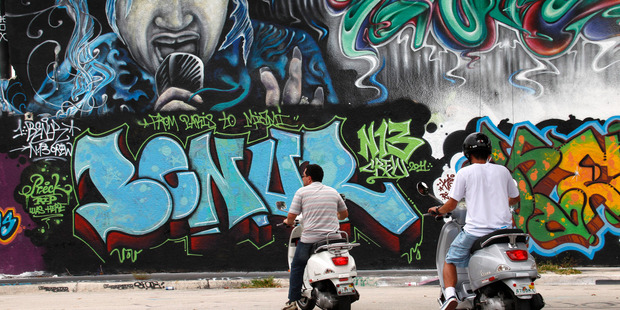 Graffiti was once considered a sign of urban decay, the sort of thing that might keep tourists away from a neighbourhood. Now, not only is it an accepted art form, but it's also the subject of a tour in one of Miami's trendiest neighbourhoods, Wynwood, where legal outdoor murals by graffiti artists cover the walls near art galleries and restaurants.
The two-hour tour on Vespas is offered by a company called Roam Rides. It starts with a 15-minute ride from Miami Beach over the Venetian Causeway to the Wynwood Arts District, considered the mecca of Miami's emerging arts scene, and includes four or five stops to survey the area's best graffiti. The tour ends with lunch.
Once considered a rough neighbourhood, Wynwood has become a destination for artists from all over the world. Art galleries abound and events are held each December as part of the Art Basel Miami Beach art fair. Wynwood is also now home to one of the world's largest installations of murals by multiple graffiti artists.
"It's gotten to be so pervasive and it really brightens up the neighbourhood," Kit Sullivan of Roam Rides says.
"It's so not what you would expect of Miami," says Jesse Bull, an economics professor who has tried a Roam Rides tour.
"The graffiti has kind of added to that. It livens it up and makes it fresh and artsy and I think that's a good thing."
Guides point out work by different local artists such as Typoe and 'Tribe Called Phresh', aka TCP, while explaining the evolution of graffiti from the days when artists plastered their names on vacant buildings and train carriages to gain street cred.
These days, building owners give permission to artists to spray-paint their designs, and these legal pieces share the walls of dozens of neighbourhood art galleries and chic restaurants. They're easy to distinguish from illegal graffiti, which is often done fast, in secret and at night, with a single or very few colours. The sanctioned murals, in contrast, allow artists to take their time, use multiple colours and work in-depth in large spaces with elaborate details.
"It's definitely a changing art form," Sullivan says.
"It's gotten to the point where a lot of these guys don't even use their names at all. They just have a certain distinctive style. You can recognise it when you see it."
For example, artist Chor Boogie's signature work includes geometric elements and half-hidden faces, as well as an eye.
Major paint companies are even helping graffiti artists make the transition to a legitimate art form by donating paint.
"Graffiti has been a bad word in America for a long time. We are trying to change that," says Jayson Moreira, co-owner of Montana Colors North America, a spray-paint company based in San Francisco, which donated 8000 cans used to create many of the murals in Miami during Art Basel.
Moreira even helped paint a mural of Japanese girls on the side of a two-storey building that was once a factory.
The world of graffiti has its own lingo.
Artists "tag" their works with their names. A "throw up" is a quick piece. A "bomb" is usually illegal work that is "thrown up" fast, often at night, in a place that's difficult to access.
"Slashing" is when an artist disrespectfully "throws up" his names over a legal piece. A legal mural or elaborate work that took days or weeks to complete is a "masterpiece".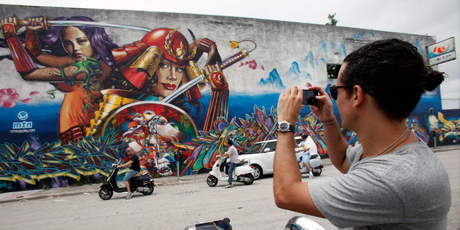 Artists looking for a space to paint legally here may seek help from Primary Flight, an organisation that has brought hundreds of artists to the streets of Wynwood.
"A lot of people don't go to museums or aren't art collectors or art-educated," says Primary Flight founder Books Bischof.
"If you can take the same exact image from a street and put it in the museum, it doesn't speak as loudly as it would if it were illegally on the street corner or in a gritty part of the neighbourhood."
Oscar Montes, 36, has been painting since he was a young teenager. Better known as Trek6, the artist wanted to pay tribute to his origins and the Puerto Rican community that once made up the Wynwood area, so he painted a legal mural that included a coqui, the island frog named for the "ko-kee" sound it makes at night. Montes spent around $2000 on paint - as well as hours under Miami's hot sun - creating the mural.
Graffiti is changing, he says.
"A purist would tell you it's gotten really soft. When I started, everything was illegal. There was [a] serious graffiti task force. They're less aggressive now because so much of it is legit."
But while the artists are invited to do their work on buildings and sometimes get donated materials, for the most part they are not paid. Some predict that may change, and that the Miami graffiti community may eventually find fame and profit in their designs, the way artists such as Keith Haring and Jean-Michel Basquiat did in New York several decades ago.
"That generation is going to bring it to another level where one day it's going to be like Pop Art," says studio owner Erni Vales.
CHECKLIST
Getting there: Air New Zealand flies daily to Los Angeles, domestic carriers go across the country to Miami.
Details: Roam Rides offers two-hour Vespa tours.
Further information: See wynwoodmiami.com.
- AP