Queensland is hot, but the destination also has "cool" adventures. Rachel Grunwell unleashes her inner warrior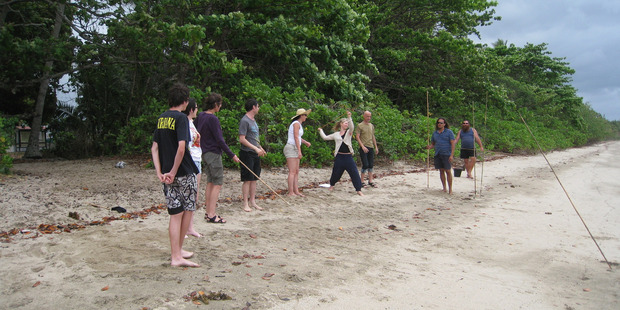 Normally I'm a squeamish city girl who prefers high heels. But I dig being in bare feet and learning how to use a spear so I can kill something to eat. Like a true-blue Aborigine, mate.
It's a blissful 27C and I'm at Cooya Beach, near Port Douglas, on an Aboriginal Daintree Dreaming tour with Adventure North Australia.
The day-long trip includes visiting the rainforest in the Daintree National Park and checking out the Niau falls, learning about the local culture and traditions, a fabulous picnic, learning how to use bush tucker as medicine and doing Aboriginal painting.
But the best fun I had on this journey was when a local Aborigine and father of eight, called Linc, taught us how to properly throw a spear, shoot-to-kill style, to hunt for fish and mud crabs.
I'm told my index finger should be at the top of the weapon so I can point it in the precise direction that I wish to target. Then I step back and launch my arm forward. Linc advises throwing the spear ahead of a swimming fish to catch it.
And aim for the gills.
My first practice shots are crap. But I whoop when my third attempt nails a leaf to the grit.
Linc next tells us to "get our sense of adventure out and also your taste buds" - because we'll eat what we catch.
So I unearth my inner warrior. I'm wide-eyed as I look for things that move.
We search watery holes along the coastline because crabs apparently like these. So I spear a lot of sandy holes for a bit. But it's strangely exciting because I might get to chase something.
Linc teases, "Don't stand in one place too long though, as something might try to eat you."
It's not long after this joke that I feel something slither past my left leg and I squeal, which gives our tour guide, Cavel, the giggles.
Linc yells out triumphantly as he nabs something, but sadly it's a puffer fish, so it's thrown back into the drink.
We next try searching the giant mangroves that are about 2m higher than our heads. These trees have enormous twisted roots, as big as human arms, that look like something out of a Peter Jackson flick. They're havens for mosquitoes - and hopefully mud crabs.
Sure enough, Linc nabs three crabs, plus some shellfish, and so we head to his ma's house where she cooks our fresh feast.
Cavel tells me that every weekend he takes his kids to a beach like this to find fresh food.
It's when he teaches them about their culture, slipping in ancient stories and traditions.
He shares how to best cook crab.
"Put him in a fire on his back and let him cook in his own juices. But no longer than seven minutes - any longer and it's a crime - just until the juices start to bubble."
At the end of the day, I'm a tad deflated I didn't spear something. But it was a memorable day. And the joy was in the hunt, the mission.
Even if it was probably a mission impossible for this wannabe warrior.
Turtle hospital on Fitzroy Island
Located just 29km off the coast of Cairns, Fitzroy Island is a listed national park and offers a ritzy retreat, a good restaurant, fun stuff to do in the water and great walking tracks (my favourite was an hour-long trek up to an eerie lighthouse that overlooks vast turquoise waters).
But the biggest treasure on this island would have to be the turtle "hospital" to rehabilitate sick and injured turtles, run by local turtle doctor Jennie Gilbert.
She cares for turtles that are diseased or sick for reasons such as starvation from a lack of sea grass, caused by environmental conditions such as cyclones harming their habitats. Others are injured, like one poor mite that was almost a crocodile's lunch.
Jennie gives the turtles veterinarian help, feeds them on imported squid to "turn them into fatties", and releases them when they're well enough - an occasion often celebrated by dignitaries.
She introduces me to some of her turtles, which she treats like children. She names them all and knows their stories.
As she points out the parts of a turtle, someone asks if their beaks can bite. So Jennie shows off her right thumb, which was sewn back on a few years ago.
A television crew was filming a story on her work with turtles when a turtle called "Chopper" decided to chop her.
"I can tell you first-hand, they can cut like a razor blade," she laughs.
But she insists this bite was an extremely rare occurrence. She should have been watching, she says. But nothing could put her off her passion for the reptiles.
She loves to scratch them on their shells and say hello when they swim up to her. She asks if I would like to scratch 80-year-old Angie, originally from Cape York, who is recovering from a crocodile attack that left her jaw "swinging in the breeze". I worry for a second about becoming "finger food", but I decide to give the mangled turtle a pat - and it's pretty neat.
Jennie tells me she's lucky the owner of the island has donated land for them. But I'd say the island is lucky to have her.
THINGS TO DO
* Jungle surf through the Daintree Rainforest at Cape Tribulation. You slip on a harness and fly through the trees on a flying fox.
* Hop on a Daintree River Cruise to see crocodiles in their natural habitat. I saw several baby crocs and three whoppers.
* The QT Port Douglas is a fabulous place to stay with its modern retro surroundings and amazing restaurant.
* In Cairns, a restaurant with serious wow-factor food, surroundings, wine and service is the Salthouse Bar and Restaurant. It's right on the water and you can almost reach out to moored boats.
CHECKLIST
Getting there: Jetstar flies daily to Queensland.
Further information: daintreecoast.com
* Rachel Grunwell travelled as a guest of Tourism Queensland