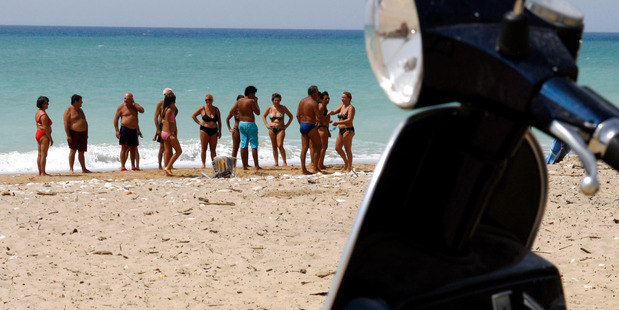 Next July, my wife and I plan to spend a week in Languedoc in the south of France, before heading into Catalonia and on to Italy by ferry. Can you advise on ferries between Barcelona and southern Italy? We would like, if possible, to travel via Sardinia and/or Sicily. Are there parts of these two islands that are "must visits"? - Schalk van Wyk
Lonely Planet's Sarah Bennett and Lee Slater write:
There is, indeed, a ferry between Barcelona and Sardinia, a logical first stop on the Italian leg of your trip. From Sardinia you can ferry across to Sicily.
The ferry from Barcelona takes 12 hours to reach Porto Torres in Sardinia's northwest. Five sailings a week are run by Grimaldi Lines. Direct Ferries is good for researching and booking ferries in Europe. Not far from Porto Torres is the Grotta di Nettuno, a forest of stalactites and stalagmites, and the medieval town of Alghero.
Northeastern Costa Smeralda the beautiful Spiaggia del Principe beach.
From the interisland ferry ports in western Sicily you can readily reach the rugged Riserva Naturale dello Zingaro, a haven for more than 40 bird species. Nearby Segesta is a huge 5th century BC temple set in desolate mountains. Palermo, a treasure trove of multicultural architecture, should not be missed. The high point of Sicily is Mt Etna, Europe's largest volcano. Shop until you drop in Taormina, dance the night away in Catania, then sojourn in Syracuse where the ancient island neighbourhood of Ortygia will seduce you with its squares, alleyways and waterfront.
I have for many years been glad to have not visited some places, for instance Port Harcourt, Nigeria. But maybe I missed the best of this capital of the Nigerian hydrocarbon refining industry, or am I right in thinking that by putting it on my list of places not to go to I have made the right decision? - Charles Selham
Lonely Planet's Sarah Bennett and Lee Slater write:
Let's not beat about the bush: Nigeria has an image problem. It dominates West Africa economically and politically, and has produced music and literature of considerable influence. But for all this clout, mention the country's name to the person on the street and it's more likely to conjure a litany of woe: corruption, ethnic violence and email scams.
The reality is that despite tough travelling conditions, much of Nigeria is welcoming to visitors. Lagos is one of the most exuberant cities in Africa and the old river port of Calabar makes an enjoyable stopover on the way to Cameroon. Across Southern Nigeria, old kingdoms carry on their traditions alongside modern movements such as conservation. In the north, Muslim Nigeria thrives in dusty trade cities where memories of the Saharan trade routes still linger.
And then there's Port Harcourt. As you rightly state it is a refinery hub, with pollution on the breeze and a night sky illuminated by oil flares. Most of the wealth is funnelled straight through to the capital, Abuja, fuelling local grievances about corruption, overcrowding, dodgy buildings, poor sanitation and intermittent flooding. Expat oil and gas workers, not safely ensconced in high-security compounds, are inclined to reside in Lagos on account of security concerns including threat of kidnap.
Lonely Planet and most governments (including our own) currently advise against travel to many parts of Nigeria. Things do change, though, and up-to-date travel advisories can be found on the expat website Oyibos Online, and government sites such as safetravel.govt.nz and fco.gov.uk.
WIN A LONELY PLANET GUIDEBOOK
Email your questions to travel.info@lonelyplanet.com and they'll be answered by Lonely Planet's experts.
In addition, the best question each week will earn a Lonely Planet guidebook. Add your postal address and the guidebook you'd like (see lonelyplanet.com).
Not all questions are answered and Lonely Planet cannot correspond directly with readers.