Danielle Wright finds a holiday park with 'complete silence' and an award for 100 per cent cleanliness the perfect antidote to Waimarino's Adventure Park thrill-rides.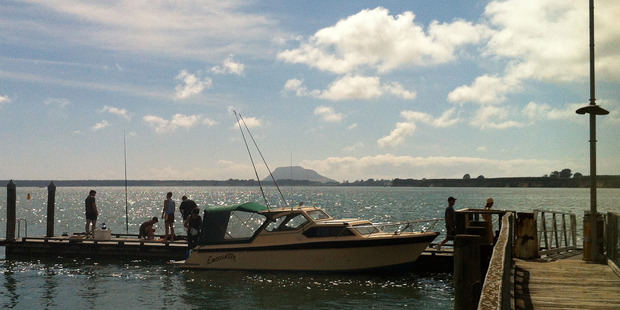 As we drive into Omokoroa, we pass half-a-dozen honesty boxes, a few retirement villages and a golf course, before turning into the Omokoroa Thermal Holiday Park with the sign: "Caution, walking pace only".
After unpacking, we read the park rules, which insist on "complete silence" between evening and early morning, with restrictions on kids playing on the playground. It makes a difference from our usual holiday park experience marred by teenagers in overcrowded tents celebrating birthdays all night.
We walk through the early-evening silence on soft grass, past beautiful flower gardens, to the thermal hot pools.
There are three pools, in one an elderly couple talk in hushed tones, in another are a young couple doting on their baby. We sit in the middle pool, glad to be out of the baby phase with our two children, but not quite in the old person's section yet.
The next morning, we head to the beach with its views across to Matakana Island and Mt Maunganui poking its head above it. There's a kid's playground with a red tractor to climb on, pointing to the region's agricultural history, which is written up on large signs, covered in part by a notice asking for sightings of a lost chicken.
After watching the vintage barge leave the wharf, we head to Waimarino Adventure Park, queuing with a group of Girl Guides to get into the park.
It's more suited to older children but our first activity, the low ropes course, is a huge hit with ours, aged 4 and 7. Next, we take Italian pedalos out for a paddle on the Wairoa River.
"I always get sick of pedalos," says my husband, Gavin, shortly after we leave the platform - fair enough, he's the only one pedalling.
He takes a rest in the middle of the river as the kids try out the pedalo slide, faces in shock as they hit the cold water, much faster-moving than we expected.
Back on dry land, we head for The Blob - an air-filled mattress floating on the water. You jump from a high platform on to the mattress, then wiggle your way to the front edge, waiting until someone else jumps on, sending you flying into the river.
There's no warning before you're shot into the air and I land flat on my side, instead of feet first, as instructed. It hurts, but not as much as when the girl near the slip 'n' slide runs past and elbows me in the face. It's that kind of place - at some point, accidents are going to happen, on or off the rides.
Next up is the hydroslide - we choose the yellow mat, but you can also take a kayak down the slide, which is so fast and steep that I'm too shocked to scream at the end, landing face-first.
As I swim to the platform, I notice a couple of onlookers laughing. A few minutes later, though, I see them flying down into the water too.
"Daddy laughed, but it's not funny," says my daughter, Georgie, kindly. Never mind, I get my revenge on the gladiator pole - It's a Knockout taught me a few things after all and Gavin falls off first: one point for the girls in the family.
As we leave, I look around at the adventure park: overloaded pedalos nearly missing kayakers, people jumping from ropes or flying down slides in kayaks, kids running around with nerf guns, or spraying shaken-up Coke cans at each other: it's a wonderful mess of summer holiday fun.
Feeling strangely seasick, we're glad to get back to the grandparent-strict holiday camp and its perfectly manicured gardens.
Before "complete silence" descends, we put our feet up and watch the kids in the playground, noisily bonding with other camp kids.
If you like a quiet, safe place to base yourself, the kind of holiday where togs never quite dry in between swims and watching your children make friends while you're nearby but not hovering over them, then this holiday park ticks all the boxes - with the thrill of the "complete mayhem" of the adventure park to wake you up, just a short drive away.
Soak up the Omokoroa lifestyle
* Omokoroa Thermal Holiday Park, 156 Omokoroa Rd, RD2, Tauranga. Ph (07) 548 0857. Take cash for the many honesty boxes on Omokoroa Rd on the way.
* Waimarino Adventure Park, 36 Taniwha Pl, Bethlehem. Ph (07) 576 4233, . A supreme park pass is $149 for a family. Visit the Bethlehem Hotbake (ph (07) 576 9368). For indulgent pies and hedgehogs filled with real cream for a picnic after the thrill-rides.
* The oddly named Fork N View Bistro on Omokoroa Wharf does gourmet pizzas and great coffee with the best view and a nice sea breeze on a hot summer's day.
Danielle Wright travelled with the assistance of Tourism Bay of Plenty.