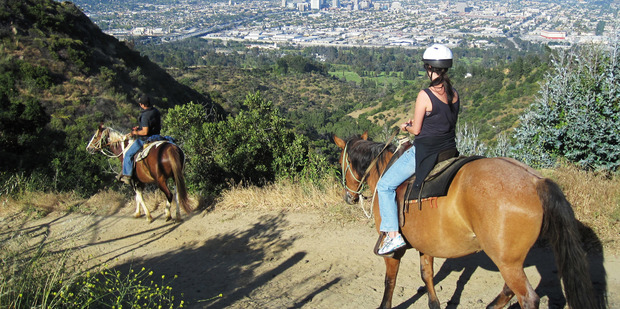 Lured by a weak US dollar and cheap airfares, more New Zealanders than ever are heading to California and, in particular Los Angeles, for holidays. If this is your second or third trip to the city, you'll be ready for something new - try one of these attractions.
1. Saddle up, cowboy: It's hard to believe one of the largest urban parks in the US is less than 5km from Hollywood Blvd. Griffith Park is a sprawling, 1700ha wilderness that engulfs a large part of the Hollywood Hills. Sunset Ranch offers guided horse rides through the park - choose from a one- or two-hour day ride, a two-hour sunset ride or a four-hour dinner ride with a stop at a Mexican restaurant in Burbank.
2. Hang out with the cool kids: Head 9km east along Sunset Blvd from the celebrity haven of West Hollywood and you'll hit Silver Lake - a hip, edgy neighbourhood with a refreshingly bohemian feel. A magnet for painters, musicians and writers, the area is known for its eclectic range of shops, cafes and restaurants. After dark, there's a great selection of bars and music venues, such as The Silverlake Lounge and 4100 bar.
The nearby suburbs of Los Feliz, Echo Park and Angelino Heights are also worth a look.
3. Take a hike: For a city known for its urban sprawl, LA has a surprising number of parks where you can not only get some exercise but also indulge in celebrity spotting. It's practically impossible to take a hike in Runyon Canyon Park without spying a famous face or two. Head to Griffith Park for a variety of trails, including the Griffith Observatory West Trail, which offers stunning views of the observatory, the Hollywood sign and the LA basin. Even the beachside suburb of Santa Monica has some great hikes, such as the 6.5km Escondido Canyon trail.
4. Ditch the car: It can come as a surprise to discover that LA has one of the most comprehensive public transport systems in the US. There's a Metro Rail system with eight easy-to-use lines; three types of Metro buses (local, rapid and express); and a Dash bus service that will whisk you downtown for just 25c. If you'd like some commentary along the way, buy a 24- or 48-hour ticket for Starline Tours' hop-on, hop-off double-decker buses and you'll get unlimited access to four routes servicing 50 stops throughout Hollywood, Beverly Hills and Santa Monica.
5. Join the queue: LA is an unlikely birthplace for a gourmet food truck revolution but over the last few years, roving catering trucks have become all the rage. Truck owners tweet their location and locals flock to queue up for tacos from Kogi BBQ, sushi from FishLips and cupcakes from Sprinkles. The trucks now have such a following that there's an annual food truck awards called the Vendys. This year's winner was India Jones Chow Truck, which specialises in Indian street food and curries.
Follow the street food movement here.
CHECKLIST
Getting there: Qantas flies to Los Angeles via Sydney, Melbourne and Brisbane. See
Where to stay: Since opening in 2009, W Hollywood has quickly become one of the hottest spots to stay in LA, with people queuing around the block to get into its poolside rooftop nightclub, Drai's. 6250 Hollywood Blvd, LA.
Rob McFarland was a guest of W Hollywood and the Los Angeles Tourism and Convention Board.