Getting lost is part of discovering an unfamiliar city. And, as Chris Pritchard discovers, negotiating the streets of Kyoto throws up some unique challenges.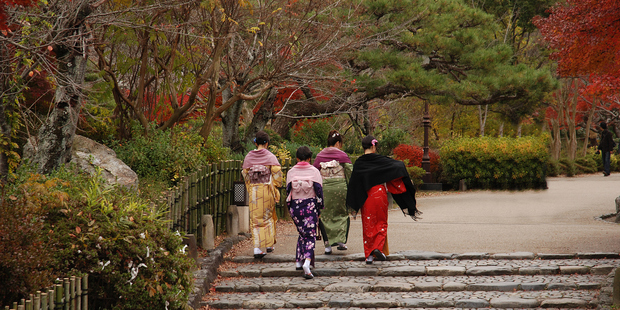 Oh, no! We're headed the wrong way. I'm on the wrong bus. Signs are in English as well as Japanese but I'd asked a bus driver whether he was headed where I wanted to go and he nodded affirmatively. I'd completely forgotten a friend's well-intended warning that there are two very similar-sounding places.
Kinkakuji or Ginkakuji? Whatever you do, speak clearly. The two are on opposite sides of Kyoto - though, fortunately, both are major attractions.
The former, also called the Golden Pavilion, is one of Asia's great sights. Set on a lake, it's a temple mostly covered in gold leaf which shimmers in reflection on the water. The latter, the Silver Pavilion, isn't silver-coloured but is nonetheless much revered. Queues shuffle through its gardens.
"People often joke about foreigners ending up at the wrong place,'' laughs a tourism official. "But this usually means seeing two beautiful World Heritage-listed temples instead of one. (Kyoto has 17 World Heritage sites.)
Overseas visitors mostly want to see the Golden Pavilion - while domestic tourists look forward to both.
Aside from Kinkakuji-Ginkakuji mix-ups, Kyoto is often called "easy Japan''. Ideal for first-time visitors, its scenic charms are such that travellers inevitably return.
Less frenetic than, say, Tokyo or Osaka, it's no less hi-tech. (Electronic games company Nintendo is based in Kyoto.)
A former capital, this city of 1.5 million people emphasises its rich history. Escaping most World War II bombing, historic precincts were preserved and are easily accessible.
Kyoto's subway system reaches many key attractions but it's less complicated than Tokyo's spaghetti-like maze. Buses are also easy to use.
And cabs? Well, unlike much of Japan, they're only slightly more expensive than those in Australia's state capitals. What's more, drivers are polite - wearing suits and ties with white gloves. Add to this the fact that Japan is a non-tipping country.
If you need directions, ask a young person. People of all ages are extraordinarily helpful - but the young increasingly learn English and are keen to give language skills a work-out.
A handy starting-point for exploration is Kyoto's bus terminal, outside the railway station (which includes a subway station). Board buses through back doors and pay at the front before getting off.
The railway station, just opposite Kyoto Tower (with city views from 100m) is a landmark, a controversial example of modern architecture in a place where famous buildings are usually historic. The station incorporates an amphitheatre, 11-storey department store, numerous restaurants and a shopping mall.
The nearby area has numerous hotels in all price brackets as well as malls, department stores and small shops. While railway stations around the world are often scruffy and in seedy parts of town, Kyoto's isn't. Instead, it's rather spiffy.
After visiting Ginkakuji and Kinkakuji, I head for Heian Shrine, Kyoto's third-most famous place of worship. The other two are Buddhist but Heian is Shinto. Many Japanese follow the home-grown Shinto faith - often non-exclusively, in tandem with Buddhist beliefs.
Heian attracts visitors from elsewhere in Japan because of its reputation as one of the country's holiest Shinto shrines. I join a tourist throng wandering through Heian's extensive and neatly-manicured gardens with their artificial lakes, little footbridges and over-water walkways.
I keep thinking I've been here before - but then I remember postcards, featuring typical Japanese gardens, from friends who've visited. We toss bread from specially marked boxes to fish and turtles, which seem able to sense that humans bearing food are close by.
Moat-ringed Nijo Castle, four centuries old, is where a shogun ceded power in 1868 - declaring Tokyo, not Kyoto, would in future be Japan's imperial capital. Ninomaru Palace is inside the castle's formidable fortifications. I stroll through it, taking in art-filled reception rooms, offices and living quarters. In one part of the palace I walk on a timber surface termed a "nightingale floor'' - because the boards were designed to squeak underfoot and foil would-be attackers.
With two hours before dinner, I amble along Nishiki Market's long, narrow interior. Kyoto's main fresh food market, its piled-high displays feature seafood, pickles and other staples of the Japanese diet. Some families have operated stalls here for successive generations.
Nearby is Gion - a district offering immersion in a bygone Japan. It's an odd mix of old and new. Tourists from other parts of the country, particularly the elderly, feel comfortable here wearing national dress. But they almost always have smartphones pressed to their ears.
Gion, with streets lined by old wooden buildings, is renowned as one of the leading places to see geishas (and apprentice geishas, called maikos) scurrying along in their super-heavy make-up and traditional costumes.
A common western misconception that geishas are prostitutes. They generally aren't. Instead they undergo rigid training programs to render them knowledgeable about history, culture and sundry arts. Some are accomplished singers. The skills they sell are conversation and attentiveness, flirtatiously supplied. They're often seen hurrying streets to meet clients, usually out-of-town businessmen, in old-fashioned teahouses.
The Gion area, though touristy, is also a major after-hours destination for locals - with Kyoto's best choice of restaurants and bars. As a rough guide, izakaya (Japanese pubs serving food) are less expensive than other eateries - look for red paper lanterns hanging outside.
Next morning I decide to walk the 2km Philosopher's Path. The pathway starts near Ginkakuji, running along a canal's edge and passing a succession of temples as it meanders through Kyoto's Higashiyama district.
Lined by cherry trees, it's busiest in April when crowds admire cherry blossoms (sakura), a Japanese passion also popular with visitors. At other times it's one of Kyoto's prime destinations to walk through a pretty part of the city. Its name honours a famed philosophy professor named Kitaro Nishida who regularly ambled and pondered along it.
I browse at several shops to find a kimono or yukata (summer-weight cotton kimono) to take back to Australia as a gift.
But then it's time to head back to my hotel. I make doubly sure I board the right bus.
- AAP