A restorative seaside ramble loops the loop from Narrow Neck.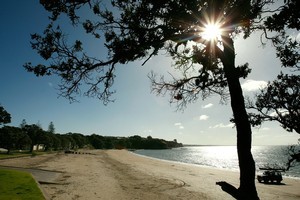 Many Aucklanders head to Devonport for its gorgeous beaches, walks around North Head and Mt Victoria, with their spectacular views, and maybe a picnic at Mt Cambria Reserve. But not even all the locals know about The Green Route, which stretches from their door almost to Takapuna.
Perhaps this is because, rather than stretching up the scenic eastern seaward side of the peninsula, the route embraces the lesser-known harbour side. Why it's special to me is not its lovely harbour views, but its quietness. The 6km trail winds along boardwalks, cycle paths and quiet backstreets, where all you hear is children playing in backyards.
Because my walks are predicated on finishing at a cafe, I consult the tide chart and find I can combine the seaward walk and the Green Route. It's the best of both worlds.
I meet a friend at Narrow Neck and park at the Woodall Park end of the green space that includes the golf course.
We trot down the stairs on to Narrow Neck beach and go north.
A low tide lets us scramble across the rocks to the muddy sand of St Leonards Beach below the cliff-edge grounds of Takapuna Grammar. Though not difficult, the rocks can be slippery, as I found to my cost on an earlier walk - up to my waist in an icy rock pool.
I avoid that fate today and once on Takapuna Beach's broad sands we set off at a fast clip amid dog walkers, ocean swimmers and kayakers. No matter what time I come along this beach there is always something going on.
At the northern end we resist coffee at Takapuna Beach Cafe, touch the stone wall and turn back, racing each other to the south end.
Next we head south along Clifton Rd, on to a few metres of Lake Rd and up Eversleigh opposite Takapuna Grammar. I know I may be fighting a losing battle on the coffee front if I allow the group to walk past the bakery heaven of Little and Friday, so I guide them down Northboro Rd and into the Northboro Reserve.
Here, we join the Green Route, and a different kind of North Shore. A wide, mangrove-edged path, suitable for cyclists and pedestrians, winds behind Navy houses and children's playgrounds, over a long boardwalk bridge and into O'Neills Point Cemetery, where my great-grandparents are buried.
Crossing Bayswater Rd and Park we wend our way along the inlet edge of Plymouth Reserve below more Navy houses, then cross another footbridge with stupendous views all the way to the harbour bridge.
We're on the homeward stretch now with coffee on our minds. We trot up Regent St, cross the top end of Ngataringa Park and Lake Rd, and practically sprint down Seabreeze Rd. At Narrow Neck Beach Cafe we relish a reward for our exercise.
FURTHER INFORMATION
Walk this way: For more on The Green Route, see northshorecity.govt.nz.
Where to eat:
Narrow Neck Beach: Cafe, Narrow Neck Beach Reserve, Old Lake Rd, Narrow Neck, ph 09 445 1096.
Little and Friday: 43c Eversleigh Rd, Hauraki, ph 09 489 8527.
Takapuna Beach Cafe: 22 The Promenade, Takapuna, ph 09 484 0002.