Robin Esrock comes face to face with the mighty jaws of an African predator.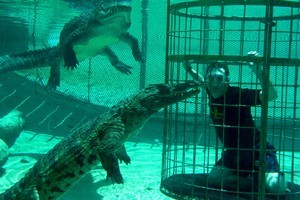 "Understand, Robin, that while other predators might be curious or scared of you, these crocs are simply seeing you as food."
Supportive words from Neal, the croc master at Cango Wildlife, as he pulls a lever that raises my cage into the air and over a pool containing three of the biggest crocs you've ever seen.
I feel like a potato being lowered into a stew, or a large French fry heading for the hot fat.
Some tourists are looking at me with an expression to which I've become accustomed. Their mouths agape, they think I'm crazy. Not the first, not the last.
About an hour off the coast of South Africa's Eastern Cape, Oudtshoorn draws tourists with two main attractions: the magnificent Cango Caves, easily among the world's most beautiful, and a long history of ostrich farming.
It's a fun and quirky detour for those exploring the scenic Garden Route, with various roadside attractions and craft markets taking advantage of the passing traffic.
One of them allows you to enter a small circular cage and be lowered into a pool of crocodiles.
While kids can cuddle cheetah cubs or look at snakes at Cango Wildlife, it's the croc cage diving that draws my attention.
My feet touch the water, which is generously warm. I'm wearing goggles so when the cage gets deep enough I can hold my breath, clutch the interior handles and peer outside.
Immediately, Ma Baker stirs. Until now she looked like a dark shadow in the water. Another female named Sweet Sue drifts silently towards my cage. Effortlessly, they hover around me. The cage begins to look awfully thin. From my vantage point underwater the crocs seem impossibly huge - pure dinosaur. I'm as close to these predators as anyone should ever want to be.
Ma Baker's gold orb looks at me with the same curiosity I showed the previous evening. I was at a local restaurant looking at a menu that included crocodile kebabs. I wondered how it would taste. Ma Baker, who's got huge teeth and doubtless a stomach to match, was no doubt wondering the same.
Although hippos are the biggest killers of humans in Africa, crocodiles are rightly feared. One second you're crossing a river or filling up a bucket with water, the next you're in the jaws of a large croc, spinning in a death roll.
All this was on my mind when Ma Baker poked her sizable jaws into my cage, along with sharp 8cm claws. "Please resist the urge to touch her," says Neal. I believe he means I should resist the urge to wet my pants.
I hold my breath and duck underwater. Unlike her tough, scaly top, Ma Baker's belly seems soft and vulnerable. Sweet Sue is resting almost at my feet. Hannibal, the biggest croc in the park, is somewhere in the shadows still, giving me the heebie-jeebies. The crocs are fed well enough and since the cage enters their pool frequently they're used to its intrusion. They seem content to just play with their food.
The crane tugs the cage and I'm hoisted above the water, imagining myself as James Bond in a villain's lair. Few people get this close to a croc and live to tell the tale. The encounter left me with more respect for this fearsome beast, and courage for my next underwater animal encounter.
An hour away, in Mossel Bay, is a major habitat of the great white shark.
CHECKLIST
Getting there: Air New Zealand now offers a one-stop service to Johannesburg code-sharing with South African Airways from Perth. See www.airnewzealand.co.nz or call 0800 737 000. You can fly from Johannesburg to the Eastern Cape.
What to do: Cango Wildlife is an animal and crocodile park located just a few kilometres outside of Oudtshoorn in the Eastern Cape. Entrance into the park costs about $20 and includes zoo-like exhibitions, crocodile-feeding and free hourly tours. Cage diving with crocodiles is open to all aged 10 and over, and costs an additional $47.
More information: Visit www.cango.co.za/
Robin Esrock went croc diving at his own expense. You can see video of Robin's croc dive at moderngonzo.com.