Clare Kendall is mesmerised by the unusual beauty of flamingos and the many other jaw-dropping sights of Tanzania.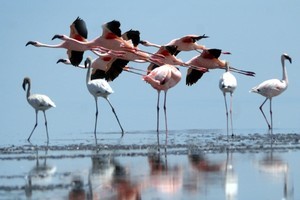 My buttocks are definitely tingling. I ignore it. The slightest movement will blow my cover. It persists. I'm being reminded I'm sitting in a soda lake and should move. This, of course, is precisely what I don't want to do, having spent the last four hours convincing thousands of fidgety flamingos that I'm not really here. Finally, I'm completely encircled by flamingo rush hour.
Serenely elegant, hilariously gawky, they unfurl their serpentine necks and ruffle their luxuriant plumage in a freshwater outlet, which is also currently saving my nether regions from soda burns.
The beguiling, improbably evolved lesser flamingo, famously tolerant (unlike my rear end) to extreme alkalinity, feeds on algae found in soda lakes across southern Africa but chooses to breed almost exclusively at Lake Natron, North Tanzania.
Recent attempts by the Tanzanian Government to allow a soda ash plant to be built here have terrified conservationists, international organisations and, not least, Timothy Leach, founder and director of the uncompromisingly eco-centric, Lake Natron Eco-Camp, a clutch of tents perched on a lava flow amid a plain of such staggering wild beauty it seems inconceivable to be allowed to stay here.
"There's a lull in proceedings at present," he explains. "But it could still happen. Even we have to be really careful. The slightest pollution could disrupt their breeding. They're very flighty birds."
A crew spent three years here filming the cinematic award-winner Crimson Wing. I must content myself with an afternoon, but the most memorable one in many years.
I follow the stream back to camp since canopies of agricultural netting render it almost invisible from even a short distance away.
The spring supplies each tent its own pool (a luxury of some worth in a land where the sun burns through cloud, clothes and even your sun block) and with an endless supply of warm, slightly soapy water which is foot-pumped into cisterns.
Not a single mechanical sound can be heard. Not so much as the hum of a fridge or the flush of a toilet, just the wind bending the grass.
To the west, lies the gorge etched, lowermost escarpment of the Great Rift Valley. Southwards, a puff of cloud atop Ol Doinyo Lengai makes it look like the 3000m volcano is erupting as it did, in fact, two years ago. To the east rise the pinnacles of Mt Gelai and, facing north, flamingos striate the heat haze with pink across the southern shore of Lake Natron.
Quite a campsite, by anyone's standards.
It lies on a quiet stretch of the Lake Manyara, Serengeti, Lake Natron safari circuit, a satellite project of the Ngare Sero Mountain Lodge, near Arusha. Any stay at the camp begins and ends at this elegant colonial guesthouse overlooking a series of restful lakes where companionable troops of colobus and sykes monkeys watch your antics in the swimming pool with languid curiosity and, on a clear evening, you can sip gin and tonic as the clouds reveal the snowy peak of Kilimanjaro.
The six-hour drive to Natron, something of a mini safari, takes us through a landscape of grass covered volcanoes and flat plains, photographing wildebeest, ostrich, giraffe and gazelle, thompsons, grants and even the rare and extraordinary gerenuk.
In the dry season the stream attracts much wildlife and even now, at the onset of the rains, I'm woken in the night by the somewhat alarming sound of thundering zebra hooves.
More surprising is the sight which greets me in the morning.
There are camels in my pool. Camels? And not the wretched, scab-kneed beasts synonymous with tourist hot spots across North Africa; these are plump, velvet-coated, long-lashed and unnervingly friendly.
Unsurprisingly they are neither native nor wild but a rescue project of Timothy's.
Brought here by the good but misguided intentions of an NGO, many ended up neglected and dying in the wilderness. Timothy has a herd of 12 and some of the females are now pregnant. A 12-week old arrival frolics in the water.
I ponder the irony of seeing my first happy camels 30 degrees south of their natural habitat.
From the 200ft summit of a nearby hill Timothy and I watch the scarp's shadow race across the plain at sunset.
Gibbons socialise in the evening sunshine. Mirage turns the southern shores of Kenya into a series of magically floating islands.
"A lot of so-called 'camps' are actually permanent structures," he says. "We could pack up in a week and leave nothing but a few bare patches which would cover in a month."
It took years of patient negotiation with local Masai communities to secure this modest but significant concession with a 1km buffer zone, paying, in return, a yearly rent and a nightly camper fee to the local village.
At Timothy's request the money is channelled into secondary education. More significantly, perhaps, it gives weight to his efforts to keep livestock away from the oasis.
Saringe, my 25-year-old Masai guide up the nearby spectacular Engare Sero gorge, has much to say on this subject. "If the camp brings money to the village then they see the wildlife has a money value.
"There is this competition here between wildlife and livestock. But the livestock is owned by only a few rich people. I'm from a poor family, now I can provide for them. The salary is good. We want wildlife to come so more tourists will come and there will be more money."
Saringe strides with confidence through the water as we repeatedly cross the gorge. I inch across, like a geriatric, using his calves as a depth gauge, trying not to lose my balance in the fast flowing river.
Saringe leads hikes up Ol Doinyo Lengai. Once, he proudly tells, three times in one week. "But we only recommend it to very fit people," he adds warily, casting an eye at me. "Or those with mountaineering experience."
We swim in the beautiful waterfalls at the top of the gorge. I'm inclined to endorse his conclusion. It is a "very good place for a camp".
And we are not the first to think so. Four years ago, within the concession boundary, camp workers unearthed an area of petrified footprints.
I examine one set. The tracks of a man, approximately size 9, identical, coincidently, to Timothy's. So similar are they, in fact, that if a team of American scientists hadn't recently estimated their age to be around 120,000 years old, making them the oldest homo sapiens prints in the world, I might be slightly suspicious.
"Then there's the duck-footed woman," says Timothy.
I'm lost. Does she have webbed toes? Placing my feet inside the prints I walk the steps of my ancient predecessor and immediately understand.
My heels tucked in, my toes out, my whole posture changes as the balance of weight shifts as if I'm carrying a weight in front of me.
"Pregnant perhaps," offers Timothy.
They disappear, intriguingly, under a dune. This year scientists will return to further investigate, starting a process which will almost certainly lead to them being fenced off. A museum or visitor's centre is ultimately inevitable.
"They should be seen," says Timothy. "They're such a poignant reminder of how short a time we're here on the planet."
For now, out here in the wilderness, I walk among tracks made by people at the dawn of mankind. My spine is definitely tingling and this time, not from soda burns.
CHECKLIST
* Getting there: Air New Zealand has daily services via Hong Kong from Auckland to Johannesburg, in conjunction with partner airlines, with economy class fares starting from $2773 per person return. See airnz.co.nz. Onward flights from Johannesburg to Tanzania are available on Star Alliance partner airline South African Airways at an additional cost. Please refer to flysaa.com or staralliance.com
* Lake Natron Camp: To find out more about Ngare Sero Lodge visit ngare-sero-lodge.com. There is information about the Lake Natron Camp here.