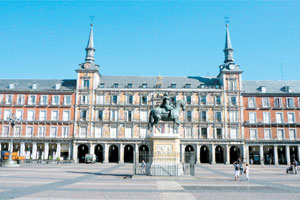 Chilled tomato soup with a small fried sardine nestled in the centre. Lamb sweetbreads on light-as-air puff pastry. Sauteed cod with artichokes; tiny lamb chops and fried potato. My glass of dry white wine is so cold, little beads of condensation slide on to the crisp white tablecloth. It's 2pm in Madrid: I could stay here all day.
The view matches the lunch. We are dining outside the posh Cafe de Oriente, on the Plaza de Oriente overlooking the colossal Palacio Real. Umbrellas shelter us from the blazing sun on this fine afternoon, appetites at the ready after a morning spent walking around Madrid's old inner city.
Cafe de Oriente sits comfortably in its wealthy residential neighbourhood. An elegant older woman is joined by equally immaculate ladies, while nearby we can't help but note a man of extremely vintage years and his very young blonde wife chatting away happily.
The square in front of the palace, Plaza de la Armeriria, shimmers in the heat.
Tourists stagger across its pale stone towards the palace's southern public entrance. A sweaty, depressed-looking man dressed in heavy matador garb touts for cash, and police trot by on horses, the stench of fresh manure hanging in the windless air.
The palace, completed in 1764 on the site of the city's former Alcazar (fortress) and first occupied by Charles III, perches on the edge of a cliff, from which you can glance down into its magnificent northern rear gardens, where a police officer trots his obedient steed around in tight circles.
Spain's royal family no longer lives in its cavernous premises - at 100,000 sq m it's a quarter smaller than its original plans - but uses it for special occasions, like family weddings and state visits. It's a completely daunting building, especially when you are replete with lunch and the sun is at its height.
Sensibly, Madrilenos don't "do" afternoons. Apart from tourist-oriented shops and cafes, most shops close from 2pm and re-open about 5pm, when the sun has barely started to cool. Nevertheless, you'll find the heart of inner Madrid, the Plaza de la Puerta del Sol (Gate of the Sun), about 15 minutes walk to the east from Plaza de Oriente, buzzing with people almost 24 hours a day.
Literally the centre of Spain, from which distances along the country's motorways are measured, the Plaza, entered by 10 streets, was nicknamed Mentidero, or "gossip centre", a status that faded in the late 1930s with the rise of Franco.
In earlier troubled times, the plaza has also been the scene of many uprisings, anarchist rebellions and failed revolutions, including a futile riot against Napoleon's troops in 1808. Its cobbles, doused in what one history writer described as a "baptism of blood", are trodden on, doubtless unaware, by today's torrent of tourists.
A statue of Carlos III reigns over its centre, while at one end, a statue of a bear eating fruit from a strawberry tree - the symbol of Madrid - offers another point of orientation.
But it's easy to become a little wrongfooted in Madrid. One of the calles (streets) leading off the Plaza, Preciados, is a traffic-free zone of frantically busy cheap fashion chains. Walking along the middle of the crowded street, I suddenly became aware of heavy breathing right behind me. What the? ... it was a cop blowing steadily into his car's RT to get me to move aside. He was laughing his head off.
The police have a significant presence at every turn in Madrid, armed with pistols, truncheons, handcuffs and, when required, sub-machine guns. Violent crime and drunkenness are minimal although drug addicts passed out on the street and begging homeless people are common. The beggars employ the universal practice of using pets to elicit sympathy: one man near the Centro Cultural Reina Sofia (home to Picasso's Guernica) had a tiny tabby kitten on a mat, while a woman in a park used her spaniel to cadge a cig, waving cheerfully as she puffed away.
Earlier that day, our guide Maria picked us up from our crummy hotel on Calle de Los Peligros, handy to Plaza Puerta del Sol and Paseo del Prado, and we walked west towards another landmark, Plaza Mayor, a district rich in literary history and interesting little craft shops.
Once the site of slums, Plaza Mayor was renovated by order of its Hapsburg rulers at the beginning of the 1600s, and today stands as a grand enclosed square of apartments, with shops and cafes at ground level, presided over by a statue of Philip III on horseback.
As many as 50,000 people can squeeze into the Plaza for special events - handy through the centuries for spectacles such as bullfights, executions and trials during the Inquisitions. Many of its shops are today full of tourist tat but it also houses specialist coin and stamp retailers (a favourite hobby of the older Madrilenos).
Calle de Toledo, through an alley off one of its corners, is home to Casa Hernanz, surely the best espadrille makers in town. Three grumpy old men presiding over its gloomy, interior provide interesting theatre as they deal with the hordes who queue along the street to get in during its erratic opening hours.
It was extremely useful to have Maria on hand to explain details of the area's history and architecture but her mood darkened when we came towards the Real Palace and we encountered an Australian "guide" explaining to a large group of followers that the enclosed remains of an ancient church was in fact a "mosque".
Maria and her colleagues have been fighting in the courts to get these cowboys off the streets - for now, unsuccessfully - so be wary of paying for their services.
Tapas is an important part of life throughout Spain, so in the hands of another guide, the highly entertaining Joanna, a Yorkshire woman who has lived in Madrid for more than 10 years, we venture out about 8.30pm, early by Madrid standards.
We start in a modest place called La Venencia, in Calle Echegaray, proudly featuring smoky brown ceilings unwashed since the 1920s and large barrels containing blends of sherry. Over a bowl of olives, cured tuna and a glass of fino, the ambience inspires us to ask about Madrid's unhappy history under the Fascist regime.
But Joanna says Spaniards prefer not to dwell on the times of Franco and the Nationalists, who took power after a 29-month siege of Madrid, which fell in 1939. Following Franco's death, a Pact of Forgetting was agreed upon in order to make the transition possible. In recent years, this has been questioned, particularly by families of those who were killed by the Nationalists.
We make our way to another cafe, La Trucha (Calle Manuel Fernandez Y Gonsalez, near Plaza Santa Ana), a cosy family establishment ruled over by a twinkly-eyed patriarch who oversees a stream of food brought to the bar where we stand: pata negra jamon (ham from pigs who only eat acorns), a plate of pimentos from Galicia, cheeses, large olives with garlic, fried eggplant and a tortilla espanola made on the spot.
A large jar of sangria is quickly dispatched. Joanna tells us this is the place where actor Viggo Mortensen sat outside writing in his notebook which was snatched by a runaway thief. Viggo gave chase ...
We are heading towards midnight, and the crowds are roaring. An apartment above one of the squares has a sheet hanging from its balcony: "Help! The music is driving us mad!" We wind down at Gonzales (Calle de Leon), established in 1931, a functional, plain establishment which specialises in cheeses - Idiazabal from Basque country, Manchego from Tarancon in La Mancha, Arzua from Gallicia - and some Anil dry white wine from La Mancha. Back at the hotel, some bizarre dreaming.
Early the next morning, a Sunday and our last day in Madrid, two of us make our way to Parque del Retiro, a magical series of gardens, sculptures and buildings inaugurated in 1632. Entering via Calle Alfonso XII, an avenue of topiary leads you towards a large lake, the Estanque, with a grand sculptural tribute to Alfonso on the other side.
We turn right from the lake, walk along the Paseo Republica de Cuba, and head towards what we have heard is a very special place. Around the bend, we catch glimpses of glittering glass. A plume of water spouts high from a fountain in the middle of a small lake. Walk through a grotto with water cascading down its rocks and you are confronted with a scene from a fairytale.
Built in 1887, and designed by Ricardo Velazquez Bosco, who also created the nearby Palacio de Velazquez, El Palacio de Cristal was originally made as a greenhouse for the Exhibition of the Philippines. Carefully restored in the 1980s, La bombonera (the name means "sweet jar" because of its large dome), Palacio de Cristal is the epitome of delicate beauty in contrast to the city's more forbidding, formal pieces of architecture.
You couldn't get much more of a contrast to standing on the Gran Via, and looking towards the Telefonica skyscraper, a grim art nouveau-baroque edifice built in the 1920s. The king at the time, Alfonso XIII, declared that the Telefonica was proof Spain had finally entered the modern world. But much worse was soon to come.
CHECKLIST
Getting there: All four daily Emirates flights from New Zealand connect at Dubai with the airline's daily service direct to Madrid. Earlybird return fares for travel in 2011 are now available from $2156 for economy class and $7656 business class, inclusive of all taxes. Various conditions and travel periods apply.
Guides: Try Joanna Wivell at jowivell@insidersmadrid.com; insidersmadrid.com; or Maria Jesus Encinas at chusencinas@gmail.com.
Reading: To get a feel for Madrid see Philip's Madrid: Architecture, History, Art, by Michael Jacob, an excellent hardback offering an indepth history of the city and its regions, or Winter In Madrid, by C.J. Sansom, a gripping thriller set in 1941, when British diplomats were trying to prevent Spain from becoming a German ally.
Further information: See the Spanish Tourism website.
Linda Herrick travelled to Madrid courtesy of Spanish Tourism and Emirates Airlines.