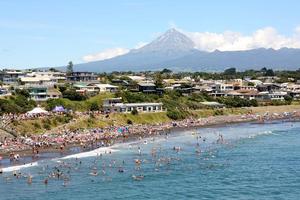 Climbing the steep, rocky spine of The Lizard on Mt Taranaki calls for nerves of steel and a cool head. It's a route designed for the acrobatic rather than the acrophobic.
The Shark Tooth looms up in the swirling mist. I shin up the rock to its base and find ice-sheathed boulders barring the way to the crater. I'm fortunate that a 76-year-old Hawera veteran with 150 summits under his belt has joined me on this climb. We soon slither down the icy crevices and scramble up to the craggy summit.
Having reached the top of Taranaki's symmetrical cone, I feel anything but an alpine conqueror. After three minutes on the summit I'm almost too numb to move and strain to get a glimpse of the Cape Egmont coast behind the mountain. There's a solid wall of freezing wind and a whiteout mist blocks the view.
I'm curious to know what's behind the mountain, so the next day I set out to explore Surf Highway 45, which winds 105km around the windswept, wave-lashed coast from New Plymouth to Hawera.
I've no idea what to expect, other than big wave sets, and left and right point breaks.
What I'm seeking is a quiet spell on a wild, untamed coast, so I've brought along a road map, picnic lunch, a hunger for adventure and a mild dose of nostalgia.
The traffic is humming on the first half-hour stretch out to the satellite suburb of Oakura, where I pick up a latte and stroll along the black-sand beach. The wetsuited surfing and board-sailing brigade are weaving in and out of the curling waves, small black insect-like figures enveloped in flying spume. In the distance, the silhouettes of Paritutu Rock and the Port of New Plymouth appear mirage-like in the salt spray mist.
The traffic thins over the next stage of my journey through Okato. I chat to a surfie group taking a break at the peaceful Stony River Walkway. They're quick to tell me, "There's nowhere quite like the Naki mate, for consistent surf - we have 50 good surf breaks around the coast."
The uniquely spherical coast catches the wind and weather from three points of the compass, so on any given day, there will be big pumping Tasman Sea rollers pounding the boulder banks and black sand bars - in other words, it's surfie heaven.
The group continues south, making a bee-line for "Graveyards" and "Stent Road", their favourite surf sites. Their youthful enthusiasm gives me a lift and I tell myself, "I'm feeling alive on Highway 45" and accelerate just a little so the tyres hum on the tarmac. All I need is a boom box and beefy amps and I'd be a teenager again.
Slowing down again, I start to enjoy the scenery. The landscape is a picture of serenity and I have it all to myself. Lush, greener-than-green dairy pastures slope up into the foothills of the brooding, mist-shrouded mountain, cut by countless dashing streams.
Curious conical mounds scattered around Pungarehu suggest this is karst limestone country. A cow-cocky leaning on the proverbial Taranaki gate puts me straight: "The mounds are volcanic ash and tetra deposits carried down the slopes by giant lahars - they're a flamin' nuisance when it comes to working the farm."
His fat, doe-eyed dairy cows stand passively in the background staring at the strange townie, asking dumb questions.
The elegant silhouette of Cape Egmont Lighthouse comes as a surprise. It's suddenly just there, stark and lonely, calmly reassuring, yet slightly incongruous on a grassy knoll in a farm paddock.
The cast-iron lighthouse was built in London, shipped in segments and installed on Mana Island. This proved a disaster as ships mistook it for Pencarrow Light at Wellington Heads and grounded on the coast. The light was dismantled and shipped to Cape Egmont to stand sentinel over this dangerous stretch of coastline.
Turning inland, I enter the peaceful realm of Parihaka, where Maori chiefs Te Whiti O Rongomai and Tohu Kakahi led a campaign of passive resistance against land sales in colonial times. An international peace festival held in January each year celebrates the philosophies of these revered campaigners.
I enjoy a picnic lunch in a coastal lay-by, sheltered from the biting onshore wind by prolific stands of flax and toetoe. The temperamental Tasman Sea is in an angry mood. sending formidable rollers that curl in a mesmerising arc, barrelling along the beach before crashing on the boulder bank with a thunderous roar.
In Opunake, colourful historical murals give the place a lively appearance, especially an exuberant one on the backpackers' lodge.
Front gardens parade a pot-pourri of driftwood, shell arrangements and old battered surfboard sculptures. Cafes and hotels offer refreshments and antique and collectibles shops induce me to browse.
The King reigns supreme in Hawera's Elvis Presley Memorial Record Room, an extensive private collection of rare recordings and memorabilia. There's also the well-groomed Hazelwood Horse Ornament Collection, a private home decorated with paraphernalia from around the world, proving there's more to Taranaki than dairy cows.
Taking State Highway 3 directly back to New Plymouth would complete the circumnavigation of Mt Taranaki. However, it would be a mistake to bypass Nigel Ogle's Tawhiti Museum northeast of Hawera, a unique heritage project with a local, "Our Place" perspective. With good luck or an advance booking, you can meet the visionary creator.
In a typically innovative Taranaki style, the former art teacher has created wonderful life-sized figures for his realistic vignettes. The Musket Wars diorama of miniature figures is simply stunning and the life-size colonial farm and homestead scenes are absolutely life-like. There's a pottery, a bush railway, which runs periodically, and the warm cosy Mr Badger's Cafe with decor reminiscent of The Wind in the Willows.
This is simply the best private museum in the country. Don't miss it.
Passing through Stratford there's a chance to see a life-size Romeo and Juliet emerge from New Zealand's largest glockenspiel clock in the main street. They pop out to greet onlookers at 10am, 1pm and 3pm each day.
With 67 streets named after his fictional characters, there's a big dollop of Shakespeare in New Zealand's dairy heartland.
In Stratford, I make a mandatory visit to Opunake Rd for nostalgic reasons. when I was a child, my grandfather's fine 1911 bungalow stood on a prominent corner of the road, replete with wide porches, ornate balustrades, a summer house and a 1905 automobile. Alas it is no more, replaced by six compact modern home units clustered together on pocket handkerchief sites.
To circle Mt Taranaki is a historical journey. The Surf Highway is a swell place that provides a wide variety of experiences: exhilaration at the wide open space, fascination with the culture, tranquillity in the quiet margins and nostalgia for the pioneering past. To climb the mountain as well is the cherry on the top.
However, the most memorable experiences are contacts with the laid-back, warm-hearted locals. These are the real people who live in that special place behind the big mountain.
FACT FILE
Getting there: New Plymouth is a five-hour drive from both Auckland and Wellington, allowing for a lunch break. Air New Zealand has regular flights to New Plymouth from all main centres. Visitor information The visitor information centre is located in the foyer of the Puke Ariki Museum, which is in St Aubyn St, New Plymouth.
Websites:
taranaki.co.nz
newplymouthnz.com
stratfordnz.co.nz
tawhitimuseum.co.nz