Paul Rush's childhood memories of Paddington and Pooh are marred by the sight of a fully-grown bear with food on his mind.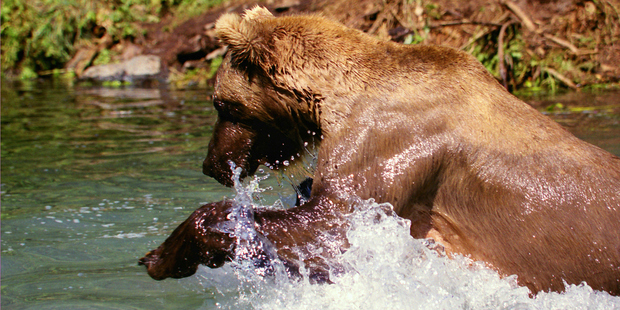 "When will the bears start their picnic, mom?" The shrill voice of a four-year-old child disturbs the silent vigil on the viewing platform.
Thirty pairs of eyes turn to look downstream, to the point where Fish Creek takes a gentle turn towards Salmon River and the Portland Canal. Nothing stirs in the deep, dark forest of sitka spruce. No black or brown shapes are moving in the stream. This little corner of the forest keeps its secrets close.
Patience is a necessary virtue for wildlife watchers. As time goes on, the anticipation builds. The viewing platform becomes more animated as the group scurries to secure the best vantage points.
"A bear's coming!" The whisper is heard and people press hard against the rail, cameras at the ready.
In bear country, you come to expect the unexpected. One minute Fish Creek is serene and still. Then a great tumult ensues as a magnificent black grizzly bear ponderously wades up the shallow waterway, scattering a dozen spawning chum salmon with every step.
This big bruin with his broad, humped back has only one thing on his mind - food. He is quite indifferent to the presence of this gathering of wildlife lovers, glued to camera viewfinders.
A large grizzly bear is one of the most gobsmacking sights you can see in the wild. I'm mesmerised by his slow, deliberate gait as he trundles up the middle of the four-metre-wide stream.
His attempts to snag a fish with his claws are desultory. He appears listless and clearly has no need to exert himself in the midst of such plenitude. There is enough salmon here to fill the bellies of legions of bears.
Between my viewing point and the bend, 200m downstream, are more than 1000 bright red chum salmon intent on fulfilling their life's purpose. That is, to return to the precise spot where they entered the world five years ago, find a mate, spawn and die.
The importance of this tragic self-sacrifice to ensure a species' survival is lost on this grizzly. He is on his own mission - to double his body weight before winter.
This is my first encounter with a bear in the wild. When the grizzly first came into sight, I thought how cute and cuddly he looked. There was a brief instant when I felt the desire to rush down and hug him.
This stemmed from a lifetime of romantic stories about Rupert, Paddington and Pooh. My love affair with bears began as a child when an aunt gave me my first cuddly teddy bear.
These affectionate childhood associations fade quickly. I realise that the 300kg predator, with his wicked claws and teeth, is drawing closer to me.
Mr Grizzly has a fearsome reputation and also the ability to tear a person limb from limb within seconds. These thoughts race through my mind as the bear is now a mere 10m from my viewing position.
To him I am no threat. He will know nothing of my lifelong fondness for bears. I'm just protein on the hoof in his eyes.
On the viewing platform, the jostling for camera positions has now reached fever pitch.
"He's caught a fish," someone whispers. This is followed by a collective exclamation of surprise, as the big, black grizzly heaves the writhing 5kg chum salmon over his shoulder into the stream.
"He's a fussy feeder," someone says, just as the bear hooks into another fish, sniffs it and tosses it away, too.
Catching a salmon in the middle of this melee of preoccupied spawners is hardly rocket science. The fish are literally wall to wall across the stream in a traffic jam that would rival Auckland's Southern Motorway.
Once more he scoops up a fine specimen of bulging flesh but this time he grips it firmly in his jaw and ambles up the opposite bank to a grassy clearing.
Now the teddy bear's picnic scenario has become a reality. Some humans are fastidious diners but this great ursine gourmand is the limit.
He carefully catches an edge of the salmon's skin under his paw tips, lifts it clear of the flesh and with his teeth, tears off the entire skin back to the tail. Slowly he nibbles away at the exposed flesh, savouring the fat cluster of pink roe.
He takes great care and deliberation in consuming this gourmet feast - it is surely the ursine equivalent of top-shelf caviar.
Finally the salmon is skilfully flipped over and the process repeated, leaving a skeletal fish with just the right amount of flesh to delight the waiting seagulls.
They too are spoiled by this cornucopia of taste treats, ignoring the carpet of dead and dying fish, to await the meal specially prepared for them by the bear.
The grizzly appears to be quite satisfied with his salmon roe supper but obviously has something on his mind. He rises up on his haunches, stretches up to his full height and turns his head to look downstream as if expecting company.
The park ranger tells me that a grizzly sow with three cubs was fishing here the previous night, but kept her cubs well hidden from the big male grizzly.
It is likely he has designs on the cubs and is hoping they might show up this evening.
He plops down on all fours, ambles upstream and disappears into the thickets of alder and willow on the stream bank.
Throughout his entire passage up the stream the bear has treated the human interlopers with complete disdain. This is his domain, his favourite fishing creek and his woods. He knows his rightful place is at the top of the Fish Creek food chain.
Wandering into grizzly bear territory is not something to be taken lightly. I travelled with a tour group of wildlife enthusiasts who were committed to seeing bears in the wild, despite the risk.
Towering snow-capped peaks and spectacular glaciers surround the area. This includes the dramatic Bear Glacier - a great Ice Age glacier carved out the Salmon Valley and the 140km-long ocean fjord known as Portland Canal.
For a short period each year in August and September, Fish Creek gives visitors a fascinating window into the bear's private world. It is one of the most accessible grizzly bear sites in Alaska. Many viewing areas are only reached by air, but Fish Creek can easily be included in a motor tour of British Columbia, crossing the border into Hyder for the morning and evening viewing.
A grizzly bear in feeding mode is a truly unforgettable sight. Once you experience the real bruin viewin' in the wild, those cherished memories of cuddly teddies may change forever.
CHECKLIST
Getting there: Hyder is reached through the nearby town of Stewart, which is 67km from Meziadin Junction on the Cassiar Highway, which runs through British Columbia.
Where to stay: Accommodation in the area is limited, but Stewart has one hotel, two motels and a B&B hostel. Hyder has a B&B hostel, motel, inn and a campsite.
Further information: See alaskavisitorscenter.com.
Paul Rush visited Fish Creek with help from Adventure World and Andersons Vacations.