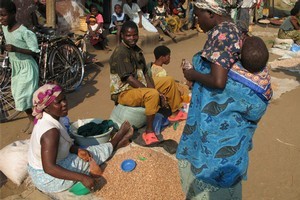 It's well past our usual lunchtime and our stomachs are letting us know about it. As navigator, I'm watching for the fruit stalls that dot Malawi's roadsides when small figures jump out of the bushes and wave furiously at the passing car. I glimpse something threaded on sticks and it looks like food.
"Could be kebabs," I say excitedly, so my husband slams on the brakes and backs up. Malawi doesn't get many tourists, and after realising there are white faces in the car, the shy kids have retreated to the bushes. But when we make friendly overtures they come slowly forward, proffering their wares.
Suddenly, I'm not hungry any more. Each stick is threaded with half a dozen whole mice: head, teeth, tail, the works. Mice are a traditional source of protein for Malawians, and we later discover that these boiled, salted, dried rodents-on-a-skewer are popular with locals. However, in deference to our delicate constitutions, we give them a miss.
This small, landlocked country lies along the Great Rift Valley, bordered by Zambia, Tanzania and Mozambique. Its people are descendants of Bantu tribes, and its European history began with Scottish explorer-missionary Dr David Livingstone, who arrived at Lake Malawi via the Zambezi and Shire rivers in 1859.
Arab slave traders were already active in the region, so as well as identifying areas for future missions and settlements, Livingstone set about stamping out this atrocious trade.
Soon after, Malawi was settled by the British who ruled until independence in 1964, when it came under the autocratic hand of Dr Hastings Banda. In 1993 the first multi-party elections marked the start of true democracy.
Throughout this modern history, Malawi has largely been stable, and while it shares many problems that plague other African nations such as poverty and HIV/AIDS, it can at least claim ongoing peace and security.
Perhaps because of this it rarely receives a mention on the world stage, which seems as good a reason to visit as any. And we sense we're in for a different travel experience when we're instructed to collect a Toyota Starlet from Chief Torgbi Haxormene IV at Sputnik Car Rentals in the capital Lilongwe. The chief isn't in when we phone, but his sidekick arrives at our hotel at the appointed time.
There's another foretaste of Malawi's unique approach when we ask about a guidebook or at least a road map. "A map?" he exclaims. "It's Malawi, you can't get lost, just ask someone."
It's our first visit to Africa so we're a tad nervous. To fortify ourselves we retire to the balcony bar at the Kiboko Town Hotel, one of those inexpensive places with a colonial ambience that suggests sipping gin and tonic and tapping out a magnum opus on an old typewriter, while Africa swirls by on the streets below.
And since we've heard that MGT (Malawi Gin & Tonic) at sundown is de rigueur, that's just what we do, albeit substituting the masterpiece and typewriter for hasty scribbles in a battered notebook.
The mouse encounter comes as we leave Lilongwe for Lake Malawi, passing through an undulating landscape punctuated by craggy rock formations. The land looks fertile, but there's no large-scale farming or crop production. Instead, tidy thatched-roof villages spread over the hillsides, some surrounded by small gardens that provide tradeable commodities to supplement the subsistence lifestyle.
Massive Lake Malawi is a revelation and we have to constantly remind ourselves that we're not on a gorgeous tropical island with an endless blue ocean stretching before us. The lake takes up one-fifth of Malawi's total area and is the third largest in Africa. Its shores are a mix of beautiful sandy beaches and rocky headlands with plunging cliffs.
A few low-key lodges are scattered around the edges, each location boasting a different character. At Makuzi Beach Lodge we walk across powdery white sand and snorkel amongst hundreds of small, colourful mbuna fish, a type of cichlid that's exported to freshwater aquariums worldwide. Apart from the lack of salt, and the remote but exciting possibility of encountering a hippo, it's easy to imagine we're in Fiji.
At the lodge's lakeside restaurant we try chambo, a delicate table fish Dr Livingstone described as "the best fish I have tasted in all of Africa". We concur, but unlike the good doctor we wash ours down with decent South African wine, one advantage of having a wine-producing nation in close proximity.
At Senga Bay a friendly local takes us through his simple lakeside village to a wide golden beach where dozens of fishing boats sit along the shore. Literally millions of fish are drying on tables in the sun, testament to the lake's importance as a food resource. A lively beach market is in full swing, offering everything from a tailor to a barber, from bread and vegetables to takeaway snacks (not a mouse in sight). Excited kids show us their aquatic derring-do by backflipping off boats and leaping off boulders into the crystalline waters.
Down at Club Makokola on the southern lakeshore we hire a motorboat and race across the placid water to a rocky islet that's white with the guano of thousands of roosting water birds. Malawi's national bird is the African fish eagle and we spend a magical hour watching these magnificent birds swoop in to retrieve fish thrown in the water. Afterwards we slip into the clear, silky water to swim and snorkel amongst clouds of mbuna.
Across the water, mountainous Cape Maclear looms above the lake, forming part of Lake Malawi National Park. This stunning UNESCO World Heritage area was designated the world's first freshwater national park in 1984, recognising that Lake Malawi contains the largest number of fish species of any lake, around 90 per cent of which are endemic.
The lake is irresistible but we do spend time away from its shores, driving north through the pretty forested highlands to Luwawa Forest Lodge then south to Mua Mission. While the idea of staying in a mission initially conjures up thoughts of hard dormitory beds, horsehair blankets and penance at dawn, the reality is different.
Mua was founded in 1902 and today incorporates the KuNgoni Centre of Culture and Art, established in 1976 by French-Canadian missionary Father Claude Boucher Chisale. It's known as the cultural centre of Malawi, and Father Boucher works tirelessly to preserve all aspects of Malawi culture and foster traditional arts and crafts. Thus our stylish private rondavel, which overlooks a river and ancestral washing pots, is decorated with paintings and carvings by the artisans of Mua.
Mua's museum also delivers a gem of a travelling moment, for me at least. One wall bears a photo tree of missionary history in Malawi and when our guide points to a stern-looking man in the top photo, I can't resist the chance to utter one of the most famous lines in history, entirely in context.
"Dr Livingstone, I presume?" I say, straight-faced. The guide nods inscrutably, not revealing whether he's heard the line hundreds of times before.
In the morning we're woken at 5am by drumbeats from the village across the river. I've read there's a Eucharist at 6am, so I assume it's a call to church. "Oh, no," explains our host later. "That's to tell everyone the local beer is brewed and ready for market day."
Before leaving we wander through the market and visit the local woodcarving school then drive to Liwonde National Park. Our friend at Sputnik was right about not needing a road map, because there are only two main routes in the country. They're in good condition but every destination is many kilometres off the main road, over a network of unmarked, unsealed tracks. We've been lost several times, but there's always been someone around to point us in the right direction. And while the tiny Starlet isn't the kind of car usually associated with touring in Africa, so far it has bounced intact through rough terrain that most Kiwi 4WDs never have to endure.
At Liwonde it faces another danger. To get to Mvuu Safari Camp, we rest the car beside the mighty Shire River and take a boat across. We know not to leave foodstuffs inside that might attract Liwonde's famous elephants, but nevertheless we have visions of returning to a piece of metal flattened by mischievous pachyderms. Boat and jeep safaris in Liwonde serve up so much wildlife excitement that we forget about it completely, returning to find it whole, despite the efforts of monkeys to twist off the aerial and wipers.
Our last destination is Satemwa Tea Estate, a family-owned fair trade producer in the Thyolo highlands. The drive takes us through vast plantations of luminous tea bushes, where pickers carrying huge baskets move steadily up the rows. At Satemwa we take a tour of the tea factory and sample different types of tea before driving to a beautiful picnic area at the top of the estate.
From this elevated position we can see massive Mt Mulanje which, at 3002m, is the nation's highest point. We're sorry that we won't have time to visit, but we agree that Malawi has already given us a splendid variety of travel sights and experiences - all discovered without a map.
CHECKLIST
Getting there: South African Airways flies to Lilongwe and Blantyre in Malawi via Johannesburg.
Further information: See malawitourism.com.
Heather Ramsay travelled in Malawi with assistance from Malawi Tourism. She will lead a tour to Malawi & Zambia in August.