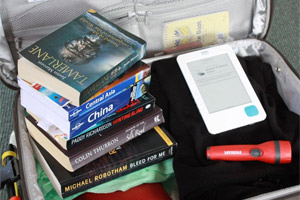 The biggest challenge I face in trying to travel light is the need to take a lot of books.
By washing my clothes each evening I can easily get away with only a couple of changes. The new lightweight towels take up hardly any room. And so on. Even on trips when the weather will be both hot and cold I always get away with just a small case.
But books. That's a different story. On my latest trip, down the Silk Road, I had to have Lonely Planet's China and Central Asia guidebooks. Then there was Colin Thubron's Shadow of the Silk Road and Justin Marozzi's Tamerlane: Sword of Islam. Plus a couple of thrillers thrown in for light reading. I couldn't possibly get by with less. But I suspect they weighed more than the clothes.
On the same trip there was an Australian doctor and his wife who had about 2000 books, including Lonely Planet's China, on a Kindle and a Bebook. Their suitcases were much bigger than mine, and they had far too many clothes, but their book supply was much more compact.
I've actually been interested in the idea of eReaders for some time but held off until there was one specifically designated for New Zealand. But after trialling the doc's collection I began to think maybe it was time to get one.
Then, when I arrived back from my trip, there was a press release from Whitcoulls announcing that they are now offering two million eBooks through their website and offering a Kobo eReader (retailing for $295) for me to try out.
The Kobo is very cheap because it's a stripped-down eReader, it doesn't have a keyboard like the Kindle, or any of the array of extras included in the iPad, but if all you want to do is read books it does the job perfectly well.
It comes pre-loaded with 100 books that are out of copyright, with a selection of titles ranging from the bizarre, like the Communist Manifesto to the highly readable, like The Moonstone and Oliver Twist.
After a few minutes' playing I sat down to enjoy a Sherlock Holmes mystery and found the Kobo easy to use and the story - which I hadn't read for, oh, 40 years - very enjoyable.
That was all very fine as a potential source of extra reading material but could I have taken my Silk Road books on it? Largely, as it turned out.
Lonely Planet sells a PDF version of its China guide through its website for A$34.99 ($42.75, the hard copy is A$59.49). The PDF Central Asia is the same price as the much bigger China book but if I eliminated the chapters on countries not on my itinerary the cost would have gone down to A$20.13.
Unfortunately, although Lonely Planet sent me a PDF on Namibia to try out I couldn't get it to work. It turns out it's a problem with the security settings in their PDFs, which they are working on.
They also sent a PDF with the security turned off and that did work, but when I tried to increase the typeface the Kobo froze. At that point I decided to wait until such teething troubles have been resolved.
It's a pity I couldn't try a guide book out, because I was interested to see whether the Kobo's operating system, which basically involves moving along one page at a time, would allow me to use a guide book in my usual way, flicking to the index, looking up a subject, reading a few pages and returning to the index again. I guess I'll have to wait and see.
But the other books were no problem. An eBook Shadow of the Silk Road can be had for $12.99 - and there's also a website claiming to provide a free version - which compares well with the paperback edition sold online by Whitcoulls for $25.95.
Tamerlane doesn't appear to be available as an eBook though several sites offer free downloads of other books about him.
Most recent thrillers are available as eBooks and, as you'd expect, with a considerable discount on the printed version. For instance, Whitcoulls is offering The Girl With the Dragon Tattoo for $14.95 as an eBook or $20.95 as a paperback, and that's the ideal airport novel in any format.
I do have my doubts about how easy it would be to use a guide book on the Kobo or even to make the most of a book like Shadow of the Silk Road which also has a useful index to places along the way.
So, next time I head overseas, I probably will take the Kobo with me, loaded up with a few thrillers and a relevant travel book or biography.
But I'll also be weighed down with guide books made of old-fashioned paper.