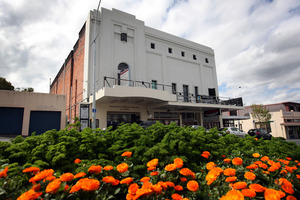 The organisation running the oldest purpose-built cinema in the Southern Hemisphere, Devonport's historic Victoria Theatre, is seeking expressions of interest from a new operator.
The cinema, opened in 1912, was shut for some years this century, but reopened in late October 2010.
Margot McRae of the Victoria Theatre Trust said the organisation was calling for applications for the operation of the building, also a performing arts venue, in the main street of Devonport.
She paid tribute to cinema chief John Davies, who now currently runs the three-screen Victoria Picture Palace.
"The trust is very appreciative of cinema manager John Davies and we will be working through the process together.
"It was an amazing community achievement to open The Vic and we want to ensure it continues to develop as a vibrant cinema and live venue," Margot McRae said.
Mr Davies laid a complaint with the Commerce Commission that the distributor to rival Northcote cinema the Bridgeway refused to supply him with movies.
He held a public meeting to air the difficulties he said he faced.
Yesterday he said the film issues had been resolved, he had more access to better movies and the business was doing well but could do better.
The trust has a 33-year lease on the theatre which has had extensive refurbishment including new seats.