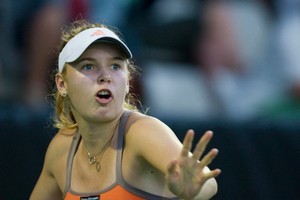 The defending champion is lame, the favourite's under a fitness cloud too, the top seed can't win on the big stage and the big home hope is once again feeling the heat.
Ladies and gentlemen, welcome to the 2012 women's Australian Open, an unofficial lottery being staged at Melbourne Park from Monday.
"There's a dozen or more players who can win it and I don't think we've seen that before," said Luke Jenkins of topsport.com.au.
Titleholder Kim Clijsters' withdrawal from the Brisbane International with a hip injury, later diagnosed as a muscle spasm requiring a subsequent MRI scan, and Serena Williams' scratching from the Open lead-up event with a sprained ankle have has created the most level playing field in history.
Clijsters and Williams will both take their places in a draw headed by Danish diva Caroline Wozniacki.
But the superstar pair's fitness concerns, Wozniacki's well-documented inability to land her maiden major during her 65-week stint as world No1, and three more additions to the grand slam winners' club in 2011 give their rivals hope.
Such is the depth in women's tennis right now that more players have contested grand slam finals (14) in the past four years than men (13) have won majors in the past decade.
While Novak Djokovic, Rafael Nadal and Roger Federer, the men's top three, have amassed 30 grand slams between them, the top three female players have a combined total of one solitary major.
Compare that with the 17 for Clijsters and Williams, both now outside the top 10, and it's anyone's title at Melbourne Park.
Wimbledon champion Petra Kvitova, Li Na, the Open's 2011 runner-up to Clijsters, Australia's US Open winner Samantha Stosur and world No3 Victoria Azarenka loom as Wozniacki's greatest dangers.
Big-hitting Brisbane champion Kaia Kanepi, former winner Maria Sharapova, if she can manage her ongoing ankle injury, major finalists Marion Bartoli and Vera Zvonareva, rising stars Agnieszka Radwanska and Sabine Lisicki and crafty veteran Francesca Schiavone are also not without hope of hoisting the Daphne Akhurst Trophy on January 28.
Wozniacki, though, is neither fazed by the growing threats nor feeling the pressure to vindicate her lofty standing with an overdue slam.
"I finished the year as No1 twice in a row and very few people have finished No1 and very few people have held on to the No1 ranking," said the queen without a crown. "But now it's just about improving my game and to try to win as many matches as I can."
The dogged Dane is promising to fight to the death in Melbourne.
"Yeah, I hate losing. I always do everything I can to win a game; I want to stand in the end as the winner and have won the last point."
- AAP