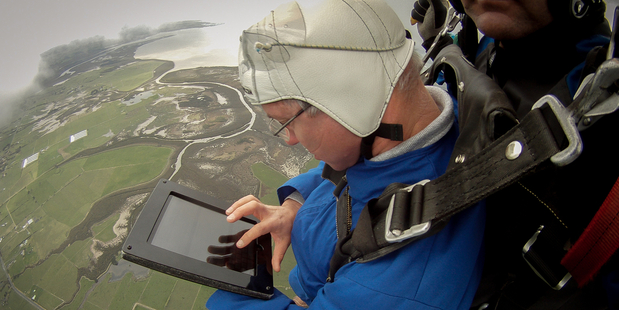 Two New Zealand start-up entrepreneurs are claiming a world first by creating a webpage while skydiving from almost 2500 metres.
Chris Hirst and Leo Zhao jumped out of a plane above Auckland to show how easy it is to use their new web design and hosting tool Designbymobile.
The innovation allows people to design and build websites on smartphones or tablets, as well as computers, and allows updates on touch screen devices at any time.
The pair did two jumps and used the footage from the first jump to create the webpage in mid air on the second jump, taking around seven minutes from jump to landing.
"We've created a web design and hosting tool so easy and quick to use that we were able to make a webpage from start to finish while skydiving from 8,000 feet - complete with text, images, links, a video and a slide show," says Mr Hirst.
The webpage they created can be viewed at jump.designbymobile.com, and a full video of the skydive is on You Tube.
The pair officially launched Designbymobile, currently in beta phase, at The Next Web conference in New York today.
- APNZ