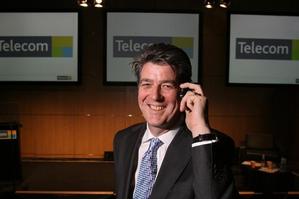 Telecom's board has defended the more than $5 million payment to its chief executive which was labelled "shameless greed" by a union head today.
The criticism followed the release of the company's annual report, which said chief executive Paul Reynolds would be paid more than $5 million for the year to June 30 2009, including his full performance bonus, despite a 43.9 per cent slump in the company's profits for the year to the end of June.
The company's other top six executives pulled in another $11m between them.
Dr Reynolds' payment could not be more insulting to striking lines engineers, Engineering Printing and Manufacturing Union (EPMU) national secretary Andrew Little said today.
Up to 1000 telecommunications engineers around the country staged a one-day strike yesterday as part of continued industrial action over plans to make the engineers owner/operators.
The engineers want their current employer, Telecom's network division Chorus, to abandon a contract agreement with Australian company Visionstream in Auckland and Northland.
The annual report put Chorus chief executive Mark Ratcliffe's package at over $1.9m, while the packages of five other executives ranged from $1.4m to nearly $2.6m.
Chief financial officer Russ Houlden's package included $281,273 for accommodation and "some relocation and personal travel costs".
Telecom board chairman Wayne Boyd defended the payments today, saying the company had met all its financial targets in the year to June 30, while making significant progress in other areas.
"Under Paul Reynolds' leadership, our executive team has delivered on the demanding objectives set by the board over the past year", Mr Boyd said.
He had led Telecom's 8500 staff in New Zealand and Australia to deliver one of the "largest and most complex transformation programmes ever undertaken by a telecommunications company anywhere in the world".
Mr Boyd said Telecom had gone through unprecedented upheaval over the past three years while moving into an era of operational separation.
"And with customers at our heart, Telecom's turnaround is well in train."
He said New Zealanders relied on the telecommunications infrastructure and in the year to June 30, Telecom's total capital investment amounted to $1.3 billion.
The company had successfully launched its XT mobile network in May and customer uptake had exceeded expectations.
"Progress on our fibre-to-the-node rollout is well advanced, bringing fast broadband to more New Zealanders than ever before."
Mr Boyd said customer satisfaction had also improved.
"Against this backdrop of achievement, the rewards given to our executive team are fair recognition for the outstanding job they have done as leaders."
Mr Boyd said to keep up with the market in terms of pay, Telecom regularly conducted benchmarking with similar positions in comparable companies.
Mr Little said while hundreds of frontline Telecom workers were having their livelihoods and work rights stripped from them, Telecom was being driven by shameless greed and a disregard for the network they were entrusted with.
Under Visionstream, engineers would become owner/operators, providing their own equipment and transportation, which the EPMU said would leave many staff jobless and put the future of New Zealand's telecommunications network at risk.
- NZPA