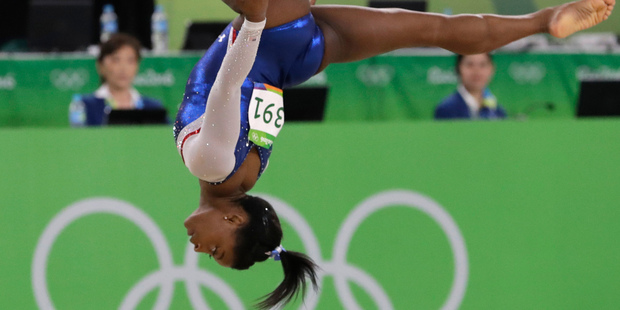 Everywhere you go you'll find athletes with weird warm-up rituals.
For Simone Biles, it is drawing a dollar sign in chalk that gets her going for gold.
The 145cm tall gymnast took home gold in five different categories, proving you don't need to be massive to make your mark in the Olympics.
"You see, everybody puts their line on the beam, so I can never tell which one is mine. So, I put an 'S' on it, and it happens to turn into a dollar sign. People think I do it on purpose, but I don't," the Pittsburgh Post-Gazette reported her saying.
Intentional or not, Biles' piece of showmanship didn't go unnoticed.
Simone puts $ in chalk on beam for her start point b/c announcer at 2013 worlds called her Si-Monay

— Will Graves (@WillGravesAP) August 9, 2016
I love that @Simone_Biles wrote a $ on the beam in chalk before her routine. So fitting!

— Ashley (@ReleaseMcCrackn) August 12, 2016
Aly Raisman and Simone Biles are magical I bet they replaced their chalk with pixie dust

— elizabeth (@elizabethtise) August 12, 2016
Biles, who is being widely touted as "perhaps the best female gymnast in history" and "a once-in-a-lifetime athlete", was a huge part of her team's epic win, producing the best vault, beam and floor routines of the competition.
To try to put her greatness into perspective, most top gymnasts are dominant in one event but Biles is the exception. She is basically unbeatable on the floor, on the vault, and on the beam.
Her insane floor exercise routine even includes a manoeuvre called "The Biles" that apparently no one else even attempts.
"At this point in time, nobody can beat Simone Biles," former Olympic Gold medallist Nastia Liukin, turned Rio gymnastics commentator declared.
Within the gymnastics community, her dominance has long been established. Biles is already the most successful woman in the history of the World Championships, with 10 gold medals accumulated over the past three years. But she is poised to make history this week as she goes for gold in five events. If successful, Biles will become the first female gymnast - and only the second woman in any discipline - to win five gold medals at a single Games. Her gravity-defying routines are so difficult that she is predicted to walk away with each and every one of them.
North is watching @Simone_Biles in awe! She's rolling around on the bed pretending to copy her lol

— Kim Kardashian West (@KimKardashian) August 8, 2016
My eyes are not actually fast enough to see what Simone biles is doing

— Adam Servianski (@AdamSerwer) August 8, 2016
If you weren't already part of the Simon Biles Appreciation Society, this is what the champion sportswoman had to say about fame:
"I never really think about it, because it's something you can't expect and you don't know what it's going to be like until it happens. So I just do everyday life."