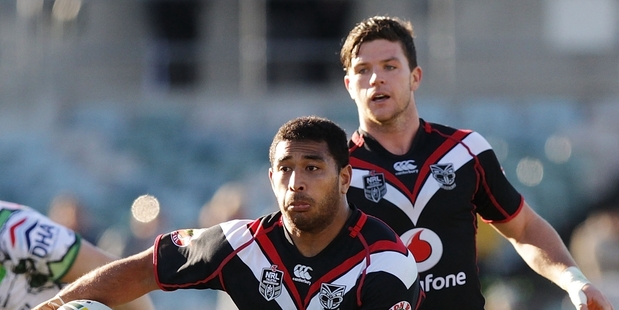 Warriors lock Sebastine Ikahihifo is raring to go in Sunday's clash against the Roosters after recent struggles with his health saw him sit out last Sunday's defeat to the Knights.
Ikahihifo revealed he was rested last week after battling the flu over three weeks, which culminated in a poor personal performance against Cronulla in round 22.
"It was a good rest and I needed it. I had the flu for about three weeks and leading up to the Sharks game, I was already feeling better, but my performance was just bad," he said. "It was best that I rest and get completely better.
"Playing 16 games straight, for a rookie like me, I really needed that break. I was really cut up because I'd had a good roll throughout the season. I've had bad games before but that was by far my worst."
The 23-year-old admitted he has found the rise into first grade a huge learning curve and maintaining his fitness and physical conditioning has been difficult, although he is excited to make a return to the playing field this weekend.
"It's just high-performance and as a rookie you have to look after your body and I wasn't doing that so well. I was eating well but when I was sick I wasn't hydrating as well and that put me on the back foot and my performance dipped down from there.
"My body's ready now so expect the best Seb performance, that's all I can say. I'm really confident that my body's all fixed up and ready to go."
Coach Andrew McFadden said the side would benefit from his inclusion against what was an imposing Roosters forward pack.
"He's a tireless worker and he's quite an awesome ball carrier as well," said McFadden. "He needed the rest on the weekend but we're certainly happy to have him back in the side. He gives us a different dynamic and he'll cover a lot of ground in the middle for us."