Off-spinner cops NZ's first bowling ban after his action found to exceed tolerance level.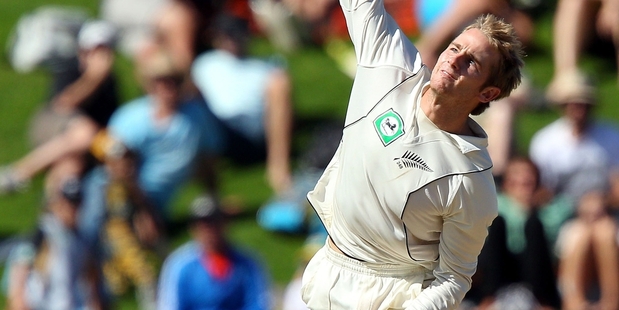 Kane Williamson has become the first New Zealander bowler to be suspended because of an illegal action.
Williamson's action was assessed at Cardiff Metropolitan University and his elbow extension was deemed to have exceeded the 15 degrees of tolerance permitted under ICC regulations.
The off-spinner will have to modify his action and prove its legality before he can bowl again.
Williamson's bowling is strictly the second string to his bow, but he has developed a reputation for chiming in with useful, partnership-breaking wickets. He was reported by umpires during the second test between the West Indies and New Zealand at Port of Spain in June.
He was able to continue bowling during that tour.
"I note the findings of Dr Craig Ranson and his team at Cardiff Met and will concentrate on changing whatever's necessary to return to the bowling crease," Williamson said in a release.
"Clearly, the onus is on me to satisfy assessors as to the legality of my action, and I'm aware I have some hard work in front of me to achieve that goal. It's never nice, going through this sort of process but it will be worth it if I can manage to bowl again at international level."
Williamson's case is a curious one in that he does not possess a "doosra", or mystery ball, which is the delivery that has caused lawmakers the most problems. The doosra is a legbreak delivered with an offbreak action, best practised by Pakistan's Saeed Ajmal. The are many opponents of the delivery, believing it cannot be bowled with a legal action.
Williamson's issue is bowling the conventional off-spinner. There have long been mutterings about his action and references to the fact he always bowled with buttoned-down sleeves - a common tactic to make it more difficult to tell with the naked eye whether the elbow was bending more than 15 degrees.
New Zealand coach Mike Hesson was hopeful Williamson would play a further role at the bowling crease.
"Kane's disappointed, clearly - anyone in his situation would feel the same way," said Hesson. "He now has a challenge on his hands if he's to bowl again at the top level, but we're very hopeful he can manage it."
The West Indies' Shane Shillingford and Sri Lanka's Sachithra Senanayake are off-spinners recently suspended by the ICC.
Williamson has taken 24 test wickets at an average of 40.66. In ODIs he has 23 at 30.91 with an economy rate of 5.49.