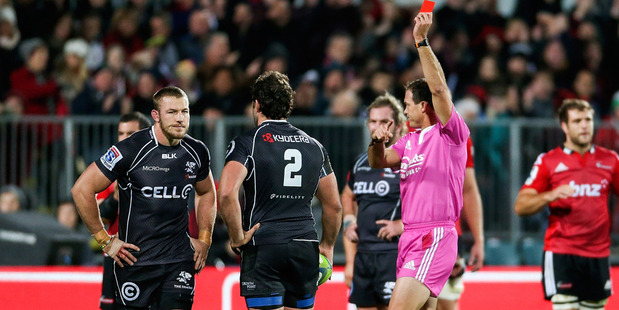 Crusaders 25
Sharks 30
Oh what an ugly war. The Crusaders v Sharks report card goes like this.
Read: Brave Sharks stun Crusaders
Upset factor: Massive. One of the biggest ever. The Sharks were goners when reduced to 14 men early on. Crusaders teams of old - with D. Carter in control - would never let this happen.
Are the Sharks a tough side?: You bet.
Title aspirations: Advantage Sharks. Serious advantage.
Reputations: Tumbled. If this is the best two top sides can do, then the Super 15 is a dog. Colin Slade isn't a test No. 10. Richie McCaw wasn't the talisman he's made out to be.
On the good side: A bit of a test type atmosphere. Only a bit, mind you.
Skills: Horrible.
Tactics: Hard to find.
Key moment: An amazing opportunist, kick and chase try from Sharks halfback Cobus Reinach.
What we learnt: One of the most important skills in rugby is the ability to catch the high ball under pressure.
Aggro: Quite good at times.
Crowd: Did its best - one of the better Super 15 atmospheres. The fans were ready and willing to roar the Crusaders towards the title, but were taken out of the equation somewhat.
Man of the match: Wouldn't have a clue. It was a shambles.
Violence: Disgraceful. There is no excuse for stomping the head - Jean Deysel deserved his red card.
Highlight: The Sharks' celebration - genuine emotion. Fabulous.
Ramifications: Todd Blackadder's revolution isn't one. He's probably in trouble.
Final verdict: A close game can mean a thrilling game, no matter how bad it was.