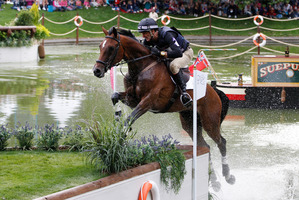 New Zealand's main hopes fell from contention after day three at the Badminton horse trials yesterday.
Starting the day in fourth on NZB Campino, Sir Mark Todd was eliminated in the cross-country, and sat in 17th place on his other mount, Leonidas II.
Unheralded Kiwi Tim Price shot up the leaderboard to sit in second on Ringwood Sky Boy. Fellow New Zealander Lucy Jackson, aboard Willy Do, sat in 10th place.
The cross-country caused mayhem through the 83-strong field with just 35 riders making it around the course. Andrew Nicholson was one of a host of competitors to retire on a treacherously wet day, not finishing on his mount Quimbo.
No one made the time allowed, and Price was only 29 seconds over.
Price moved from 41st equal after the dressage to second place with just the showjumping to take place overnight.
Price sat 5.2 penalty points behind Australian leader Paul Tapner aboard Kilronan.
"It is really not easy out there," said Price. "The conditions are a bit testing and it is an out and out decent track. We had the odd hairy moment out there but I knew he would get through it."
While Price admitted showjumping was the horse's weakest phase, he is getting better at it.
"He is improving all the time with age and training. I believe in him and I think tomorrow he will come out and jump well."
It is Price's third start at Badminton, with his best effort previously being 20th aboard Vortex in 2009.