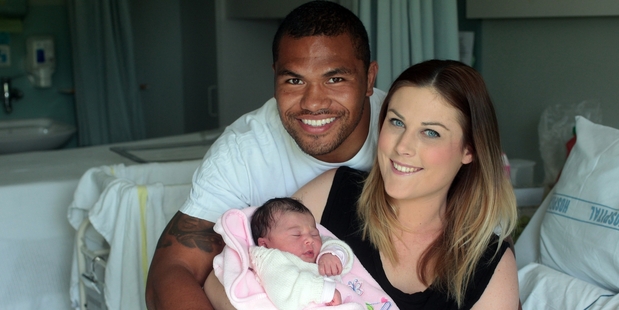 Mila has made her mother's day — and her proud dad's.
Blues rugby star Peter Saili is this weekend showing off his first daughter, Mila June.
The loose forward pulled out of Friday night's Super Rugby match against the Chiefs at New Plymouth to be with his partner, Gabrielle Kerr, for the birth at Auckland's Middlemore Hospital at 4pm.
Saili joked he'd texted Blues coach Sir John Kirwan to say he was returning to play in the match, which the Chiefs won 32-20.
"I told the coach there was a flight in 15 minutes and I still had time to make the game," Saili said. "He told me to stay right where I was."
Saili, who has two young sons with a previous partner, said a girl would make his family complete.
"When Gabrielle had her first scan we were told it was a boy, which would have been fine, but I really wanted a wee daughter," he said. "When the second scan showed we were having a girl, I was thrilled."
Saili said Gabrielle got to the hospital just before 3pm and Mila appeared an hour later. "Now my big dilemma is what to get Gabrielle for Mother's Day."
Family, including Saili's All Black brother Francis, visited Mila yesterday.