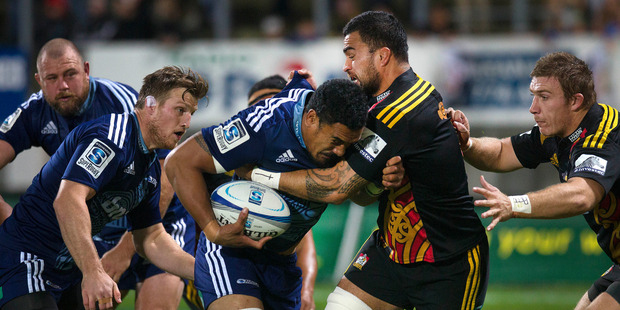 Chiefs 32
Blues 20
Big plays always make the headlines. You know the sort: Slashing solo try leaves defences in tatters.
Read: Chiefs sink Blues at new home
They are highlights which get spectators out of their seats, rattling their drums and breaking into strong voice. Everyone wants to talk about those moments.
Up in the coaches box they also like the big picture and results but are just as focused on the minutiae, all the little pieces which need to fit into the rugby jigsaw.
It could be the foot placement of the tight head prop, the timing of the lineout throw or the depth of the second five eighths at ruck ball.
Chiefs halfback Tawera Kerr-Barlow is in a heavy contest with the Hurricanes TJ Perenara to be the backup to Aaron Smith in the All Black test squad for the June internationals.
They will all be picked for upcoming training camps before the fateful cull.
There is little to choose between T K-B and T J P, they bring energetic running venom and lively imagination to take advantage of broken play. They both need to sharpen the accuracy of their passes, vary the pace of their games though both kick strongly.
Kerr-Barlow is a natural right footer but last night when he led the Chiefs out in his 50th game, he showed how he has developed a left foot kick too.
With his side under heavy pressure close to the right touchline, Kerr-Barlow wheeled away and hoisted a strong left foot clearing kick for a handy 30m gain. It was a mini moment in a major game but a detail the selectors will value.