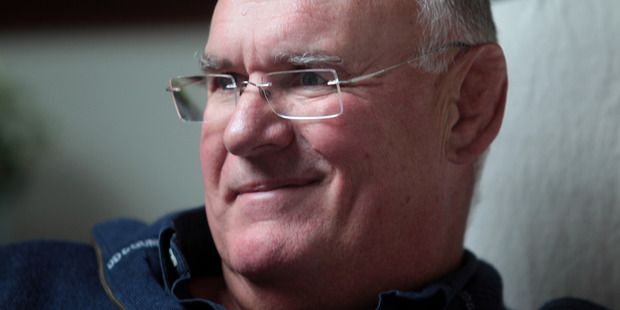 The death of All Black captain Frank Oliver led to a fiery on-air clash on Radio New Zealand last night.
Former All Black Andy Haden was invited to pay tribute to Oliver on Checkpoint, but took exception to the way host Mary Wilson opened the segment.
It started with a clip of commentary from the 1978 All Blacks v Wales test in which Haden dived out of a line-out in a bid to milk a penalty and save the game.
As the commentary faded out, Checkpoint switched to Haden on the phone and Wilson asked if he remembered the infamous incident.
Haden: "Yeah, I do, why don't you talk about Frank?"
Wilson: "I do want to talk about Frank, I do want to talk about Frank, a big shock."
Haden: "There you go, there you go, you should talk about Frank rather than dredge up all this stuff at this time. That's pretty low."
Wilson: "How would you like to remember him?"
Haden: "I would like to remember him as a very very good All Black lock. Something you wouldn't be familiar with."
Wilson: "And would you like to tell us any more about him."
Haden: "No, not really, but if you ask any questions, I will answer them."
Wilson: "We will leave it there, thanks very much."
Nzherald.co.nz takes a look at three of the most memorable on-air stouches over the past 30 years
Paul Holmes vs Dennis Conner
The interview that launched the television career of Sir Paul Homes.
American sailor Dennis Conner joined Holmes for the first segment of his show in 1989, with the broadcaster asking if Conner would apologise for inflammatory comments made towards Kiwi yacht designer Bruce Farr.
Conner was having none of it, picking up a bag and storming out. And the resentment lingered until Holmes' death in 2013, with Conner declining the chance to make peace and saying through a spokesman he didn't give "a rat's arse" about Homes.
Bryan Waddle vs The Ice Cream Thief
It was a hot summer's day in 2008 when Bryan Waddle's preparations for the first test against the West Indies were thrown into disarray, with the commentator's ice cream nicked while his back was turned.
Waddle was still out for vengeance days later when Radio Sport colleague Brendan Telfer asked if the thief had been identified: "Have you joined the pathetic group that seems to find humour in minor, trivial little matters?" he said. "If you want to foster the ego of some moron who thinks it's very funny and who masquerades as a cricket commentator, go right ahead."
Ricki Herbert v Danny Hay
When Ricki Herbert's All Whites failed to win the OFC Nations Cup in 2012 — and qualify for the Confederations Cup in 2013 — he faced a mounting wall of media pressure.
Were they adequately prepared for the tournament? Was their formation right? Was being coach of the Phoenix and the All Whites at the same time too tall a task? Was Ricki up to it?
Former All White Danny Hay got the chance to grill his former coach with all these questions and more in an intense and passionate 30 minute interview on Radio Sport moderated by Tony Veitch.
Hay didn't hold back, but Herbert rose to the challenge, producing a rare glimpse into the workings of two of New Zealand's most experienced football minds.