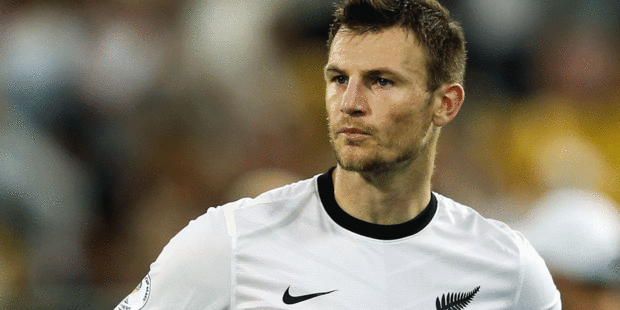 All Whites defender Tommy Smith continues to alienate himself from New Zealand football fans and cause friction with the national body after prioritising his club over his country.
The 23-year-old said he was left "annoyed and disappointed'' by a club-versus-country row when he made himself unavailable for the All Whites' 4-2 defeat to Japan earlier this month and disputes he threatened to quit international football ahead of last year's World Cup playoff against Mexico.
Smith captained New Zealand during the two-leg playoff against Mexico, but was left disenchanted after being forced to miss an extra match for Ipswich. He wanted to play in their 3-2 win at Blackpool the weekend before the first leg but Fifa rules saw him forced to sit out the clash.
The Herald on Sunday reported in December that Smith had threatened to quit international football ahead of that match if he wasn't allowed to play against Blackpool.
The centre-back wouldn't be drawn on the nature of his discussions with team management but made clear his frustration over the incident.
"International fixtures aren't meant to conflict with your club games and it really annoyed and disappointed me that they wouldn't allow me to play in that game [at Blackpool],'' Smith told the East Anglian Daily Times.
Smith's attitude seems to fly in the face of concerns many players had over the All Whites' buildup for the playoff against Mexico, which they lost 9-3 on aggregate. It's understood a number of senior players felt let down over preparations and planning for the last campaign and want a culture change - a review being conducted by New Zealand Football should be complete next month
Smith has won 27 caps for the All Whites and represented New Zealand at the 2010 World Cup and the 2012 Olympics, but admitted his loyalties lay with the club that paid his wages which was why he missed the Japan friendly.
"It was a bit of a no-brainer for me. As much as I love playing for New Zealand, obviously my bread and butter is Ipswich Town and I want to do as well as I can for them in order to push for these promotion places.''
Ipswich currently sit ninth in the English Championship, six points outside of the playoff places as they push for promotion to the Premier League. That position saw Smith and NZF come to an agreement over his absence for the Japan game, something he hopes can continue after a recent change in regime.
"It was only a friendly and, with the amount of games we had in March and the importance of those games, I thought it was vital to stay behind and make sure I am right physically and mentally for those games.''
NZF clarified their position around player availability, with chief executive Andy Martin stating the expectation set for all players.
"We expect all of our eligible players to make themselves available for selection as we seek to build our programme towards the Fifa World Cup in Russia in 2018,'' Martin said. "Clearly, there will be special circumstances that arise which will be considered on their own merits.''
The All Whites don't have any games on their calendar, although Smith said he planned to skip another international match being scheduled for June.
- APNZ